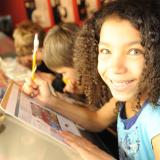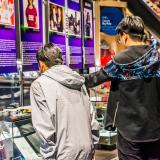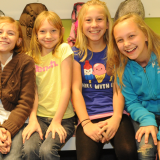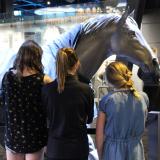 TEMPORARY CLOSURE - effective March 16, 2020
Due to the Government of Alberta declaring a public health emergency, Canada's Sports Hall of Fame is now closed to the public effective immediately and until further notice. The closure applies to all of our education programs as well as our corporate and private event rentals.
Thank you for your support and understanding in these challenging times.
---
Canada's Sports Hall of Fame's education programs offer students the opportunity to experience the museum's 12 galleries, dozens of interactive activities, and the inspiring "Canada's Greatest Sport Moments" film. Programs also include hands-on tours with historical artefacts.
Directed programming offered for students from Kindergarten to Grade 12.
Aligned with the Alberta curriculum.
CBE certified – we have a signed Master Agreement with the CBE.
CCSD approved – we are on the approved field trip list.
Programs in French may be available upon request.
Lunch space available upon request.
Programs can be customized and/or tailored to your students' needs.
AVAILABILITY
Education programs are offered Wednesday to Friday 10:00 am – 2:00 pm from September to June, and Monday to Friday in July and August.
Half Day Programs:

Full Day Programs:

2 hours

$5.00 + GST per student

4 Hours

$10.00 + GST per student
Teachers and parent volunteers are free on a 1 teacher to 5 student ratio. If additional aids or volunteers are required for students with special needs, they will be admitted at no charge.
CONTACT
To book an in-house program, please complete our online booking form. For more information, contact the Manager, Education and Programming at 403-776-1059 or programs@cshof.ca.
View our rack card here!
PROGRAMS
GRADES K-3

Learning through Sports Artefacts

Subjects: Language Arts, Physical Education, Social Studies

Always wanted to hold an Olympic medal or torch? Have you ever seen Geta (sandal) skates? Experience sport artefacts from Canadian history like you never have before… outside of the glass cases

GRADES 4-6

Spectacular Sport Moments

Subjects: Language Arts, Physical Education, Social Studies

With a focus on effective storytelling, this motivational tour shares the stories of Hall of Famers. Shared values, community involvement, inspirational stories… Canada's Sport + Spirit Champions™ have it all!

GRADES 4-7

Olympic/Paralympic Moments

(New! Starting in May 2020)

Subjects: Physical Education, Social Studies

Teacher Guide coming soon!

Get inspired for 2020! Participate in interactive tours sharing the stories of top Olympic/Paralympic athletes and hands-on learning with teambuilding relays and Peach Basketball or Goalball!

GRADES 4-9

Boundless Sport

Subjects: Physical Education, Social Studies

Teacher Guide coming soon!

Experience sport in Canada before the Second World War to today… learn about trailblazing Hall of Famers who have worked towards inclusive and accessible sport throughout history.

GRADES 6-9

Science of Sport

Subjects: Physical Education, Science, Social Studies

A fun, interactive tour that gets your students excited about science! Innovations, body mechanics, forms of energy, aerodynamics and advancements in safety… all through sport!

GRADES 9-12

Shaping Our Identity

Subjects: Aboriginal Studies, Physical Education, Social Studies

Our multicultural society has created a rich sporting heritage and multifaceted identity. Learn about the remarkable stories and contributions to sport in Canada by diverse migrant and Canadian Hall of Famers.

GRADES K-12

Self-Guided and Customized Programs

We also offer customized tours for Girl Guides and Scouts, senior groups, hockey teams and persons with special needs. Combined programming with WinSport can be coordinated upon request.
Generously supported by
Joan Snyder