On behalf of Canada's Sports Hall of Fame, its Board of Governors and our Gala Co-Chairs, we regret to inform you that we are required to cancel our Sport + Spirit Charity Gala (that was to be held on May 27, 2020). This is a very difficult situation as it is our largest fundraiser for our national education programs each year, but we understand the necessity for this action and we want to ensure the health and well-being of the community, our sponsors, partners, guests, Hall of Famers and Inductees.
Plans are underway to announce the Class of 2020 Inductees sometime in the Spring.
Thank you for your continued support and understanding in this difficult time. If you have any questions, please email Ruth Cowan directly at gala@cshof.ca.
---
Wednesday, May 27, 2020
4:30PM Reception at Canada's Sports Hall of Fame. 169 Canada Olympic Road SW
7:00PM Dinner, Beyond Sport Q&A Panel Discussion with Cassie Campbell-Pascall & After Party at Markin MacPhail Centre. 151 Canada Olympic Rd SW
For more information, please email: gala@cshof.ca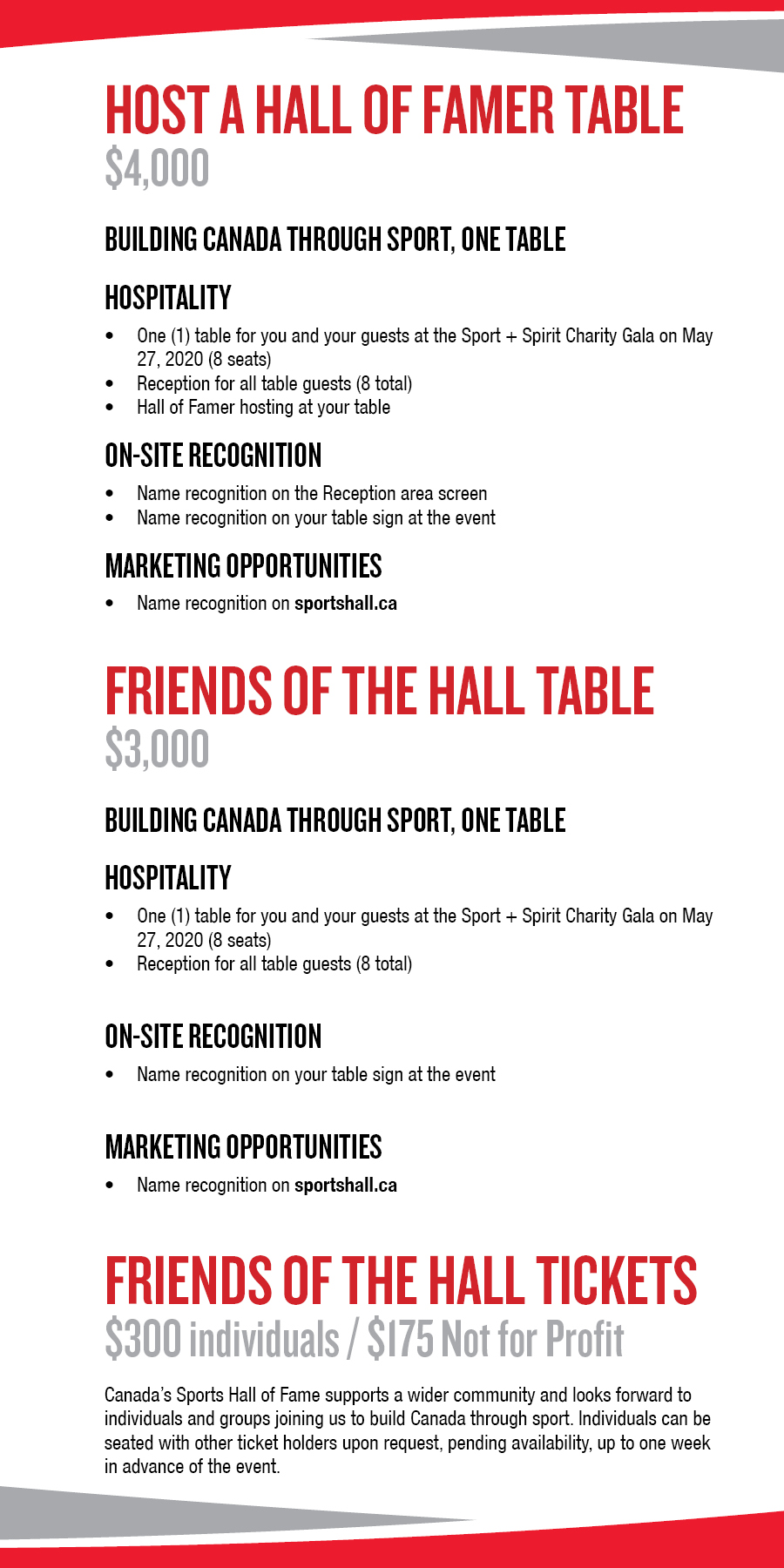 ---
Message From our President and CEO
2020 is Canada's Sports Hall of Fame's 65th anniversary year and we look forward to celebrating with you at our Sport + Spirit Charity Gala on May 27, 2020. This is your exclusive opportunity to meet the Class of 2020 that will be announced, for the first time, that morning during our national media conference. Cassie Campbell-Pascall will host the Beyond the Win Panel Discussion during the evening gala with the Class of 2020; Cassie creates a unique and intimate opportunity to get "behind the scenes" with our incredible class of inductees as they share personal stories about their sports journey, but with a focus on the contributions of these champions beyond their sports accomplishments – a return of value to their communities "beyond the win".
Last year's gala was a great success selling out early with 420 attendees from 40+ corporations and organizations featuring the Class of 2019 Inductees with 18 Hall of Famers in attendance. It was our largest Calgary fundraiser in 2019 with all proceeds going to support our National Education Programs. Thanks to the generous support of our sponsors and partners and the dollars raised at the gala, Canada's Sports Hall of Fame realized a 74% increase from 2018 to 2019 in the total headcount of our education programs including in-house, Virtual Visits, and Beyond the Win programs.

All proceeds from each ticket and sponsorship sold from the 2020 Sport + Spirit Charity Gala will again support our National Education Programs. We are all part of a virtuous system where communities make sport champions and they, in turn, return value to our communities – building Canada through sport.
---
About Canada's Sports Hall of Fame Education Programs
Canada's Sports Hall of Fame is a not-for-profit organization and accredited Museum. Our vision is to build Canada through sport and we are doing that through education. With every new Hall of Famer, we are reminded of the power that sport has to change the way we feel about ourselves and about each other. We're all working for what's possible – when every Canadian child can play and grow up with sports' shared values.
Our continued aspiration is to provide educational programs to engage and have students experience Canada's rich sporting history. Whether it's our Beyond the Win - Hall of Famers on Tour assembly-style, in-school presentations, our Virtual Visits that connect us with schools via video conferencing, or our In-House Programs, all of our education programs feature Hall of Famers who have reached the pinnacle of their careers and are going "beyond their wins" to return value to their communities. We are teaching youth that performance is more than strength, speed and agility - it's integrity, empathy and optimism. We demonstrate that sport is a critical backbone for diversity, inclusion and accessibility and when it comes to our shared values, sport speaks for all of us.
---
In support of our Education Programs
CHARITABLE REGISTRATION#118828631 RR0001
---