Splash Gallery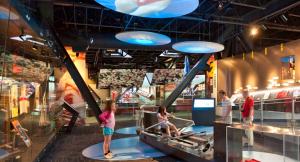 When you enter the Splash Gallery you will feel like you just walked into a swimming pool! You'll be surrounded by water sports – around, above and below you. Complete your Splash experience and BE A ROWER in our simulated rowing interactive!
Artefacts you won't want to miss are Jake Gaudaur Sr's rowing collection from the 1870s-1900s, a scale model of Canada's famous Bluenose sailing ship and the blades and oars used by Marnie McBean and Kathleen Heddle when they rowed to Gold medal glory at the 1992 and 1996 Olympic Games.
Mary Simpson Ride Gallery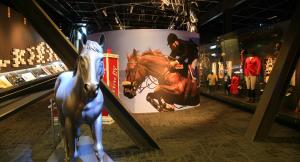 Horses in Sport Exhibit - Throughout history, horses were primarily used for hunting, transportation and protecting Canadians, but horses were also used for sporting events with the earliest known use in horse racing. Canada's Sports Hall of Fame has inducted twenty-six individuals and two horses for their amazing contributions to the equine world. This exhibit features eight major national and international equestrian events that are well-known in Canada in which horses play an integral role including the Calgary Stampede, Canadian Supreme, Canadian Derby, and the Olympic and Paralympic Games.
Unique artefacts on display include a 35 million year old prehistoric horse, three original trophies won by Northern Dancer, the racing colours worn by James Speers, the founder of the Canadian Derby, and the saddle used by Tom Gayford when he won a Gold Medal at the 1968 Olympic Games with teammates James Day and Jim Elder. As well, feature videos of major equestrian event highlights, interviews with Margaret Southern and Ian Millar, and information about the health, nutrition, and therapy of horses.
Motion Gallery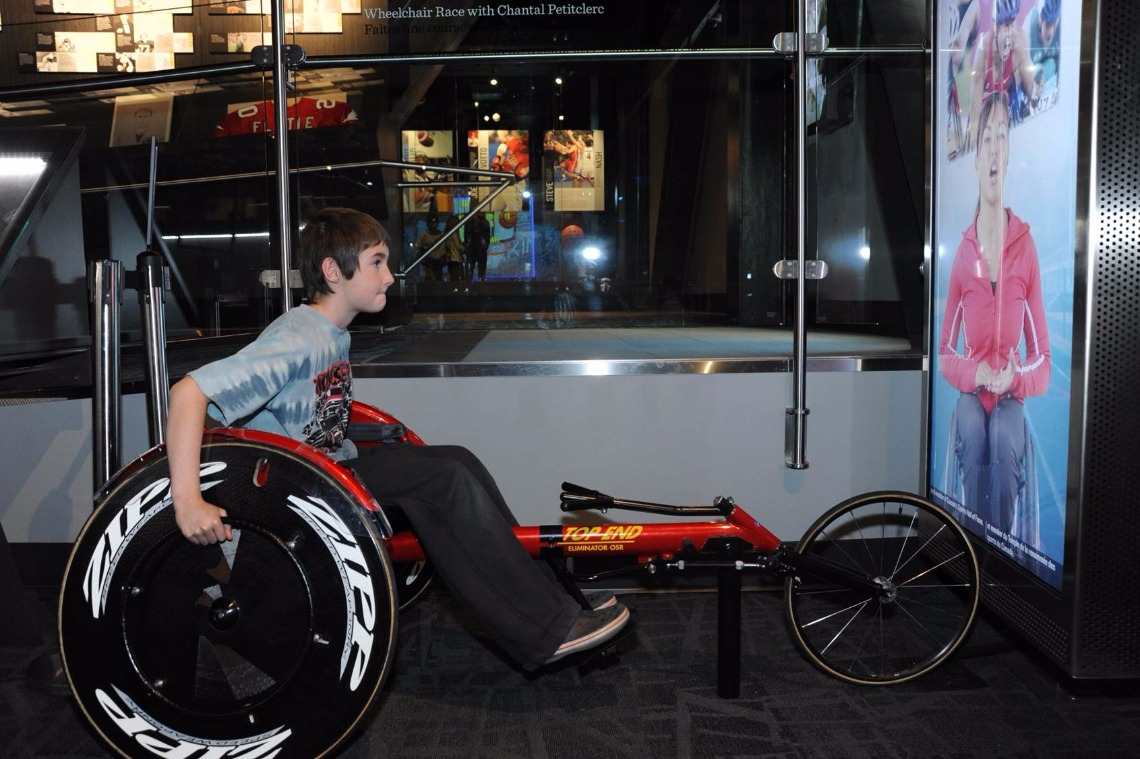 You'll feel the MOTION in this gallery where racquets and golf clubs swing, track athletes hurdle, jump and sprint and Canadian bowlers knock 'em down. Here you will be inspired by the greatness of Terry Fox as you see the shoe he wore when he dipped his foot in the Atlantic Ocean to begin his Marathon of Hope. Plus, see Susan Nattrass' trapshooting vest and clay targets.
You can also see how fast you can roll with the guidance of a Paralympic Champion and world record holder in the WHEELCHAIR RACE WITH CHANTAL PETITCLERC interactive.
Contact Gallery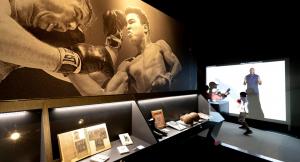 See how Canadians 'hurry hard' on the curling rink, how they have pinned opponents on the wrestling mat and landed the perfect punches in the boxing ring in the CONTACT gallery. To feel the full impact of this gallery, visitors are invited into the ring with legendary boxer and world heavyweight champ Lennox Lewis to try some fancy foot work in the SHADOW BOX WITH LENNOX LEWIS interactive.
Artefacts you won't want to miss are; team uniforms from Marcia Gudereit and Joan McCusker when they were part of Canadian hero Sandra 'Schmirler the Curler's' rink at the 1998 Olympic Winter Games and the team jacket worn by Lionel Conacher when he played for the New York Americans hockey team in the 1930s.
Bounce Gallery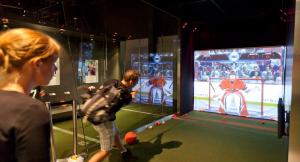 Throwing, kicking, punting, dribbling, dunking – hear the balls BOUNCE in this gallery which features hockey, football, soccer, baseball and basketball. Take lessons from Major League pitcher Jeff Francis as you catch fast-balls and curve-balls.
Collectors and fans can see the jerseys of Canadian baseball greats Ferguson Jenkins and Ron Taylor and CFL MVP winner Tony Gabriel. Take a look at how basketball became a sport and see Canadian Dr. James Naismith's whistle and hand-drawn diagrams of the very first plays.
Hockey Gallery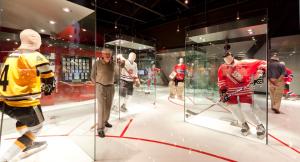 This sacred space will showcase the best of Canada's game – HOCKEY. Visitors will get the feel for the ice rink, the arena and the pond with amazing display items, and can get into the game by tending goal and taking shots during an NHL team practice at the BE A GOALIE IN 3D interactive.
Be inspired by artefacts from hockey pioneers Cassie Campbell and Angela James and legends Mario Lemieux and Bobby Hull. Marvel at the video that talks about Jacques Plante's goalie mask. See a part of Canadian hockey history as legendary broadcaster Foster Hewitt's Hockey Night in Canada microphone is on display.
Glide Gallery
Canadians have been conquering ice and snow for centuries; skiing, sliding, boarding – and GLIDEing to victory in the sporting world. Visitors to this gallery will have the opportunity to strap on a pair of long ski jump skis and experience what it is like for an athlete to sail off a ski jump and attempt a landing in the BE A SKI JUMPER interactive.
To appreciate the speed of sliding sports, check out World Cup Champion and Olympic skeleton athlete Melissa Hollingsworth's race suit and helmet from the 2010 Olympic Winter Games. Other artefacts you won't want to miss are cross country skier Beckie Scott's race suit from the 2002 Olympic Winter Games, when she won bronze in the pursuit (and was later upgraded to Gold medal), and legendary alpine skier and two-time Olympic medalist Nancy Greene's skis.
Legends Gallery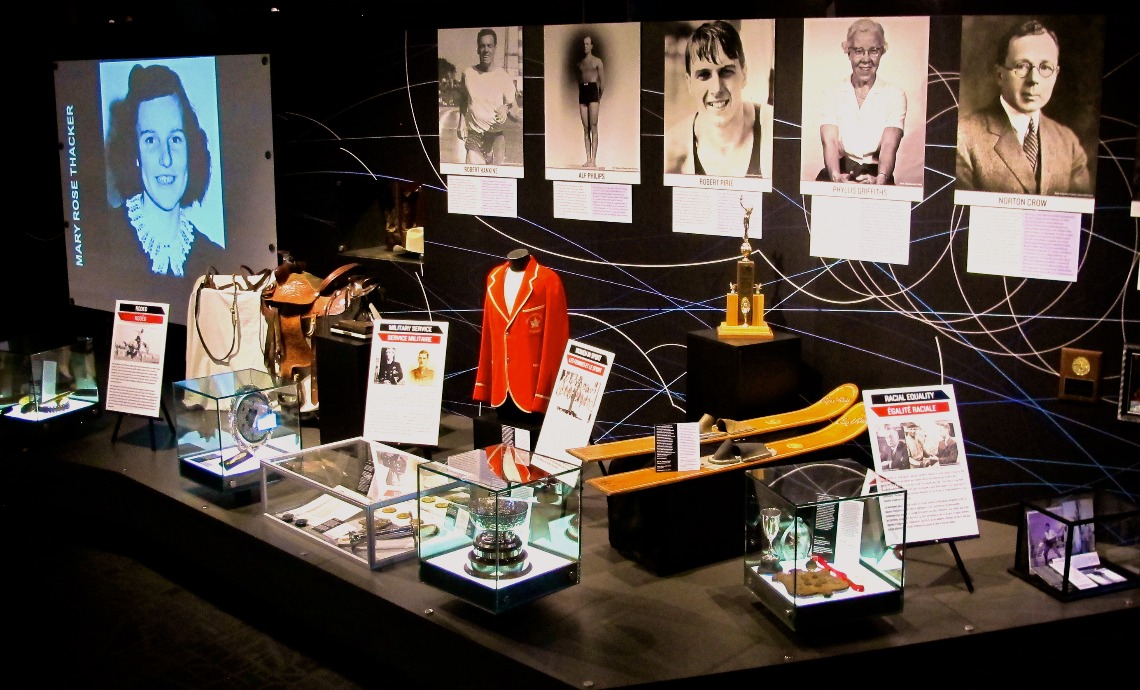 Be inspired by and learn about the Canadian Sport Legends Class. Each inductee contributed to and helped shape Canadian sport in the 19th and early 20th centuries. This remarkable group of people fought for gender equality, broke down racial barriers, and developed sport in Canada. Learn about the father of modern Rodeo, the founder of the Commonwealth Games, the first female photo editor of a Canadian newspaper, the father of Ice Hockey and many more legends.
The new Legends Gallery showcases extremely rare artefacts, photos and videos from the inductees of the Canadian Sport Legends Class, inducted on June 17, 2015, spanning nearly 150 years of Canadian Sport. Highlights include a golf club from 1898 that was carved out of a tree branch and a brass buckle from 1999 celebrating the 75th anniversary of the invention of the one-handed bareback rigging for Rodeo.
Olympic & Paralympic Games Gallery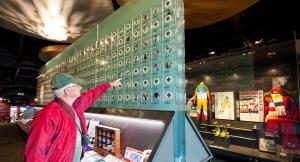 Canada's history in OLYMPIC AND PARALYMPIC competition is awe-inspiring. It has created heroes, 'where-were-you-when' moments and is the stuff of dreams. Visit this gallery and feel the glory! See the Olympic torches from the three times Canada has hosted the Olympic Games, 1976, 1988 and 2010. See Ralph Klein's special collection of items from the 1988 Olympic Winter Games.
Canada's Sports Hall of Fame has the largest collection of Summer and Winter Olympic Games artefacts in Canada. The collection includes numerous medals dating back to the Amsterdam 1928 Olympic Games, 29 unique Olympic Torches spanning almost 80 years from the Berlin 1936 Olympic Games to the Sochi 2014 Olympic Winter Games, the Honourable Ralph Klein's Olympic Collection, Cassie Campbell's Salt Lake City 2002 Olympic Winter Games jersey, skates and stick, a 1964 Bobsleigh and an exceptionally rare 1896 Olympic Games Final Report from the first ever modern Olympic Games in Athens, Greece.
PyeongChang 2018: United in Spirit
Canada has a rich sporting history and several of the most talented winter sport athletes and para-athletes in the world call Canada home. Canada's Sports Hall of Fame's new exhibit PyeongChang 2018: United in Spirit features five Olympic and four Paralympic podium hopefuls competing this February and March on the world stage. The athletes and para-athletes include Marie-Philip Poulin, Spencer O'Brien, Greg Westlake, Michelle Salt, Jesse Cockney, Alana Ramsay, Taylor Henrich, Mac Marcoux, and Samuel Edney.
In addition, this exhibit commemorates the 30th anniversary of the 1988 Olympic Winter Games in Calgary. At the closing ceremony on February 28, 1988, the XV Olympic Winter Games were pronounced "the best ever". The physical and financial legacy from those Games has made the Calgary region the top training and competition centre for elite winter sport in Canada. The Calgary Olympic Winter Games have inspired many young athletes to pursue their Olympic ambitions and to achieve their dreams. Click here for more info on the exhibit.
Locker Room Gallery
Check out the LOCKER ROOM gallery and get to know the current class of athletes and sport "builders". The LOCKER ROOM Gallery is updated annually to feature the current Class.
Media Room Gallery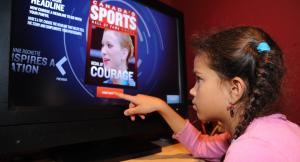 Check out the MEDIA ROOM gallery and immerse yourself in an interactive world of sport. Experience what it's like to call the play-by-play in an exciting game with BE AN ANNOUNCER or try creating your own magazine cover story with BE A SPORTS JOURNALIST and don't forget the BE A BROADCASTER where you can record yourself and watch the play back.