Canada's Sports Hall of Fame has dozens of hands on interactive exhibits. Record a sports broadcast! Shadow box with Lennox Lewis! There's something fun, educational and inspiring for people of all ages.
Be An Announcer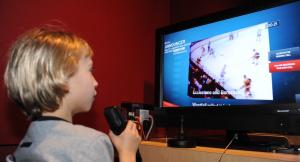 He shoots, he scores! Do you have what it takes to call exciting, fast-paced sport events? Well, give it a try in the MEDIA ROOM gallery with the BE AN ANNOUNCER interactive.
Visitors will get to review video of a great Canadian sport event and listen to some of the top professionals call the game, race or event, and then follow in their footsteps or establish their own style.
Be A Sports Journalist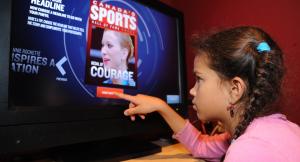 Have you ever imagined being on the sidelines capturing the most amazing sport moments? Now visitors to Canada's Sports Hall of Fame's MEDIA ROOM gallery can try it out at the BE A SPORTS JOURNALIST interactive.You'll be able to take photos at a great Canadian sport event, create a headline then design a front page cover.
Be A Broadcaster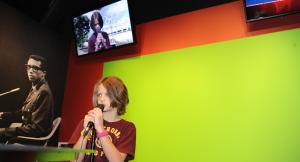 Have you dreamed of becoming Canada's next Ron MacLean, Steve Armitage or Brian Williams? If you think you could be a sports broadcaster, visit Canada's Sports Hall of Fame MEDIA ROOM gallery and take a seat in the BE A BROADCASTER interactive.
Take your place in front of our camera and commentate at a sports location that you choose and experience what the professionals go through.
Ask The Athlete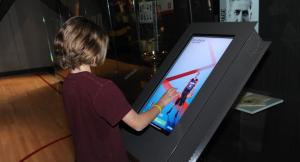 Have you dreamed of interviewing your favourite Canadian athletes one-on-one to learn their keys to success or how they felt winning championships?
When you visit Canada's Sports Hall of Fame you'll be able to ask Chantal Petitclerc, Colleen Jones, Kerrin Lee-Gartner, Kurt Browning, Alex Baumann and other Canadian greats questions about how they achieved their goals, their training regimes, and what advice they have for you.
Hero Station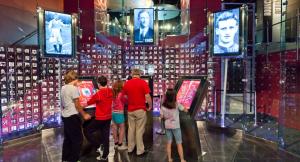 Canada's sport heroes have been inspiring, developing, excelling and winning throughout our nation's history. Visit Canada's Sports Hall of Fame HERO STATION where all 657 Honoured Members' images and biographies can be selected with the touch screen – and allow you learn about the hard work, risks, dedication, sacrifice, creativity, ingenuity and heart it takes to become a Canadian sport hero. You can't miss this place of honour when you visit Canada's Sports Hall of Fame.
Wheelchair Race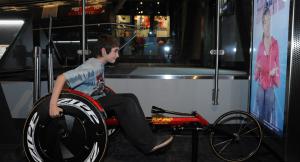 Do you think you have what it takes to beat Honoured Member Chantal Petitclerc's record? Have a seat in the wheelchair race interactive and see if you can break her world record.
Ski Jump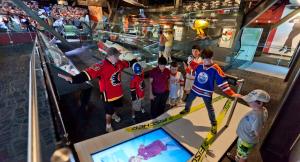 Have you ever wondered how it feels to fly through the air like a ski jumper? Step onto the ski jump interactive at Canada's Sports Hall of Fame and learn how to jump (and land!) like a pro.