Hall of Famer
CLARA HUGHES
Inducted in 2010
Member Details
Date of Birth: September 9, 1972
Place of Birth: Winnipeg , Manitoba
Sport: Cycling - Road & Speedskating
Member Category: Athlete
Career Highlights
1996
Bronze medal in women's individual road race
2002
Won bronze medal in women's 3,000 metre speed skating at Olympic Winter Games in Salt Lake City, Utah
2006
Olympic Winter Games in Torino, Italy - gold in women's 5,000 metre speed skating and silver in the team pursuit
2010
Canadian flag bearer at Olympic Winter Games in Vancouver, B.C.
Won bronze medal in women's 5,000 metre speed skating at the Vancouver Olympic Winter Games
Named an Officer of the Order of Canada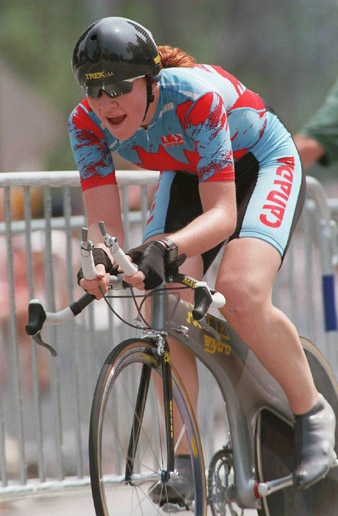 Story
The Olympic dream of Clara Hughes began in 1988 when she caught her first glimpse of the Winter Games on television. Watching speed skaters glide around the oval inspired her to believe that one day she, too, could represent Canada in that same sport. Little did she imagine that in pursuing her speed skating dream, she would first compete in two Olympic Summer Games, in the sport of cycling.
With more than 100 victories under her belt, including two bronze medals in the 1996 Olympic Summer Games, medals in both the Pan American and Commonwealth Games, plus numerous World Cycling and National Championship titles, Clara had established herself as one of the best cyclists in the world. It was now time to refocus and pursue her speed skating dream.
The 2000-01 season on ice, her first in 10 years, was full of unprecedented achievements: Clara earned a spot on the National Team after only seven weeks of specific training, and then shocked the sporting world during the 2002 Olympic Games when, only 16 months after competing in her second Summer Olympics as a cyclist, she won a bronze medal in the grueling 5000m speed skating event. This, along with her two medals from the 1996 Summer Olympics in cycling, made Clara the only Canadian, and fourth ever athlete in history, to win medals in both Winter and Summer Games.
Clara became one of the top long-distance skaters in the world leading into the Olympic Winter Games in Torino, Italy in 2006. With World Cup victories, a World Championships title and a world record in the epic 10,000m event, Clara was a definite favourite for the 5000m race.
She did not disappoint, winning gold in a gripping race that saw her take the lead with only 200m to go. Along with her silver medal in the team pursuit in those same Games, Clara became the only athlete in history to win multiple medals in Winter and Summer Olympics.
Most recently, Clara was named flag-bearer for the 2010 Olympic Team and proudly led the Canadian athletes into B.C. Place to kick off her first 'home Games' and last Olympic Winter Games as a speed skater.
Clara went on to show, once again, that she is one of the best athletes when it comes to performing under pressure. At the age of 37, Clara thrilled the home crowd of 7000+ at the Richmond Olympic Oval to a bronze medal in her favourite and most grueling distance, the 5,000m.
In honour of her $10,000 personal donation to 'Right to Play' after winning gold in Torino four years earlier, *Clara made a donation to the local Vancouver charity 'Take a Hike' with her $10,000 bronze medal bonus*in 2010
Clara is an Officer of the Order of Canada, a member of the Order of Manitoba, has received an Honourary Doctorate of Law from the University of Manitoba, an Honourary Doctorate of Law from The University of British Columbia, an Honourary Doctorate of Letters from the University of New Brunswick, received the International Olympic Committee's 'Sport and Community' award and is a two-time recipient of the 'Spirit of Sport' award from the Canadian Sports Awards. Most recently, she has received a star on Canada's Walk of Fame.
For 20 years, Clara has followed her bliss through the world of sport. She has enjoyed a multitude of success, but considers her work outside of the realm of sport to shine far brighter than any and all of her athletic achievements.