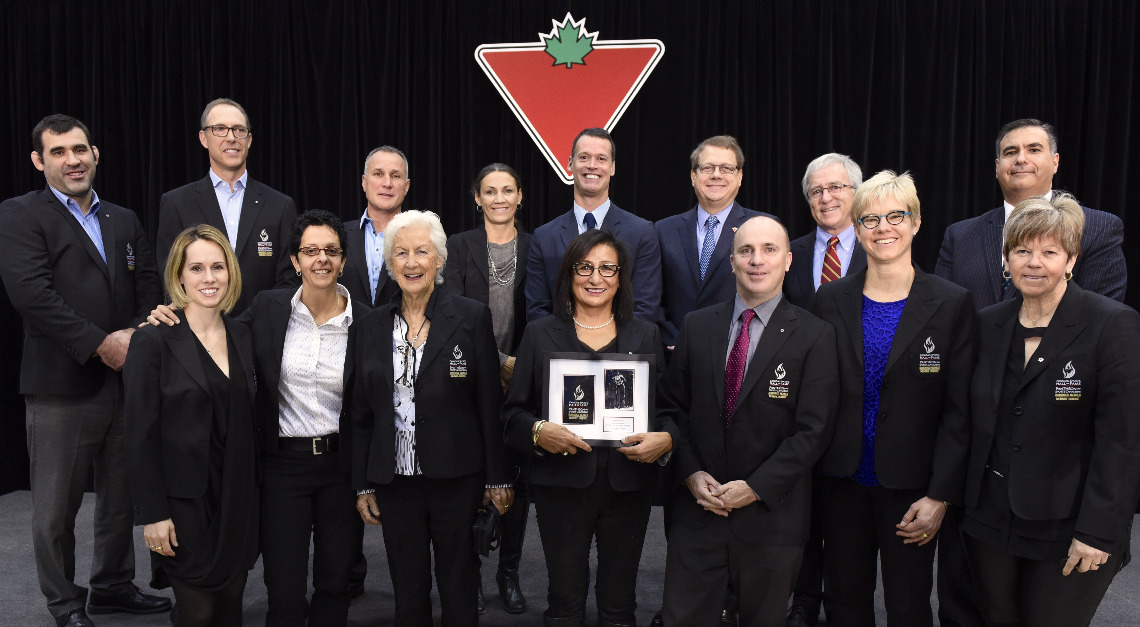 Canada's Sports Hall of Fame and Canadian Tire Induct Legendary Class of 2015
October 21st, 2015
Twelve individuals recognized for enormous contribution to sport and their country
Canada's Sports Hall of Fame hosted the 2015 Induction Celebrations presented by Canadian Tire at Ryerson's Mattamy Athletic Centre in Toronto on October 21, 2015. The Induction Celebrations will be emceed by Canadian Actor and Comedian Gerry Dee. Celebrating passion for sport and incredible achievement, Canada's Sports Hall of Fame is proud to induct:
Susan Auch, Speed Skating
Paul Coffey, Men's Ice Hockey
Michael Edgson, Paralympic Swimmer
Sharon and Shirley Firth, Cross Country Skiing
Craig Forrest, Soccer
Nicolas Gill, Judo
Danielle Goyette, Women's Ice Hockey
Jennifer Heil, Freestyle Skiing
Lori-Ann Muenzer, Cycling
Jocelyne Bourassa, Golf Builder
Marina van der Merwe, Field Hockey Coach
"On the occasion of Canada's Sports Hall of Fame's 60th anniversary, we are proud to be able to share the stories of the achievements of the Class of 2015 so that we can inspire all Canadians to be the best they can be in all aspects of life," said Mario Siciliano, President and CEO, Canada's Sports Hall of Fame. "Thanks to the support of our partner, Canadian Tire, and Michael Medline as our Honourary Chair, we are able to recognize these outstanding athletes and host the biggest celebration of sport in Canadian history."
For the second year in a row, Canada's Sports Hall of Fame and Canadian Tire Corporation, a leading supporter of sport in Canada, have partnered on the annual event. Canadian Tire's President and CEO, Michael Medline, will help induct this year's distinguished athletes and sport "Builders" as a member of the Board of Governors of Canada's Sports Hall of Fame and Honourary Chair of Canada's Sports Hall of Fame 2015 Induction Celebrations.
"At Canadian Tire, we believe in the power of sport to rally the nation and define us on a global stage," said Michael Medline. "We are incredibly proud to help Canada's Sports Hall of Fame recognize this year's inductees – a group of real heroes who have provided us with countless remarkable moments. Their accomplishments are a testament to what Canadians can achieve, serving as international ambassadors and inspirations to us all."
Each inductee was presented with an official Canada's Sports Hall of Fame Honoured Member jacket at this morning's news conference – the official symbol of the induction and Canada's highest sporting honour. Honoured Members from across North America are attending the induction ceremony this evening including: Wayne Gretzky, Donovan Bailey, Catriona Le May Doan, Mark Tewksbury and Steve Bauer. The Class of 2015 will be featured in a new exhibit at Canada's Sports Hall of Fame's international award-winning facility located at WinSport's Canada Olympic Park in Calgary, Alberta.

-30-