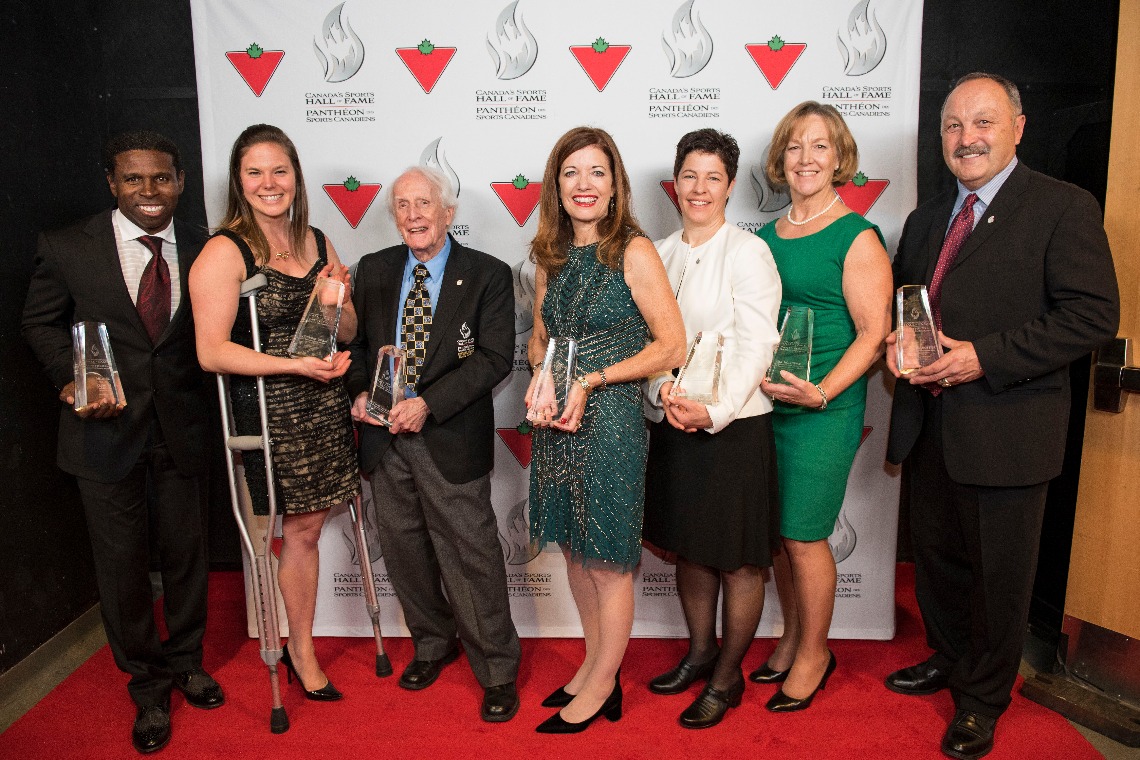 Canada's Sports Hall of Fame and Canadian Tire Induct Inspiring Class of 2016
November 1st, 2016
Seven Inductees Honoured for Outstanding Athletic Achievements and Community Impact
Toronto, November 1, 2016 –Tonight, Canada's Sports Hall of Fame will host the 2016 Induction Celebrations presented by Canadian Tire at the Four Seasons Centre for the Performing Arts in Toronto. The Induction Celebrations will be emceed by Canadian comedian and actor Martin Short and include a musical performance by The Barenaked Ladies.
Collectively, the Class of 2016 has brought sport to life by breaking barriers, blazing new trails, and serving as proud international ambassadors for Canadian values – inspiring the nation both on and off the field of play. The seven inductees include:
Bryan Trottier, seven-time Stanley Cup winner, Ice Hockey
Sue Holloway, four-time Olympian, and the first woman to represent Canada at both the Summer and Winter Olympic Games in the same year, Canoe-Kayak and Cross Country Skiing
Annie Perreault, three-time Olympian and double Olympic Gold medallist, Speed Skating
Dr. Frank Hayden, creator of the worldwide Special Olympics Movement, Builder
Stephanie Dixon,19-time Paralympic medallist and world record holder, Para-swimming
Colleen Jones, two-time World Champion and youngest skip to ever win a Canadian Women's Championship, Curling
Michael "Pinball" Clemons, four-time Grey Cup Champion with the Toronto Argonauts, Football
"The Class of 2016 is an exceptional group of individuals who continue to inspire the next generation to dream big. Thanks to our Presenting Sponsor, Canadian Tire, we are able to honour our seven inductees at the biggest annual celebration of sport in Canada," said Mario Siciliano, President and CEO, Canada's Sports Hall of Fame.
For the third consecutive year, Canada's Sports Hall of Fame and Canadian Tire Corporation, a leading supporter of sport in Canada, have partnered on the annual event.
"Canadian Tire is proud to support Canada's Sports Hall of Fame and celebrate the Class of 2016," said Allan MacDonald, President, Canadian Tire Retail. "This year's athletes and sport "Builders" have earned themselves a permanent place in our nation's rich sporting history through their outstanding athletic achievements and contributions to the community."
Each inductee was presented with a Canada's Sports Hall of Fame Honoured Member jacket, the official symbol of receiving Canada's highest sporting honour, at this morning's media conference. Honoured Members from across North America are attending the induction ceremony this evening including: Curt Harnett, Marnie McBean, Elvis Stojko, Mark Tewksbury, and more. The Class of 2016 will be featured in a new exhibit at Canada's Sports Hall of Fame's international award-winning facility located at WinSport Canada Olympic Park in Calgary, Alberta.
- 30 -