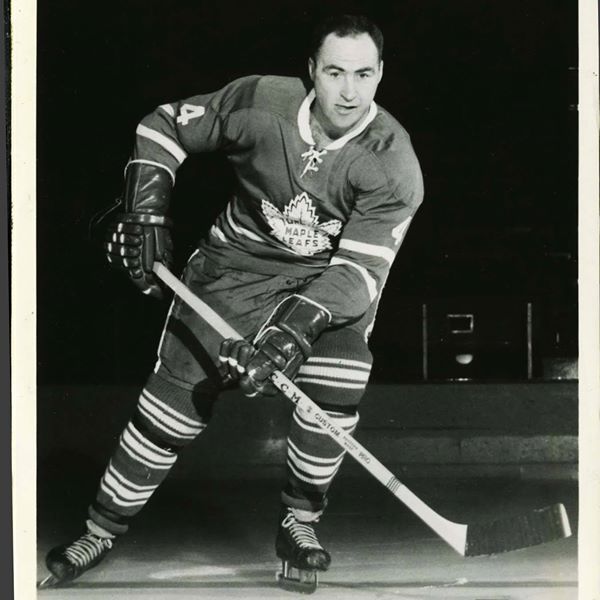 Canada's Sports Hall of Fame Mourns the Loss of Hall of Famer, Leonard "Red" Kelly (1927 - 2019)
May 3rd, 2019
Canada's Sports Hall of Fame mourns the loss of Hall of Famer, Leonard "Red" Kelly inducted in 1975 as an athlete – Ice Hockey, who passed away on May 2, 2019. Canada's Sports Hall of Fame's mission is to share the stories of its Hall of Famers so that their legacy is never forgotten.
Perhaps no player has gone about his business as successfully and quietly as Red Kelly during his 20 years in the NHL. He was never the flashiest player, never had the hardest shot or delivered the most ferocious checks. Apart form his red full head of hair, he was indistinguishable from many NHLers of the Original Six era, and yet he embodied sportsmanship, dedication, and success. Kelly's career can be divided almost equally in two. The first half occurred in Detroit, where he played twelve and a half years. He was mostly a defenceman, winning the Norris Trophy in 1953-54 as the best in the league. Yet he always scored about 15 times a season, an impressive output for any defenceman of the pre-expansion era. As important, he helped the Wings to four Stanley Cups—1950, 1952, 1954, 1955—on teams that also featured Gordie Howe, Ted Lindsay, and Terry Sawchuk. In 1960, however, the Wings felt his best days were behind him and they traded him to Toronto for nothing more than Marc Rheaume, another defenceman. Rheaume barely played with Detroit while Kelly continued to star for the Leafs. Coach Punch Imlach decided to move him up to centre, where his oncoming slowness wouldn't be as evident, and Kelly responded by scoring 20 goals in three straight years, the only time he reached that plateau. He also had Frank Mahovlich as his left winger and was instrumental in the Big M scoring 48 goals in '60-'61. More important, the Leafs went on to win the Cup three times—1962, 1963, 1964. Kelly was part of one last Cup triumph, in 1967, at age 39, with the Over-the-Hill Gang, as they were called, a Leafs team chock full of ageing warriors. During his years with the Leafs he also served as Liberal MP, often playing a game, traveling overnight to Ottawa to fulfill his parliamentary duties, and getting back to Toronto the day after for another game. He served for three years (1962-65), most famously in 1964 when he had to take a train to Ottawa after the Cup victory and couldn't stay for the team's celebrations. By the time he retired in 1967, Kelly had won eight Stanley Cups with two different teams playing two different positions, an achievement no one else can match.
About Canada's Sports Hall of Fame: Inspiring Canadians – in sport and life

Canada's Sports Hall of Fame is a not-for-profit organization dedicated to conferring Canada's highest sporting honour on athletes and organizers that make us proud to be Canadian. Canada's Sports Hall of Fame Museum at WinSport's Canada Olympic Park is the home to Canada's Highest Sporting Honour, celebrating a community of Hall of Famers, 665 to date, that inspire Canadians in sport and life. New Hall of Famers are inducted annually and their stories are shared through curated exhibits, immersive experiences and digital storytelling. Visit sportshall.ca to learn more about corporate and private facility rentals, education programs, and upcoming events.