Honoured Member
MARNIE MCBEAN
Inducted in 1997
Member Details
Date of Birth: January 28, 1968
Place of Birth: Vancouver, British Columbia
Sport: Rowing
Member Category: Athlete
Career Highlights
1992
Barcelona Olympic Games - Gold medals in straight pairs (with Kathleen Heddle) and eights
1996
Atlanta Olympic Games - Gold medal in double sculls and Bronze medal in quad sculls.
Three World Cup titles, eight American, and three Canadian
First woman to claim a medal in every boat class at World and Olympic events
With partner Kathleen Heddle, Canada's only summer Olympic triple gold medalists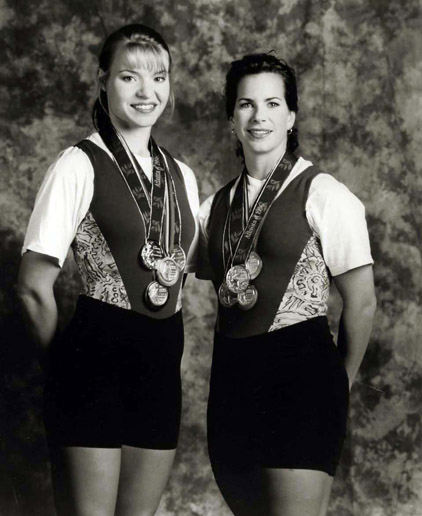 Story
Canadians are still feeling the ripple effect in the enormous wake of Marnie McBean and Kathleen Heddle's success. These two scullers dominated the world rowing scene in the 1990's, becoming the first Canadians to win three Summer Olympic gold medals. At the 1992 Olympics in Barcelona, McBean and Heddle claimed gold in both the eights and the pairs. Proving to be a truly unstoppable team, they rowed their way to gold once again in the double scull event at the 1996 Olympics in Atlanta. To top off their medal collections, McBean and Heddle claimed bronze in the quadruple scull event, making them the nation's most successful Olympians. In addition to her Olympic triumphs, McBean also held three World Cup, eight U.S., and three Canadian titles. An extremely versatile oarswoman, McBean was the first woman to claim a medal in every boat class at World and Olympic events. She hoped to win a fourth gold medal at the 2000 Olympics but was forced to withdraw because of a back injury. McBean, however, put sportsmanship, national pride, and the love for her sport above her disappointment, and lent enormous support to the Canadian team during the games.