Canada's Sports Hall of Fame Announces the Class of 2020-21 Inductees
May 27, 2020 - Canada's Sports Hall of Fame is excited to announce the Class of 2020-21 that will be inducted into Canada's Sports Hall of Fame and will receive the Order of Sport award, Canada's highest sporting honour. With no certainty regarding crowd size restrictions, travel bans and general safety measures, we have postponed their Induction celebration to 2021. At that time, we look forward to inducting this year's remarkable class of athletes and builders who continue to shape their sports, communities and our country.
Six athletes and five builders were chosen this year to signify and celebrate Canada's Sports Hall of Fame's 65th anniversary year. They were selected from over 260 public nominations and by a committee comprised of sports broadcasters, writers, academics and athletes, all for their ability to lead and inspire both on and off the field of play, for their sports accomplishments and in recognition of their continuing role in building Canada through sport and the value they return to their communities.
Canada's Sports Hall of Fame's Class of 2020-21 Inductees are (click each name to read full bios):
"In these uncertain times, we are thrilled to be able to share a good news story and to have this remarkable group of people to induct into Canada's Sports Hall of Fame next year. We've never been more proud of our sports history, our sports champions, and their community spirit, and we are formally recognizing these athletes and builders for living and sharing sports values – Canada's shared values; respect, equality, fairness and openness. We look forward to bringing Canada together in 2021 to celebrate this exceptional Class when we inducte and award them with the Order of Sport for their beyond sport contributions to our country." said Cheryl Bernard, President and CEO, Canada's Sports Hall of Fame.
-30-
ABOUT THE ORDER OF SPORT
Canada's Sports Hall of Fame created the Order of Sport award to modernize recognition and reflect the growing cultural significance of sport to Canadians; one that connects Canada's greatest sports champions to the greater good. The Order of Sport provides the stature and optics that refresh credentials and emboldens our champions to step into the spotlight with new purpose. With the Order of Sport, we are providing a platform and extending the runway for champions that connect sport + spirit. For more information about the order of sport, click here.
ABOUT CANADA'S SPORTS HALL OF FAME
Located in Calgary, Alberta at WinSport's Canada Olympic Park, Canada's Sports Hall of Fame is a registered charitable organization and has been a vital cultural institution in Canada for the past 65 years. As one of North America's oldest sports museums, the organization's focus is on recognition, education, curation, and thought leadership. These four pillars help to support and celebrate Canada's sport heroes for the value and impact they return to their communities. Over 673 people have been inducted into the Hall of Fame since its establishment in 1955, and as of 2019, the new Order of Sport is awarded as part of induction to Canada's top athletes and builders for their ongoing role in building Canada through sport.
2020 MAJOR EVENTS – POSTPONED UNTIL 2021
Due to the COVID-19 situation and uncertainty surrounding event size restrictions and travel bans, we have made the difficult decision to delay our two major fundraising and recognition events (the May 2020 Sport + Spirit Charity Gala that was to take place today with a morning media conference to announce the Class of 2020 and the October Induction Festival) until 2021. At that time, we look forward to inducting and awarding the Order of Sport to this incredible group of athletes and builders.
The health and well-being of Canada's Sports Hall of Fame employees, visitors, volunteers, Hall of Famers, Board of Governors, families and students are our top priority. Effective March 16, 2020 we closed our museum to the public until year-end. Though our physical museum is closed, Canada's Sports Hall of Fame is committed to the integrity of our programming. We will continue to operate our online and outreach education programs as well as our community travelling exhibits when restrictions are lifted and it is safe to do so. Even though we are not able to gather in person at this time, the team at Canada's Sports Hall of Fame will continue to look for new and innovative ways to connect, inform and inspire all Canadians in the coming months.
FOR FURTHER INFORMATION, PLEASE CONTACT:
Ruth Cowan
Liaison Officer
rcowan@cshof.ca
---
John "Jackie" Barrett - Athlete, Powerlifting and Special Olympics athlete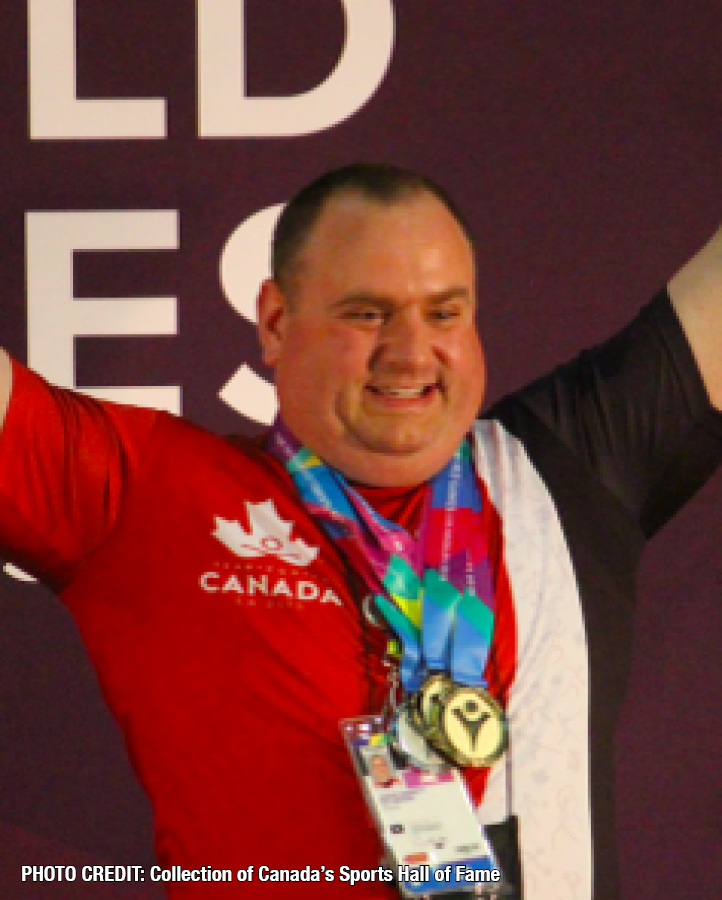 People with intellectual disabilities face a unique set of challenges, often shaped by limiting social perceptions of their differences. Born with autism, Jackie Barrett decided to blaze his own trail when he realized life had dealt him a powerful opportunity to say to the world, "challenge accepted." Over a Special Olympics career spanning 28 years, 20 of them as a Powerlifter, his personal drive, discipline and perseverance have commanded the admiration of the world, breaking the mould for how many people perceive Special Olympics Athletes. Already a talented swimmer, Jackie began lifting weights while he was in high school, and continued to rigorously hit the gym while earning a Bachelor of Commerce degree from Saint Mary's University in Halifax.
All but redefining the concept of the self-motivated athlete, he continually demanded the very best from himself as he trained independently to reach his personal fitness goals. Determined to realize his full potential, he confidently dubbed himself the "Halifax Hercules," a moniker he later replaced with the "Newfoundland Moose" after moving to Corner Brook in 2008.
Jackie Barrett first participated in Special Olympics as a swimmer in 1987 before switching to Powerlifting in 1995 at the suggestion of a coach who recognized his passion for lifting weights. He went on to capture 20 Gold Medals over five appearances at the Special Olympics Canada Summer Games, and an astonishing 13 Gold Medals over four appearances competing for Canada at the Special Olympics World Summer Games.
He retired after setting new records in the Squat with a lift of 277.5 kg (611 lb.), the Deadlift with a lift of 297.5 kg (656 lb.), and the Triple Combination with a score of 697.5 kg (1,538 lb.) at the 2015 Special Olympics World Summer Games in Los Angeles, where he also broke the mainstream Newfoundland and Labrador Men's Masters Super-Heavyweight Squat record.
Jackie Barrett was named Special Olympics Canada Male Athlete of the Year in 2000 and 2015. In 2015, he also received the prestigious Dr. Frank Hayden Athlete Lifetime Achievement Award from Special Olympics Canada and became the first Special Olympics Athlete to be nominated for the Lou Marsh Award as Canada's Top athlete.
In 2019, he set another new precedent as the first Special Olympics Athlete to be inducted into the Nova Scotia Sport Hall of Fame. After retiring from competition, Jackie has continued to mentor other powerlifters while volunteering as a Public Speaker, Ambassador, and Coach through the Special Olympics Canada Athlete Leadership Program.
He was also recruited to work with a committee to develop the National Coaching Certification Program's Powerlifting technical manual, which is now used across Canada. A tremendously accomplished athlete, Jackie Barrett remains at the forefront of the Special Olympics movement in Canada, shining a new light on what people with intellectual disabilities can accomplish in sport and life.
---
Sonja Gaudet - Athlete, Wheelchair Curling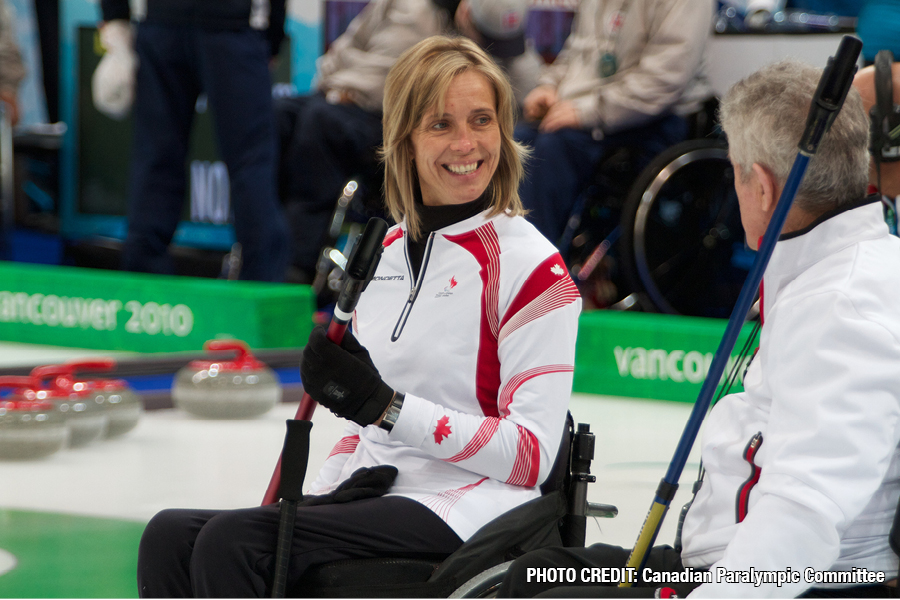 Born in North Vancouver, Sonja Gaudet grew up experimenting with a wide variety of sports, from basketball and volleyball to swimming, tennis and skiing. After moving to Vernon, her outlook on life was forever changed when a horseback riding accident left her suddenly paralyzed from the chest down at the age of 31. Married with two young children, Sonja's family helped her find the confidence to try several different para sports as she adapted to life in a wheelchair. Rather than focusing on limitations, Sonja refused to give up, and the abilities she retained as well as the new skills she learned in the aftermath of her injury acquired additional nuance and depth. Determined to improve accessibility for other people with physical disabilities in her community, she was introduced to wheelchair curling by chance when a local curling club asked her for advice regarding renovating a wheelchair accessible washroom. The club was preparing to host a beginner's wheelchair curling clinic, and Sonja's interest was piqued. She ended up participating, and at the age of 37 discovered a passion and natural affinity for the sport.
By the time Sonja started competing in wheelchair curling internationally, she was an unstoppable force. Playing lead, she helped Team Canada capture a Gold medal at the 2006 Paralympic Winter Games in Turin, the same year the sport debuted as a Paralympic event. She repeated her Gold medal performance with Team Canada at the 2010 Paralympic Winter Games in front of a hometown crowd in Vancouver, and again at the 2014 Paralympic Winter Games in Sochi, where she was honoured as Canada's opening ceremonies flag bearer. Complementing her Paralympic success, Sonja claimed Gold Medals with the Canadian team at the World Wheelchair Curling Championships in 2009, 2011 and 2013. Always keen to find ways to improve her game, she was the first wheelchair curler to use an innovative piece of equipment in international competition, an aluminum "balance post" attached to her chair that enabled her to maintain balance, control and strength when throwing a rock, allowing for far greater accuracy and distance control.
Honouring her unprecedented achievements, in 2013 Sonja Gaudet became the first wheelchair curler to be inducted into the Canadian Curling Hall of Fame and she has most recently been inducted into the BC Sports Hall of Fame Class of 2020. Sonja retired from competition in 2016 and in 2018, alongside five retired Olympic athletes, Canada Post created a postage stamp in honour of her career in their "Woman of Winter Sports" celebration stamp series.
Her remarkable journey from a beginner's clinic in a local curling club to the top of the Paralympic podium is firmly rooted in her ability to adapt to challenging circumstances with an open mind and a positive attitude. Sonja continues to draw on her experiences to help others, serving as an inspirational speaker in schools and working as an Accessibility Specialist with the Thompson Okanagan Tourism Association, promoting "Access for All" initiatives across the tourism industry in the province of BC. She is also an Alumni Ambassador with the Canadian Paralympic Committee and a Peer Support Specialist with Spinal Cord Injury BC, which raises funds and awareness to improve accessible environments, recreation and experiences for everyone, regardless of their abilities.
---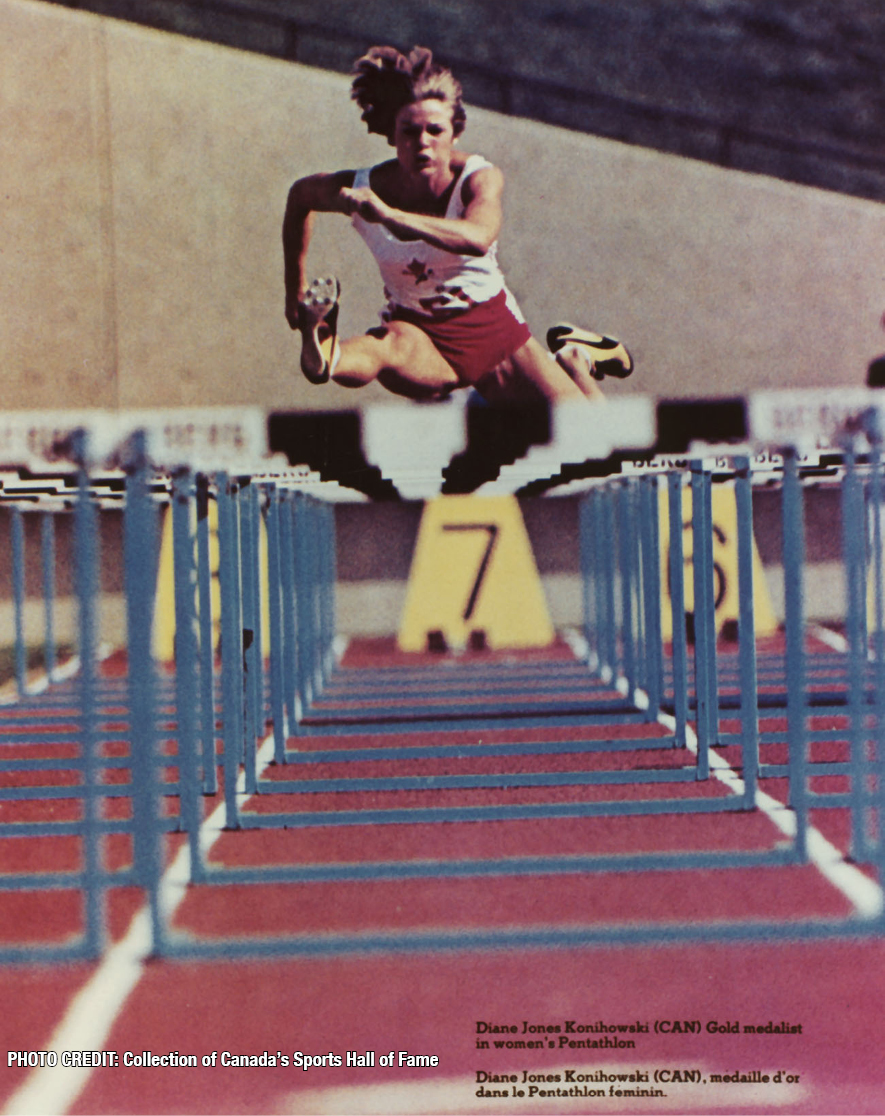 Diane Jones Konihowski has left a lasting mark on Canadian sport for over 45 years as an athlete, coach, volunteer, administrator and journalist. Diane honed her athletic abilities in track and field while attending the University of Saskatchewan and went on to find international success in pentathlon. Diane won her first international medal in 1969, capturing bronze at the Pacific Conference Games in high jump. She went on to represent Canada at the 1972 Olympic Games in Munich, placing tenth in the pentathlon. She captured the bronze medal at the 1973 University Games in Moscow, Russia. On home soil at the 1976 Olympic Games in Montreal, Diane placed 6th in pentathlon and 11th in long jump. She became an international champion after capturing gold medals in the pentathlon at the Pan American Games in 1975 and 1979, and a gold medal at the 1978 Commonwealth Games in Edmonton, setting Canadian records and ranking her number one in the world.

Diane's achievements made her one of the most successful young Canadian athletes of her generation, inspiring an outpouring of awards and numerous Hall of Fame honours. In 1978 she was awarded the Bobbi Rosenfeld Trophy as Canadian Female Athlete of the Year, as well as the Velma Springstead Trophy as Canada's Outstanding Female Athlete. That same year she was named to the Order of Canada. Considered a top medal contender for the 1980 Olympic Games in Moscow, she was denied the opportunity to stand on the podium when Canada joined an international boycott to protest Soviet military action in Afghanistan. Disappointed but determined to not let 16 years of training and competition go to waste, she won the Liberty Bell Classic in Philadelphia, dubbed the 'Alternative Olympics', and two weeks after the 1980 Olympic Games, Diane won gold in pentathlon while competing in Germany against the three medalists from Moscow.
Diane's achievements afforded her the expertise and confidence to help other high-performance athletes achieve their dreams. Settling in Calgary, in 1985 Diane was appointed Director of the Alberta Olympic Game Plan with the Alberta Sport Council, mandated to increase the number of provincial athletes on the 1988 Canadian Olympic Team. At the national level, she became Director of Marketing for Canada's first National Sport Centre in 1994. In 2000, she served as Chef de Mission with the Canadian Olympic Team in Sydney, Australia. From 1986 to 2010, she was a Director on a variety of national Boards - Coaching Association of Canada, Canadian Centre for Drug Free Sport, KidSport Canada, and the Canadian Olympic Committee. She was Chair of Fair Play Canada and the Petro-Canada Olympic Torch Scholarship Fund for a number of years. Never content to rest on her laurels, Diane has also contributed to many community service initiatives. In 2010, she was named CEO of KidSport Canada, a program that helps young people overcome financial barriers so they can play a season of sport. She also developed the Youth Education through Sport program (Y.E.S.), which trains athletes to serve as role models and motivational speakers in Alberta schools. She has received Honorary Doctorate of Laws Degrees from the Brock University and the University of Saskatchewan. Currently, she serves as Director of Fund Development and Communications for Distress Centre Calgary, an organization that provides Calgary only 24-hour crisis support.
---
Born and raised in Charlottetown, Lorie Kane started playing golf when she was five years old, kicking off an expansive career that has made her one of the sport's most recognizable Canadian athletes. While honing her skills, Lorie won the Prince Edward Island (PEI) Junior Girls Championship twice and was named Women's Amateur Champion an extraordinary nine times between 1983 and 1992 in her home province. Internationally, she was the Mexican Amateur champion in 1991, a member of the Canadian World Amateur team in 1991, the World Cup Champion in 1992, 2005, 2006 and 2008, and the Pan American Games in 2015. In 1993, Lorie turned professional, earning exempt status three years later on the Ladies Professional Golf Association (LPGA) tour. In 2000, she captured her first professional win at the Michelob Light Classic in St. Louis - one of four victories she would add to her resume that year. After joining the Legends Tour, between 2011 and 2018 Lorie claimed five more wins with the LPGA. She has also competed in Canada's National Women's Open Championship a record 30 times, and captured the Canadian PGA Women's Championship four times, consecutively between 1996 and 1999, and again in 2001.
Lorie Kane's trademark combination of composure, patience, and tenacity, as well as her willingness to remain humble and learn from adversity have led her to success at every level of competition. Her enthusiasm and approachability have also made her an exemplary role model for younger athletes, and a perennial fan favourite. In 1997 and 2000, Lorie was named Canadian Female Athlete of the Year, and in 2006 she received the Order of Canada, recognizing her achievements at the forefront of women's golf. In 1998, she was awarded the LPGA's Heather Farr Player Award, recognizing her dedication and love for the game, and in 2000 players awarded her the William and Mousie Powell Award as the athlete who best embodied the spirit and values of the LPGA.
Lorie Kane's success and big-hearted style of play are on par with her exceptional commitment to many worthy causes. While serving as a Canadian Pacific Railway Ambassador Lorie was instrumental in developing the CP Has Heart program, where she has helped raise over 20 million dollars to improve heart health across Canada in addition to personally visiting patients and recruiting other LPGA players to support the initiative. She has also been a dedicated volunteer for many community organizations in PEI, including Boys and Girls Clubs of Canada and Ronald McDonald Children's Charities. Since 1997 she has worked with KidSport to help underprivileged children participate in sport, serving as PEI's first ambassador for the program. Her own fundraising venture, the annual Lorie Kane Charity Golf Classic has also raised over $850,000 for charitable causes in her home province. Fulfilling the promise of the official motto of the LPGA to "Act Like a Founder," Lorie Kane has brilliantly enriched her sport and her community for the next generation.
---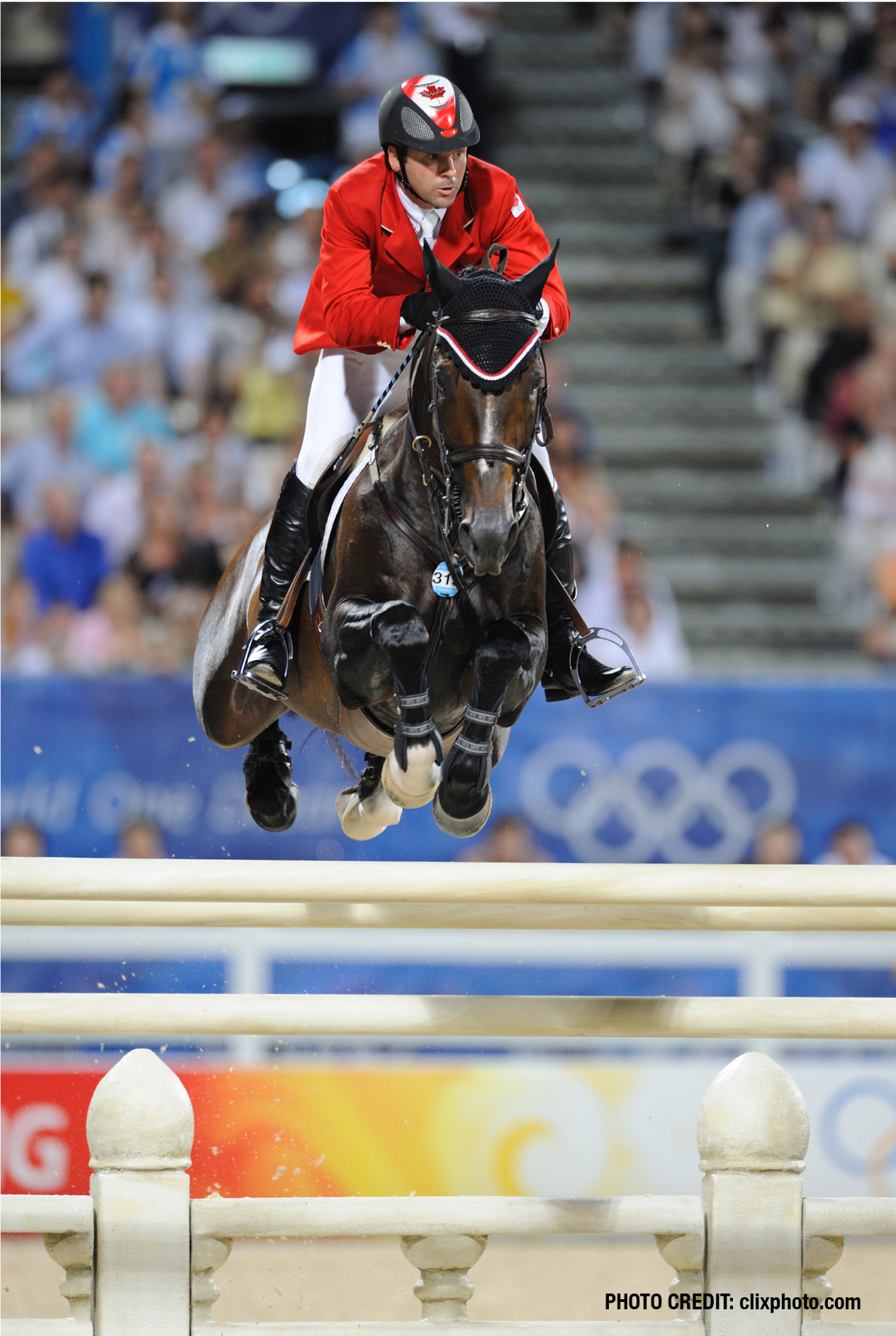 Growing up in a troubled home in Montreal, Eric Lamaze was naturally athletic and started riding horses at the age of twelve, often trading farm work for time in the saddle. Dropping out of school at a young age, he tenaciously carved a path to the top of equestrian sport through the sheer force of his talent and determination. Reaching the Grand Prix level in 1991, Eric was named to the Canadian National Equestrian Team the following year. As his career flourished, a hard-won respect for the redemptive power of sport prepared him to forge one of the most successful partnerships in the history of international show jumping.
Standing at sixteen hands, the Dutch Warmblood stallion Hickstead was considered undersized and difficult to handle by many other riders until Eric decided to take a chance on him in 2004. Determined to nurture the tremendous natural ability he saw beneath the horse's outwardly rebellious personality, Eric patiently worked to gain his confidence and trust. Forming a bond that was nothing short of magical, between 2007 and 2011 Eric and Hickstead won every major Grand Prix title in the world, in competitions that took them from Calgary to Geneva, Aachen, La Baule and Rome. In 2007, they claimed Team Silver and Individual Bronze at the Pan American Games in Rio de Janeiro. Riding with an underdog Canadian show jumping team at the 2008 Olympic Games in Beijing, the unstoppable duo led Canada to Team Silver and captured an unprecedented Individual Gold in the show jumping competition. In a career defining moment, Eric became the first Canadian to be crowned an Olympic Champion in individual show jumping, and ended the year as the first Canadian ever to be ranked World Number One by the International Equestrian Federation (FEI), a remarkable feat he repeated in 2010 and 2011. In 2010, the pair reached the 'Final Four' at the World Championships where they emerged with an Individual Bronze and Hickstead was awarded the title of "Best Horse."
In 2011, Hickstead died suddenly after suffering an aortic rupture during a World Cup competition in Italy. In a moving tribute accompanied by Hickstead's owner, John Fleischhacker, Eric unveiled a life-sized statue of his lost partner a year later on the Spruce Meadows' showgrounds near Calgary. Further commemorating his legacy, the Hickstead Trophy has been awarded to the Equestrian Canada "Horse of the Year" annually since 2012. An influential trainer and role model for the next generation of equestrian athletes, Eric also continues to compete and find success. In 2016 he captured a Bronze Medal in the individual equestrian show jumping event at the Olympic Games in Rio de Janeiro, and won an incredible four Grand Prix titles during the 2019 Spruce Meadows season. The trademark perseverance underwriting his prolific career became even more awe-inspiring after Eric publicly revealed that he had been battling a brain tumour since 2017. His exemplary journey continues to immortalize the bond he shared with Hickstead as "his horse of a lifetime," proving that what transforms champions into legends ultimately comes from the heart.
---
Steve Nash - Athlete, Basketball
Even though basketball was invented by Canadian Dr. James Naismith in the late nineteenth century, it remained curiously underrepresented in Canada until Steve Nash took the game to new heights roughly a century later. Born in Johannesburg, South Africa, Steve grew up in Victoria, B.C. where he excelled in high school basketball. After coaches encouraged him to apply for athletic scholarships in the United States, Steve began making a name for himself in 1992 as an elite point guard at Santa Clara University. During his varsity career, he helped Santa Clara reach three NCAA tournaments, winning the West Coast Conference Player of the Year award in 1995 and 1996.
Steve Nash was drafted into the National Basketball Association (NBA) in 1996, kicking off a legendary career that spanned 19 years with the Phoenix Suns, Dallas Mavericks and Los Angeles Lakers. Humble and genuine, he was an outstanding passer, clutch shooter, and fierce competitor who remained resolutely unselfish and team-oriented. An eight-time All-Star, Steve led the NBA in assists five times and made the sport more dynamic every time he stepped onto the court. In 2005, he became the first Canadian ever to be named the NBA's Most Valuable Player, and the following year distinguished himself further still as one of only 12 NBA players ever to win consecutive MVP awards. Steve also represented Canada in international competition, helping the national men's basketball team win Silver in 1999 and Bronze in 2001 at the FIBA Americas Championship. He also led the Canadian Men's Olympic Basketball Team on a historic run to the Olympic quarterfinals in 2000 in Sydney, Australia.
Awarded the Lou Marsh Trophy in 2005 as Canada's top athlete, Steve Nash also received the Lionel Conacher Award as Canada's Male Athlete of the Year in 2002, 2005 and 2006, and was named to the Order of Canada in 2007. He is a member of the Phoenix Suns Ring of Honour, where his number 13 was retired in 2015 (his number 11 varsity jersey was also retired by Santa Clara University), and he was inducted into the Naismith Memorial Basketball Hall of Fame in 2018. Determined to use his influence to help others, in 2001 he established the Steve Nash Foundation, in both Canada and the United States, which works to increase access to critical needs health and education resources for underserved communities in his home province of British Columbia and abroad.
---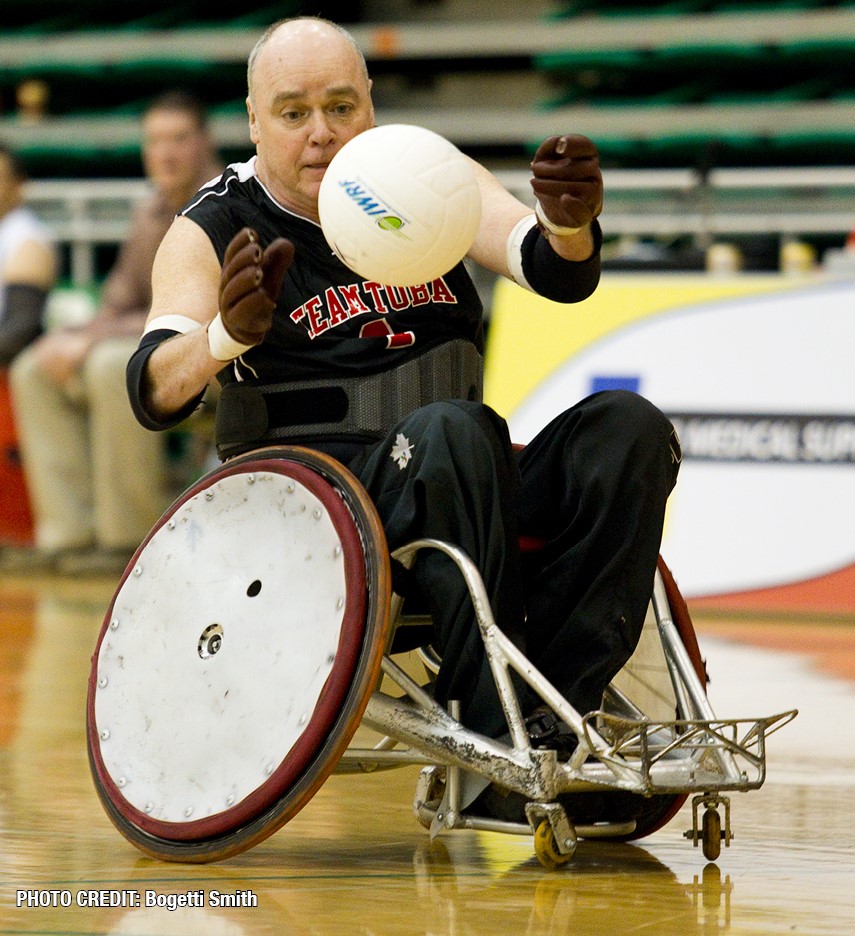 Duncan Campbell's inspiring story proves that innovation is often the key to overcoming adversity. Growing up in Winnipeg, Duncan enjoyed an active childhood until a diving accident left him a quadriplegic at the age of 17. Even though doctors claimed he would never live or work independently again, Duncan remained determined to pursue an active lifestyle and began working out alongside other people with physical disabilities at a local gym. One day in 1976, while waiting for a volunteer assigned to help them lift weights, the group started tossing a volleyball around and crashing their wheelchairs into each other. They created a game and thrilled by their new game's exuberant, competitive energy, they decided to call it Murderball - the first version of the fast-paced, highly athletic contact sport now known around the world as wheelchair rugby.
For over 35 years, Duncan Campbell played the game and worked to help make wheelchair rugby one of the most popular and iconic para sports in the world. Wheelchair rugby debuted as a demonstration sport at the 1996 Paralympic Games in Atlanta, and in 2000 achieved full medal status, with Duncan serving as the High Performance Manager for Team Canada. Today wheelchair rugby draws Paralympic teams from over 30 nations, and Canada has helped take the sport to new heights, winning Gold at the 2002 World Championships and claiming Silver at the 2004 and 2012 Paralympic Games in Athens and London, respectively. Duncan continues to serve on the development committee of the International Wheelchair Rugby Federation, and served as the National Development Director for the Canadian Wheelchair Sports Association. In 2004, the Canadian Wheelchair Rugby National Championship trophy was renamed the Campbell Cup in his honour, and in 2013 he was awarded the International Paralympic Order, the most prestigious award in para sports.
Duncan Campbell's legacy as a sport innovator is matched by his equally outstanding commitment to mentorship and building community at the grassroots level. In 1976, he and a small group of friends, developed the basic rules, regulations and chair design that form the basis of this high impact, hugely popular Paralympic team sport. After graduating with degrees in Psychology from the University of Manitoba and Recreation Administration from the University of Alberta, he began working as a recreation therapist for the G.F. Strong Rehabilitation Centre in Vancouver. With his trademark sense of humour and genuine ability to connect to people from all walks of life, Duncan has empowered countless young people to develop self-confidence and challenge limitations through wheelchair sports. Affectionately nicknamed "The Quadfather," he continues to play wheelchair rugby recreationally while serving as Director of Development for Wheelchair Rugby Canada, helping more people with physical disabilities get involved in wheelchair sports. Changing lives and challenging established perceptions of people with physical disabilities, wheelchair rugby is the only Paralympic discipline ever to be named a Canadian Heritage Sport, an innovation that has placed the nation at the forefront of the international para sport movement.
---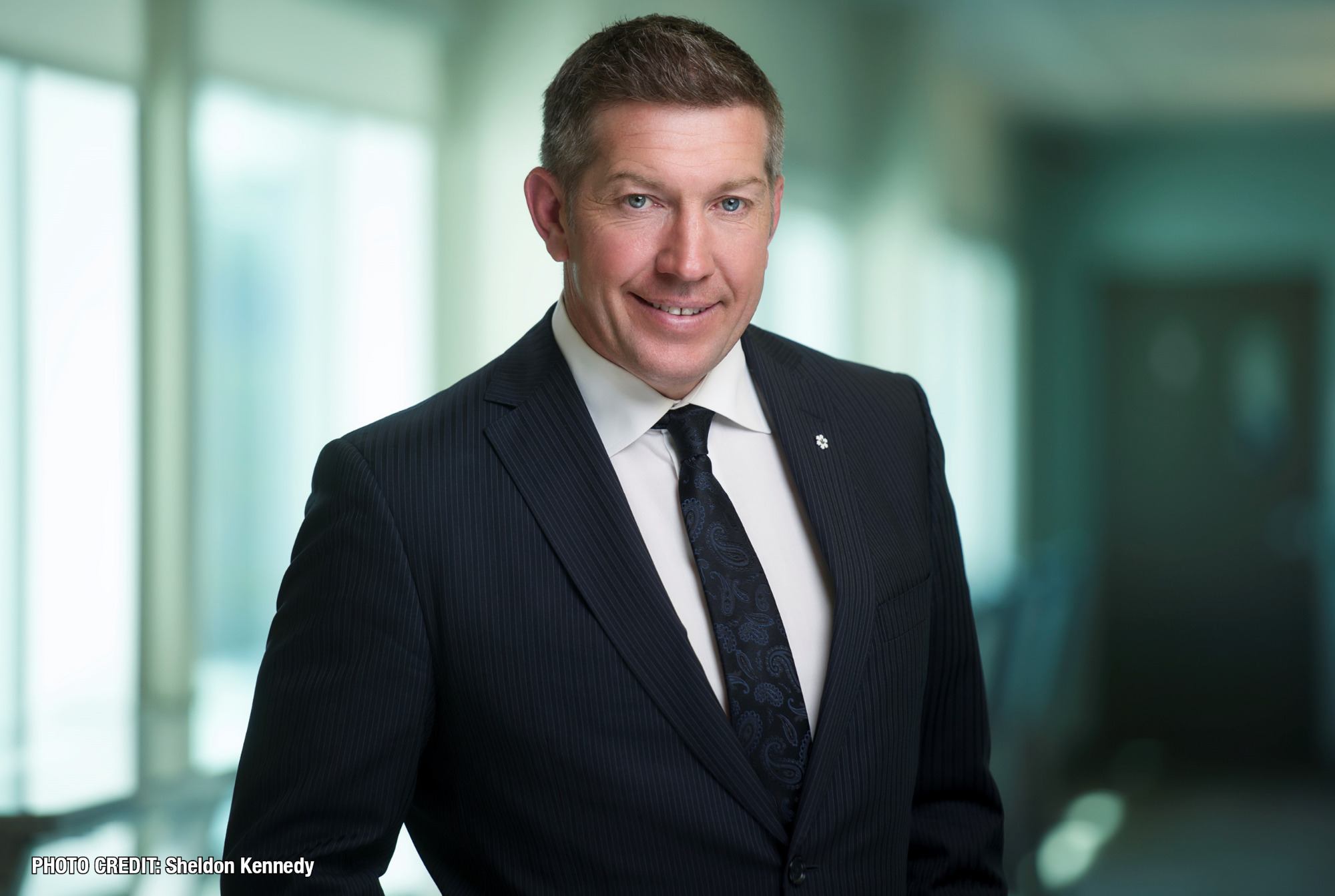 Growing up in small town Manitoba, Sheldon Kennedy dreamed of broadening his horizons and playing hockey professionally one day. His dedication and hard work as a young athlete carried him to a Gold Medal performance at the World Juniors in 1988, and in 1989 he was named captain of the Swift Current Broncos, leading the team to win the Memorial Cup. Drafted into the National Hockey League (NHL), for the next eight years Sheldon played for the Detroit Red Wings, Calgary Flames and Boston Bruins. Outwardly as his career caught fire, Sheldon was secure in his achievements as a professional athlete. Below the surface remained a painful personal truth that demanded to be heard.
In 1996, Sheldon Kennedy made the difficult decision to publicly charge his former Junior Hockey coach with sexual assault, after years of privately struggling with emotional and psychological distress. It was a courageous act, disclosing over five years of recurrent abuse that began when he was 14 years old. Following his former coach's conviction, Sheldon's charge grew into an urgent nationwide call to action, improving child safety in sports, schools, and youth organizations across Canada. For over two decades, he has directed many critically important initiatives to protect vulnerable youth, notably working with Hockey Canada to develop the "Speak Out" program (now called Respect in Sport), establishing mandatory training for coaches to prevent bullying, abuse and discrimination. Reaffirming his personal commitment to child safety, Sheldon also undertook an 8000 kilometre in-line skate across Canada in 1998 to raise funds and public awareness. Stopping to speak in small communities and hockey arenas across Canada, his journey received extensive media coverage and raised over 1.2 million dollars for Canadian Red Cross abuse prevention programs.
In 2004, Sheldon Kennedy co-founded the Respect Group, a company that works with schools, sports organizations and workplaces to prevent abuse, bullying, and discrimination. In 2010, he began working with the Calgary Chief of Police and other child protection agencies to establish the Calgary Child Advocacy Centre. The first of its kind, the Centre continues to offer multi-jurisdictional service encompassing health and social service agencies, police services and the justice system. This innovative 'integrated practice model' supports victims of child abuse and their families by ensuring they don't become overwhelmed or discouraged as they seek protection and navigate the justice system. Sheldon has also worked with the International Olympic Committee to develop the Safeguarding Athletes program, as well as the National Hockey League Players Association (NHLPA) substance abuse program, providing confidential support to other survivors of childhood abuse. For over twenty years, his legacy of compassionate advocacy has profoundly changed the culture of sport across Canada, ensuring the protection of children remains a shared priority for future generations of parents, coaches and administrators.
---
Judy Kent - Builder, Sport Administration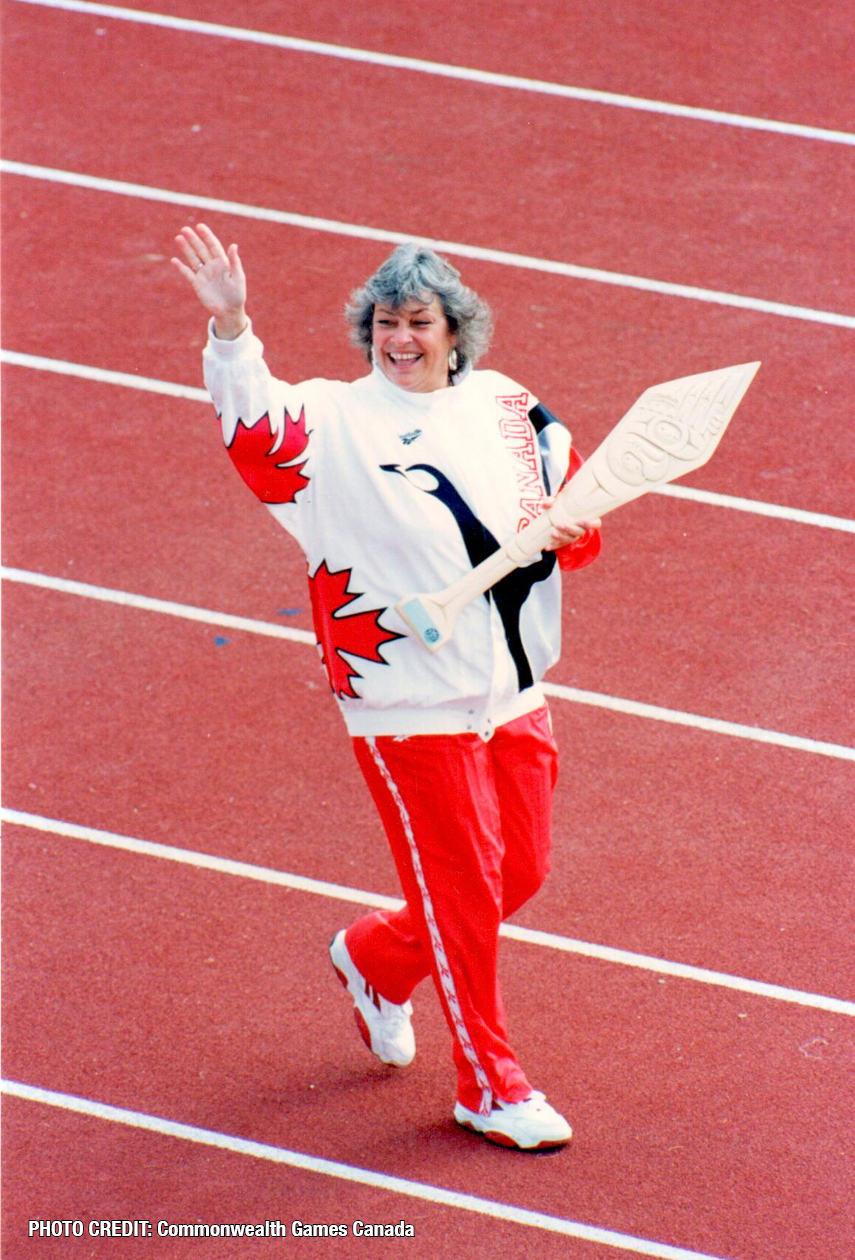 A powerful vision of sport as a vehicle for social change has guided Judy Kent throughout her distinguished career as an athlete, coach, prolific author, consultant, and organizational leader. Judy first became involved in sport as a swimmer and coach at the senior and varsity level. She began working with Commonwealth Games Canada in 1987, and in 1992 became the first female voting delegate to attend an Annual General Assembly of the Commonwealth Games Federation (CGF). From 1994 to 1998, she was the first female president of Commonwealth Games Canada, and served as the movement's first female Chef de Mission at the 1994 Commonwealth Games in Victoria. Determined to clear a path for others to follow, Judy established new initiatives to recruit and train more female leaders within the organization, and eventually ensured gender equity became one of five criteria the CGF use when selecting sports for competition.
Even as she was breaking the glass ceiling, Judy led the charge to make the Commonwealth Games the first major international multi-sport event to include athletes with a physical disability in an integrated competition schedule. Thanks to her advocacy, six adaptive sport events were successfully included as demonstration events at the 1994 Commonwealth Games in Victoria, paving the way for their eventual inclusion as full medal sports in 2002. She also worked to create better opportunities for Indigenous athletes in Canada, guiding the foundation of the Aboriginal Sport Circle, facilitating joint American-Canadian sessions for the North American Indigenous Games and working with the Iqaluit Organizing Committee in planning to host the Arctic Winter Games. Internationally, Judy has contributed expertise to many pioneering initiatives that use sport to address poverty, conflict and social issues in developing nations. Notably, she helped establish the Commonwealth Sport Development Program (CSDP), later known as International Development through Sport (IDP), which continues to provide support for children and youth in various parts of the Commonwealth today. In 2008, Judy also helped build the nascent organization, Generations for Peace based in Amman, Jordan, and trained over 1000 leaders from war-torn regions around the world to promote peace through sport and other community endeavours.
Judy Kent was named one of the Most Influential Women in Sport by Canadian Women & Sport (formerly known as Canadian Association for the Advancement of Women and Sport (CAAWS)) in 2003 and 2004. In 2006, she received the Commonwealth Games Canada Award of Merit, and in 2016 became the first recipient of the Order of Merit from the Commonwealth Games Federation. Judy's collaborative approach to leadership has enabled her to bring together people with very different ideas and agendas, to find common ground and achieve shared goals. Her many years of dedicated service and passionate advocacy have built a truly ground-breaking legacy, reframing the possibilities for sport as a tool for social and community development in Canada and around the world.
---
In 1958, partway through his second season with the Quebec Aces, Willie was called up to replace an injured player for the Boston Bruins. He officially made history as the first black player in the NHL on January 18, 1958, when he skated onto the ice with the Bruins to beat the Montreal Canadiens 3-0. He played two games that year, returning in 1961 to play another 43 games with the Bruins, scoring 4 goals and 10 assists. Drawing on the same resilience and determination that had carried him so far, Willie refused to be distracted as he opened the door to greater diversity in the NHL, even when he encountered racist comments from fans and players on opposing teams.
After his pioneering turn with the Bruins, Willie resumed playing for a number of minor league teams, including the Los Angeles Blades and San Diego Gulls in the Western Hockey League (WHL), capturing two scoring titles before retiring in 1979. In 1998, he became an ambassador for the NHL's Diversity program, and the Director of Youth Development for the NHL/USA Hockey Diversity Task Force - a non-profit initiative that encourages minority youth to become involved in hockey. Visiting schools and communities across North America, Willie helped establish many grassroots ice hockey programs. In 2018 Willie was inducted into the Hockey Hall of Fame and the NHL established the annual Willie O'Ree Community Hero Award in honour of his empowering legacy and ongoing commitment to helping young people overcome adversity and achieve their dreams.
---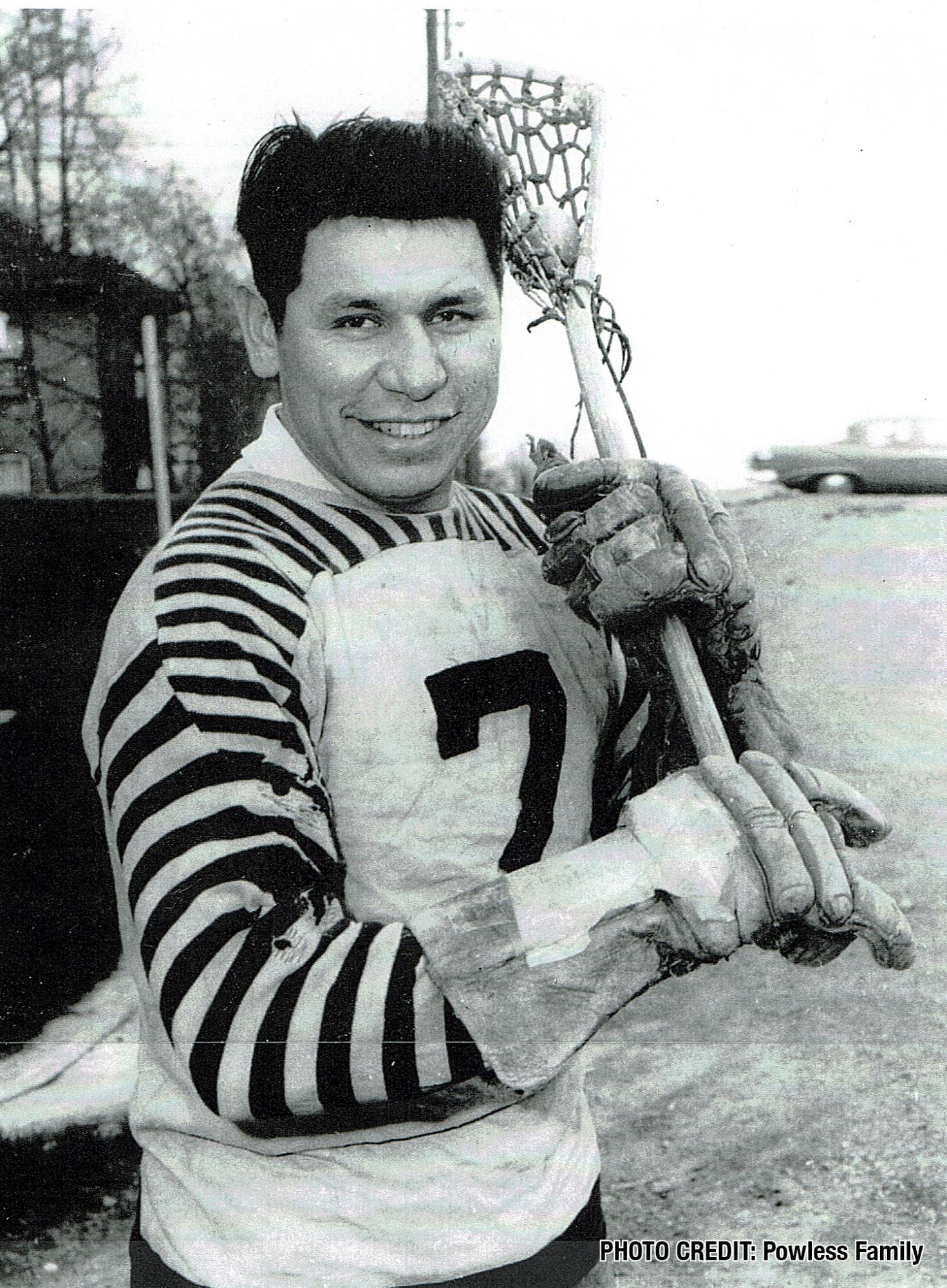 Considered one of the fathers of modern lacrosse in Canada, Ross Powless was born in Ohsweken Ontario, on the Six Nations of the Grand River in 1926. Belonging to the Turtle clan, Mohawk nation (Kanien'kehá:ka) of the Haudenosaunee, or Six Nations Confederacy, Ross spent five years at the Mohawk Institute Indigenous Residential School in Brantford, Ontario as a child. Lacrosse, the Creator's game, which holds deep spiritual and cultural significance for the Haudenosaunee people, offered Ross a powerful way to reclaim his heritage after enduring extreme deprivation and isolation from family and culture at residential school. Taking up lacrosse at the age of 12, his exceptional skill and dedication quickly caught the attention of teams across Canada and the United States.
Disciplined and fair, Ross Powless could not help but raise the profile of lacrosse wherever he played the game. Between 1951 and 1953, he won three consecutive Canadian Senior A championship titles with the Peterborough Timbermen. In 1951 and 1952, he claimed the Tom Longboat Award twice as the most outstanding First Nations athlete in Ontario. In 1953, he was awarded the Mike Kelley Memorial Trophy for Most Valuable Player in Canadian Senior A lacrosse. As player-coach of Hamilton Lincoln Burners Senior "A" team between 1956 and 1958, Ross won every Ontario Lacrosse Association trophy he was eligible to claim, including the league scoring championship, Most Valuable Player, Best Defensive Player and Coach of the Year.
A formidable coach, Ross Powless led both Indigenous and non-Indigenous teams to lacrosse championships at every level of competition, from divisional to international tournaments. An inspiring mentor and knowledge keeper, possessing encyclopedic knowledge of lacrosse, he helped players improve their skills and confidence to fulfill their potential. Among his many coaching highlights, Ross led the Canadian Senior Men's Lacrosse Team to defeat the United States at Expo '67 in Montreal. In 1974, he coached six of his own sons on the Ontario First Nations Team to claim the national title in the North American Indian Lacrosse Tournament in Nanaimo, British Columbia.
Despite encountering discrimination and racism from spectators and opposing teams, Ross Powless continually broke down barriers for Indigenous peoples with his exemplary sportsmanship, athleticism, championship calibre coaching and organizational leadership.
Not only did Ross demonstrate his leadership skills in sports, he showed them in his community leadership. Ross served his community at Six Nations of the Grand River as the Band Administrator, housing inspector, and band councillor, while concurrently developing many new sport and recreation opportunities for Indigenous athletes. In 1997, the Ontario Recreation Association recognized his efforts and achievements with the Volunteer Service Award. Several of Ross' children participated on award-winning lacrosse teams or assisted in lacrosse team development. His son, Gaylord Powless, who was inducted to Canada's Sports Hall of Fame in 2017, stands out as one of the great lacrosse players taught and inspired by Ross. Honouring his children and grandchildren with traditional Iroquois wooden lacrosse sticks hand-crafted by local Indigenous artisans, made at Six Nations of the Grand River, Ross Powless never stopped inspiring the next generations to build on the dynamic foundation he had helped establish for the sport. Ross Powless passed away a respected elder in his community in 2003.