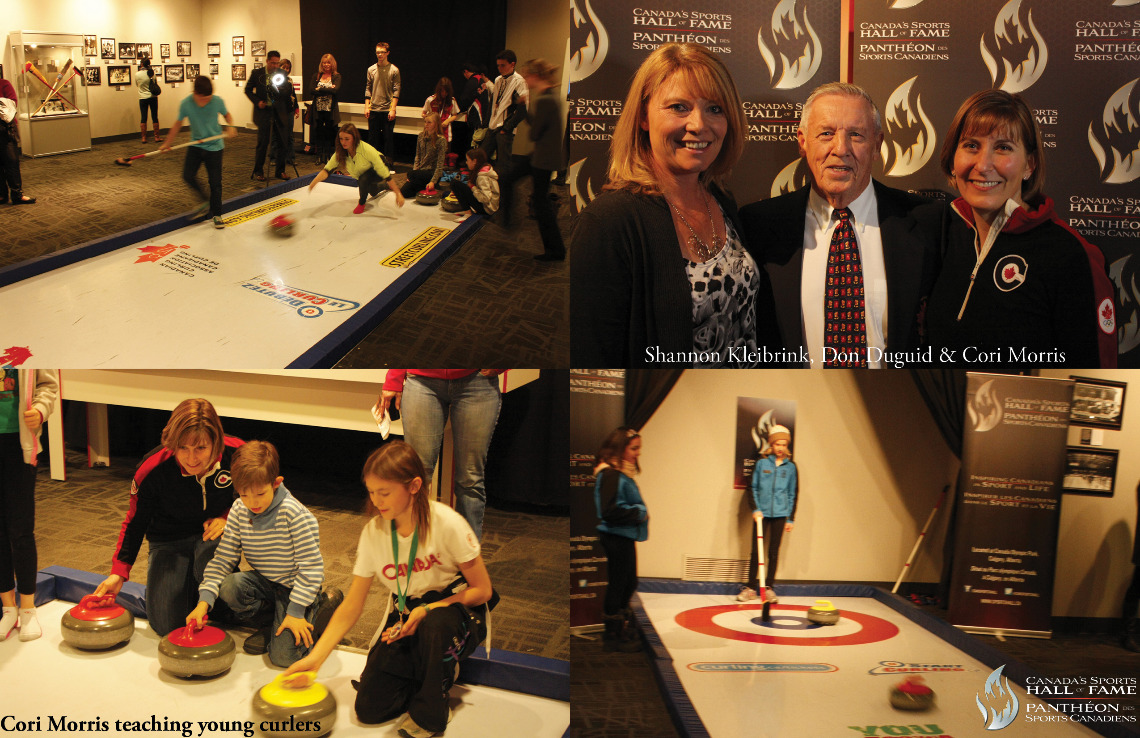 Sweeping to Success: Stories of Canadian Curling
November 27th, 2014
Canada's Sports Hall of Fame unveiled a new curling exhibit Sweeping to Success: Stories of Canadian Curling. The exhibit features the Tankard Trophy which is awarded annually to the winner of the Brier. Additional historical artefacts include the evolution of curling rocks from jam pot to iron to wood to granite including an original curling rock from 1890 made of wood and twice the size of a standard curling rock today. The exhibit also features the evolution of brooms from straw to fabric to high tech brooms including the Rink Rat. Other artefacts that will be on display at Canada's Sports Hall of Fame include memorabilia from Honoured Member and 2006 Olympic Gold Medallist, Russ Howard and Honoured Members, Don Duguid, Ken Watson, Ron Northcott, Richardson Rink, Schmirler Rink, Harry "Pappy" Wood and Matt Baldwin. 23 sports hall of fames and museums across Canada provided rare curling artefacts for this exhibit chronicling the past 125 years of curling in Canada.
This exhibit opening celebrates Calgary's role in hosting the upcoming 2015 WFG Continental Cup on January 8-15, 2015 and the 2015 Tim Horton's Brier on February 28-March 8, 2015. Purchase the Old Classic or Old Classis Brier Combo and receive one free adult admission to Canada's Sports Hall of Fame. Click here for more information and to purchase tickets to the Brier.
The Curling Exhibit is open to the public at Canada's Sports Hall of Fame located at Canada Olympic Park beginning November 27, 2014 through to June, 2015.
The new Locker Room exhibit was also unveiled featuring artefacts of the eight individuals who received the highest sporting honour in Canada when they were inducted into Canada's Sports Hall of Fame on October 22, 2014. The newest Honoured Members include Horst Bulau (Ski Jumping), Sarah Burke (Freestyle Skiing), Pierre Harvey (Cross Country Skiing), Geraldine Heaney (Ice Hockey), Elizabeth Manley (Figure Skating), Gareth Rees (Rugby), Tim Frick (Builder) and Kathy Shields (Builder).