Hall of Famer
HILDA STRIKE
Inducted in 1972
Member Details
Date of Birth: September 1, 1910
Place of Birth: Montreal, Quebec
Date of Passing: March 9, 1989
Sport: Athletics
Member Category: Athlete
Career Highlights
1932
Los Angeles Olympic Games - Silver medal, 100m race,
Los Angeles Olympic Games - Silver medal, 4x100m relay,
Canada's Top Female Athlete
Montreal's Most Popular Athlete
1933
Founded Mercury Athletic Club
1934
Silver medal, 100yd. race, Commonwealth Games
Silver medal, 4 x 110yd. relay, Commonwealth Games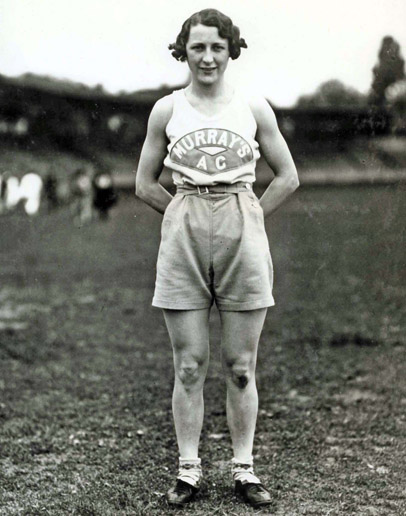 Story
Hilda Strike was a superb all-'round athlete, excelling in swimming, skating, badminton, volleyball, and basketball. Softball, however, was her first love, while track and field was her claim to fame. It was while running the bases of a Montreal softball diamond that she first caught the attention of former Olympic track relay gold medalist Myrtle Cook. Cook encouraged her to join the Canadian Ladies Athletic Club and hone her tremendous sprinting skills. Strike followed her advice and was soon winning races across the continent. Between 1929 and 1932, Strike won 15 cups and 30 medals in track meets in Canada and United States. In 1932, she equaled American Elizabeth Robinson's 1928 Olympic record of 12.2 seconds in the 100m dash and easily qualified for the Canadian Olympic team. At the 1932 Olympic Games in Los Angeles, Strike crossed the finish line of the 100m at precisely the same moment as Stella Walsh, an American resident competing for her native Poland. After much controversy, however, the judges awarded the gold medal to Walsh, while Strike received silver. Strike's next event was the 4 x 100m relay with teammates Mildred Frizzel, Lilian Palmer, and Mary Frizzel. While the first two runners established a good lead for the Canadians, Mary Frizzel lagged during the third leg of the race. Despite a poor baton pass, Strike, the anchor of the team, regained some ground and crossed the finish line just a fraction of a second after the first place runner, claiming the silver medal once again. Shortly after her Olympic success, Strike helped her softball team win the major Ladies' Softball Championships of Montreal. Later that year, she came second to Stella Walsh once more in a 100m race at the Canadian National Exhibition. With Myrtle Cook, Strike founded the Mercury Athletic Club in 1933, where she was active as both a competitor and a coach. In 1934, she represented Canada at the Commonwealth Games in London, England, bringing home silver medals in the 100yd. sprint and the 4 x 110yd. relay. In 1935, Strike married fellow softball enthusiast Fred Sisson. She retired from competition shortly thereafter in order to focus on her growing family. It was not until 1980 that new light was shed onto the controversial 100m race between Strike and Walsh at the 1932 Olympic Games. When Stella Walsh passed away in December of that year, an autopsy revealed that she was in fact a hermaphrodite, a person possessing a genetic condition that gave her both male and female characteristics. Sex tests, which were not introduced at the Olympics until 1968, would have disqualified Walsh from the women's competition. For years, there was much talk of awarding Strike the gold medal, but the furor eventually died down and it never came to pass. Whether silver or golden, however, Strike's athletic performance was outstanding. While her brilliant feats were widely recognized by the public; she was voted Canada's top female athlete as well as Montreal's most popular athlete in 1932.