Hall of Famer
HERB CARNEGIE
Inducted in 2001
Member Details
Date of Birth: November 8, 1919
Place of Birth: Toronto, Ontario
Date of Passing: March 9, 2012
Sport: Ice Hockey
Member Category: Athlete
Career Highlights
1950
Second All Star Centre, Quebec Aces
1954
Established the Future Aces Hockey School for boys aged 12-14
1977-1978
Canadian Senior Golf Champion
1987
Established Future Aces Foundation
2003
Named to the Order of Canada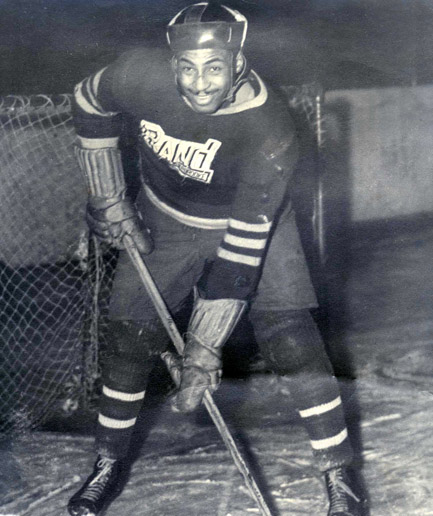 Story
Herb Carnegie was likely one of the best ever players to never play pro-league hockey. He starred in Quebec senior hockey leagues in the 1940s and '50s. A smooth skating centre, Carnegie trained hard and following an outstanding junior career joined the Perron Flyers in Northern Quebec, eventually landing with Shawinigan Falls in the Quebec Provincial League before moving to Sherbrooke. With the Sherbrooke Saints, Carnegie, his brother Ossie, and a third black player, Manny McIntyre from Fredericton, formed one of the most successful lines in league history. Carnegie's acumen and skill earned him the MVP award for three consecutive years. In 1948, Carnegie led the Quebec Senior Hockey League (QSHL) with 79 points and won the QSHL scoring title with 127 points. In 1951, while playing with the Quebec Aces, Carnegie was selected along with teammate Jean Beliveau to the QSHL all-star team. Hockey is just one part of Herb Carnegie's story. He was a successful businessman and an excellent golfer, winning two Canadian Senior Golf Championships, in 1977 and 1978. Carnegie has been inducted into fourteen halls of fame for his contributions as an athlete and humanitarian.

In 1997, Carnegie published his autobiography, A Fly in a Pail of Milk: The Herb Carnegie Story. Carnegie became incredibly influential in the lives of young people and inspirational to his community. In order to ensure others could have the opportunity to achieve their goals, Carnegie established the Future Aces Hockey School for kids aged 12-14 - the first of its kind in Ontario. The hockey school led to the Herbert H. Carnegie Future Aces Foundation. Since its inception in 1987 a million dollars in bursaries have been awarded to young people, enabling them to pursue post-secondary education.

Carnegie is the creator of the Future Aces Creed, a creed meant to encourage people to live up to their full potential. It eventually was adopted into the social curriculum of the Toronto District School Board and endorsed by the Ontario Ministry of Education.

In recognition of his tireless community esteem-building efforts and his decades of commitment to the betterment of society, on May 2, 2001, North York Centennial Centre was renamed the Herbert H. Carnegie Centennial Centre, in 2003, he was named a Member, Order of Canada, and in 2008 the Herbert H. Carnegie Public School opened its doors. These were fitting tributes to a man who'd been a major-league citizen all his life.