Hall of Famer
ELVIS STOJKO
Inducted in 2006
Member Details
Date of Birth: March 22, 1972
Place of Birth: Newmarket, Ontario
Sport: Figure skating
Member Category: Athlete
Career Highlights
1994
Lillehammer Olympic Games - Silver medal, men's figure skating
Lionel Conacher Award - named male athlete of the year by the Canadian Press.
1994, 1995, 1997
World senior men's figure skating champion
1994-2000, & 2002
Canadian senior men's figure skating champion
1998
Nagano Olympic Games - Silver medal, men's figure skating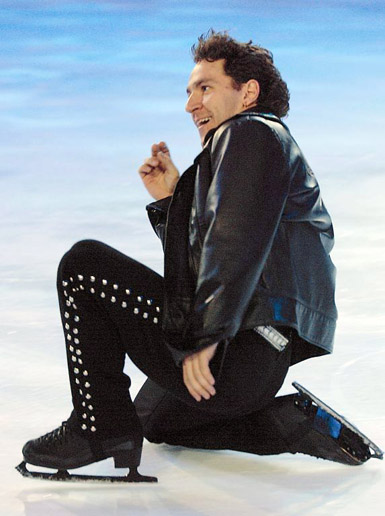 Story
It's difficult to understand how an athlete who retires at age 29 can be called the Gordie Howe of figure skating, but in a sport where six or seven years is a long career, Elvis Stojko demonstrated remarkable staying power while staying at the peak of his powers. He retired in 2002 after having competed in his fourth Olympics, a record in itself that might stand forever, and his amazing eleven appearances at the world championships set a record that might never be broken. Stojko burst on the national skating scene in 1990 when he finished second at the Canadian championships. A year later, at his first world championships, he made history by landing the first ever quadruple-double toe loop combination. Six years later, he bettered himself, becoming the first man to land a quadruple-triple toe loop combination in competition. He won his first of three world championship titles in 1994 soon after winning silver at the 1994 Olympics in Lillehammer, and for four years he was number one except for 1996 when he dipped to fourth. His coup de grace came at the Olympics in Nagano in 1998, however, where he battled a serious groin injury leading to the final program. A mere mortal would have graciously withdrawn from the event, but Elvis gutted it out, as they say, performing heroically to the end, and won a silver medal which he had to collect by hobbling to the podium. That was the kind of inner performance Stojko gave every time out,all or nothing. In August 1998 Stojko received the Governor General's Meritorious Service Cross for outstanding service to Canada. Later that year, he received the silver Greek cross in recognition of deed or activity performed in an outstanding professional manner or of an uncommonly high standard that brings considerable benefit or great honour to Canada. In addition to two Olympic silver medals and three World Championships, Stojko also won seven Canadian Championship titles in a nine-year period (1994-2002). Stojko has received over 20 gold medals in various skating competitions. He retired from competition due to his series of injuries, but he will always be remembered for his physical, dominating, aggressive and masculine style. He was a winner - and on his terms. Stojko has been involved in many worthwhile charities. He was named the first "Kids Ambassador" for Ronald McDonald's Children's Charities. Stojko also assisted in many other charity foundations, such as the Ambassador of Think First Foundation; Parkinsons; The United Way; Variety Village; Sick Children's Hospital; as well as Special Olympics. Stojko has been a role model to young people all over the world.