Hall of Famer
ALEX BAUMANN
Inducted in 1987
Member Details
Date of Birth: April 21, 1964
Place of Birth: Prague, Czechoslovakia
Sport: Swimming
Member Category: Athlete
Career Highlights
1982
Commonwealth Games - Gold medal 200m, 400m IM; World record for 200m, Commonwealth record for 400m IM.
1984
Los Angeles Olympic Games - Gold medals in 200 and 400m IM, set World records in both
Canadian Press Male Athlete of the year
Flag-bearer Olympic Games
1986
World Championships, Madrid - Silver and Bronze medals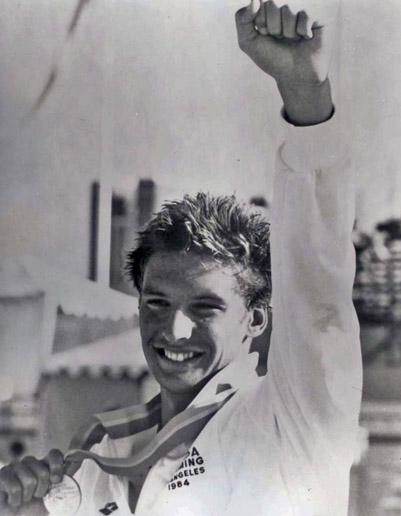 Story
Born in the former Czechoslovakia, Alex Baumann immigrated to Canada with his family as a young boy. He became involved in competitive swimming and began setting records by the time he was 17. Between 1978 and 1987, Baumann held 34 national titles and set six world records, most of which he broke himself. After setting his first world record in the 200m Individual Medley in 1981, Baumann was forced to sit out most of the 1981-82 season due to chronic shoulder problems. Returning in full form at the 1982 Commonwealth Games, he managed to set a Commonwealth record in the 400m IM and shatter his own world record in the 200m IM. Baumann continued to swim competitively while studying at Laurentian University in Sudbury, Ontario. At the 1983 World University Games in Edmonton, Baumann not only remained on top of both the 200m and 400m IM events, but also captured three bronze medals-in the 200m freestyle, the 4 x 100m, and the 4 x 200m freestyle relays. At the 1983 Olympic trials, he lowered the world record in the 400m IM. Baumann's spectacular performance at the 1984 Olympics in Los Angeles earned him two gold medals in the 200m and the 400m IM events, Canada's first gold medals in swimming in 72 years. Once again he broke his own world records in each race, with times of 2:01.42 and 4:17.41, respectively. He was named 1984 Ontario Athlete of the Year as well as Canadian Press Male Athlete of the year. Despite contracting a debilitating virus during the 1986 World Championships in Madrid, Baumann could not be kept off the podium; he still managed to claim a silver medal in the 200m IM and a bronze medal in the 400m IM. One of the nation's outstanding athletes, Baumann was a flag-bearer at the 1982 Commonwealth Games, the 1983 World University Games, and the 1984 Olympic Games. Among his many honours, Baumann received the Order of Canada in 1984 as well as the Order of Ontario in 1988. After his retirement from competitive swimming, Baumann moved to Australia where he continued his involvement in the competitive swimming world as an official with various Australian swimming associations.