Hall of Famer
ABIGAIL 'ABBY' HOFFMAN
Inducted in 2004
Member Details
Date of Birth: February 11, 1947
Place of Birth: Toronto, Ontario
Sport: Athletics
Member Category: Athlete
Career Highlights
1963
Pan-American Games - Gold medal, 800m
1966
Commonwealth Games - Gold medal, 880yds.
1967
Pan-American Games - Bronze medal, 800m
1971
Pan-American Games - Gold medal, 800m
1975
Pan-American Games - Silver medal, 800m
Pan-American Games - Bronze medal, 1,500m
1976
Montreal Olympic Games - Flag bearer, Opening Ceremony
1981
Director General , Sport Canada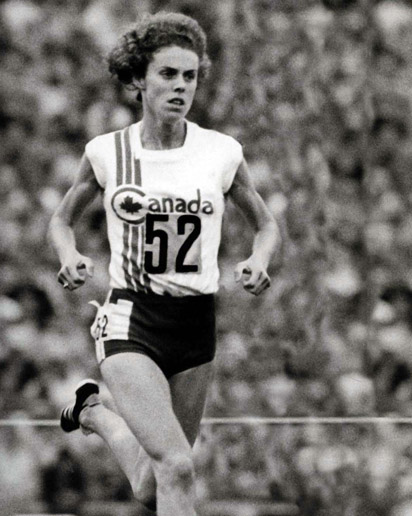 Story
For Abby Hoffman, there was little difference between being active and being an activist. She fought to break down barriers while demonstrating world-class skill. Hoffman first came to national prominence in 1959, playing on a Toronto-area boys' hockey team using the truncated form of her name "Ab." She was a nine-year-old with short cropped hair passing herself off as a boy. Abby was so talented that she was selected to play in an all-star tournament; however, her secret was discovered after the league asked every all-star player to hand in their birth certificate before the tournament began. The league's coaches and organizers were shocked that a girl had played so well in a league of more than 400 boys, and Abby's story quickly became national news. Abby was allowed to play in the tournament, and finished the season with her team, since there was no official rule stating that girls could not play in the league. Hundreds of parents began calling officials on the hockey league asking for a girl's league to be created. In response to the overwhelming demand, the league quickly organized a hockey school for girls, attended by over 100 girls. However, once the media frenzy had died down, the promise for a girl's league was quietly dropped, and a rule quietly implemented that prohibited girls from playing in boys leagues. Abby quit hockey after that season, and focused on track and field instead.
It was as a middle-distance runner that she broke onto the international athletic scene. As a teenager, Hoffman won gold in the 800m at the 1963 Pan-American Games. Over the next 14 years she became one of Canada's most accomplished middle-distance runners. She captured the national 800m title eight times and held the national records in the 800m from 1962-75, in the 440 yards from 1963-76, and in the 1,500m indoors. Hoffman represented Canada in four Olympic Games, four Pan-Am Games, two Commonwealth Games, three 3 FISU World University Games (where she won bronze in 1965 and silver in 1967), and the 1969 Maccabiah Games, winning two gold medals. She was twice a finalist in the 800m at the Olympic Games, in 1968 and 1972, setting a Commonwealth record during the latter race. At the Commonwealth Games, she captured gold in the 880 yards in 1966 and repeated her 800m Pan-Am success with another gold in 1971, silver in 1975, bronze in 1967, and another bronze the 1,500m in 1975. Hoffman's athletic career culminated in 1976 when, bearing the Canadian flag, she led the Canadian team into Montreal's Olympic Stadium during the opening ceremonies.
Her years as world-class runner did not interrupt Hoffman's activism-it only helped sharpen her focus of concerns. Beginning in 1966, she fought to have the University of Toronto's Hart House—an all-male facility that was home to Ontario's only indoor track at the time—opened to women. Hoffman's efforts at Hart House were remembered with a 1979 plaque, which reads "Only she who attempts the absurd will achieve the impossible," words that epitomize her integrity as an activist. Hoffman argued not only for athletes' rights but also fought passionately for women's rights in sport, improved physical education in schools, and an end to racism and sexism both within and beyond sport. Her work for human rights led her to found Nellie's, a hostel for battered women in Toronto. In 1981, Hoffman was given the opportunity to initiate changes from within the sports world bureaucracy when she was named Director General of Sport Canada, the first woman to hold the post. Over the next decade, she fought to increase federal funding for sport and championed the "Best Ever" program that prepared athletes for the 1988 Calgary Olympic Winter Games. Her work on behalf of athletes led her becoming the first woman appointed to the executive committee of the Canadian Olympic Committee (1981) and the Executive Council of the International Amateur Athletic Federation (1995). She left Sport Canada in 1993 to become the first Director General of Health Canada's new Women's Health Bureau. In 1982, her contributions to sport—both on and off the track—were recognized when Hoffman was named an Officer of the Order of Canada.