Hall of Famer
CHARMAINE HOOPER
Inducted in 2012
Member Details
Date of Birth: January 15th, 1968
Place of Birth: Georgetown, Guyana
Sport: Soccer
Member Category: Athlete
Career Highlights
1986
Member of Canada's 1st National women's team.
Career
Appeared in 129 games and scored 71 goals in 20-year career.
Played for Canada in 3 FIFA World Cups.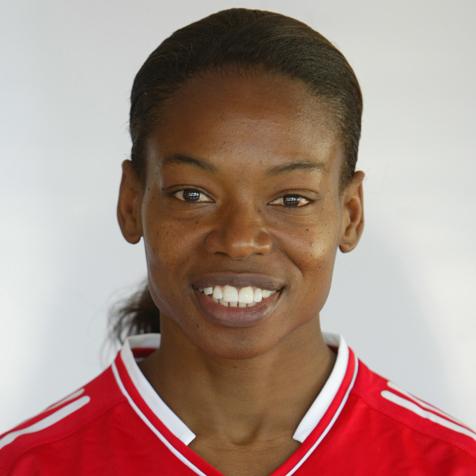 Story
Charmaine Hooper's road to becoming one of Canada's finest soccer talents did not even begin in Canada. Born in Guyana to a diplomatic family, she began kicking the ball around as an 8-year-old in Zambia when her father was posted there in 1976.
Her brother Lyndon also played, and the fact that he is in Canada's Soccer Hall of Fame today is testament to the family skill in "the beautiful game."
Eventually settling in Ottawa, Charmaine made the very first Canadian women's national soccer team in 1986 and became the first player to be capped 100 times. Over her 20-year career, she appeared in 129 games, scoring 71 goals for Canada. That included three appearances at FIFA Women's World Cups, the most recent coming in the USA in 2003 when she helped Canada win its first ever game in the international tournament en route to qualifying for the semi-finals.
At that historic World Cup, Charmaine moved up from her position on defence to head in a free kick in the eighth minute. It was the only goal in the team's 1-0 win over China, and is among the most celebrated moments in her distinguished career.
While representing Canada on the international scene, Charmaine also spent time studying – and playing soccer, of course – in the United States. Upon graduation from North Carolina State University, she had potted 58 goals and amassed 145 points, which is still the all-time leading mark for the school.
International attention grew rapidly following graduation, and Charmaine played pro soccer in Norway, Italy and Japan before returning to the U.S. to play in Chicago and Atlanta. Named MVP three times for the Atlanta Beat and proving herself south of the border, she has since been inducted into the United Soccer League's Hall of Fame, in 2002. Ten years later, and after closing out her career as an international player in 2006, she is also a member of Canada's Soccer Hall of Fame.
Besides winning accolades as Canada's Female Player of the Year in 1994, 1995 and 2002, she was named honorary ambassador to the first-ever FIFA Under-19 World Cup, which was held in Canada in 2002.
Most recently, Charmaine has been appointed to the FIFA Task Force 2014. Her continued involvement and interest in the game are now inspiring a whole new generation of Canadian players.