Hall of Famer
LAUREN WOOLSTENCROFT
Inducted in 2011
Member Details
Date of Birth: November 24, 1981
Place of Birth: Calgary, Alberta
Sport: Para Alpine Skiing
Member Category: Athlete
Career Highlights
2002
Winter Paralympic Games, gold - Slalom and gold - Super-G
2006
Winter Paralympic Games - gold - Giant Slalom, silver - Super-G
2010
Winter Paralympic Games - gold in Slalom - Standing, Giant Slalom - Standing, Downhill - Standing, Super-G - Standing, Super Combined - Standing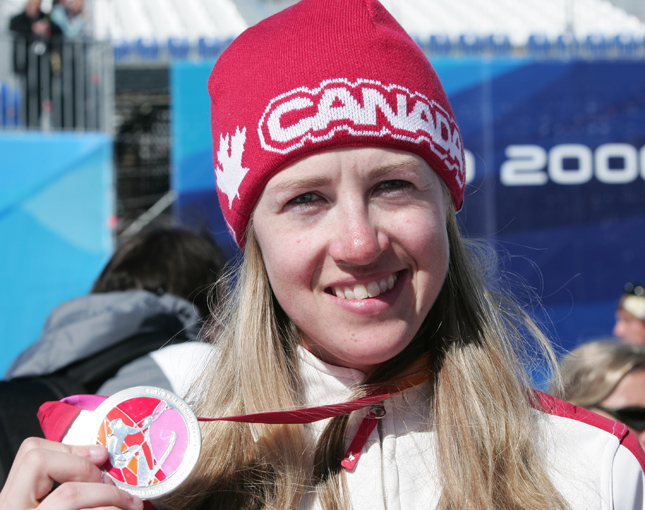 Story
Canada's record 14 gold medals at the Vancouver 2010 Olympic Winter Games will be treasured for a long time, and even more so when you add the medals won in the Paralympic Winter Games. One name, in particular, stands out. Lauren Woolstencroft, a home-town favourite from North Vancouver, literally "owned the podium" at the Paralympic ski events in Whistler.
Woolstencroft stood on the podium's top tier a record five times, flashing her radiant smile as gold medal after gold medal was draped around her neck.
Going into the 2010 Paralympic Winter Games, Woolstencroft was already Canada's most decorated winter Paralympian of all time. It would have been fair to predict great things, but Woolstencroft herself didn't expect it. In fact, she had seriously contemplated retirement following the 2006 Paralympic Games in Turin, and was already committed to her career as an electrical engineer with BC Hydro.
Instead, she simply went out and took control of the mountain, winning gold in Slalom, Giant Slalom, Downhill, Super-G and Super Combined. Her feat marked the most gold medals ever by a winter Paralympian at a single Games. The Games had their new "Golden Girl" and Woolstencroft crowned her achievement by carrying the Canadian flag during the closing ceremonies.
Born missing her left arm below the elbow, as well as both legs below the knees, Woolstencroft began skiing at age four, joining her family on ski vacations from their home in Calgary to Whitefish, Montana. Woolstencroft was determined to prove herself early as an athlete with ability, not disability. Her mother likes to tell the story of how Lauren came home from school one day, went down into the basement and wouldn't leave until she'd taught herself how to skip rope.
It was competitive horseback riding that first captured her interest, but Woolstencroft eventually grew bored with the sport. At age 14 a friend convinced her to give the slopes a go. Less than two years later, she was competing in her first World Cup event in Europe. By 1998, she was a full-time member of the Canadian Para-Alpine Ski Team.
Woolstencroft moved to BC in 1999 to attend the University of Victoria. She continued training and her hard work paid big dividends. Over the next seven years, she competed in Paralympic Games in Salt Lake City and Turin, capturing three gold medals, a silver and a bronze. By 2010, she had accumulated over 50 world cup medals, eight world championship titles, and had been named 2006 International Paralympic Committee Athlete of the Year.
Coming off the 2009-10 ski season, Woolstencroft was not in top form by her standards. Intense training and focus was about to change all that, culminating in a medal charge that included a total winning margin of more than 35 seconds in her five events.
Accolades poured in for Woolstencroft's ability and her stunning performances. In addition to Paralympic sport awards, she was named Alpine Canada's Fan Choice Athlete of the Year in 2010 and Top Athlete in BC in 2011. Long after her race to the podium, the golden glow clearly lingers on.