Hall of Famer
JEREMY WOTHERSPOON
Inducted in 2012
Member Details
Date of Birth: October 26, 1976
Place of Birth: Humboldt, Saskatchewan
Sport: Speed skating
Member Category: Athlete
Career Highlights
Winner of 67 World Cup victories
Set 10 world records, 7 in 1,000 metre event and 3 in 500 metre event plus six world records in the sprint combination.
1998
Olympic silver medal in 500 metre
1999, 2000, 02, 03
Winner of four World Sprint Championships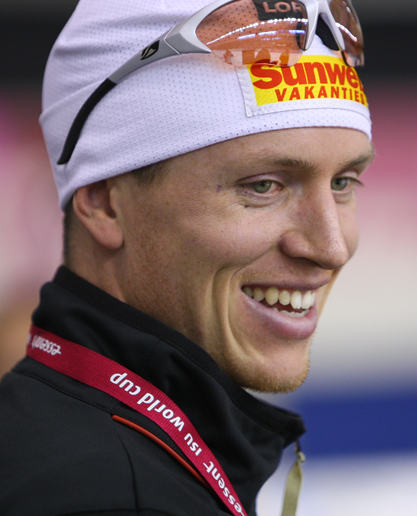 Story
Born in Saskatchewan and raised in Red Deer, Alberta, Jeremy was like most boys in Canada, he played hockey. But after taking a power skating class to improve his skills, he began to develop an interest and talent in speed skating. Few could have imagined a simple move from hockey to speed skating would lead to a long career of hard work and a record 67 World Cup victories, four ISU world sprint titles and Jeremy revealed as the winningest skater ever.
At age 17 Jeremy had started training with the Canadian National Team at the Olympic Oval in Calgary. A few short years later, in 1997, he captured his first World Cup victory. That was followed quickly by a string of medals and victories.
By 1998, everyone in the speed skating world knew who Jeremy was, and he was expected to do well at his first Olympic Winter Games, in Japan. His silver medal in Nagano was proof that he was a force to be reckoned with.
Following those Games, he continued to dominate on the world scene, setting world records time and time again. At the World Championships between 1998 and 2006 he won eight medals including four gold. Along the way, in December 2003, he became the most successful skater in World Cup history, notching his 49th World Cup win. Of course, he would go on to add 18 more to the tally.
Throughout his skating career Jeremy was one of the world's top sprinters and always chasing Olympic gold. Although he would not step onto an Olympic podium after 1998, he continued to dominate in World Cup competition. In Europe especially, fans of the sport were quick to recognize him and praise his achievements.
After the 2006 Olympic Winter Games, when Jeremy finished a disappointing ninth and 11th, he took time away from skating on a fishing boat in Norway. He returned to the 400 metre oval for the 2007-08 season, and showed he still had more to give to his sport. At a World Cup race in Salt Lake City in 2007, he scorched the 500 metre race in 34.03 seconds, a record that still stands.
The event at Salt Lake City added to Wotherspoon's reputation with another incredible mark. It was there he skated the six fastest laps ever – while competing in the 1000 metre race. His fastest lap was clocked at 24.32 seconds, which averages to an incredible 59.21 km/h.
Jeremy retired following the Vancouver 2010 Olympic Winter Games as one of the fastest men ever to strap on skates.