Hall of Famer
FREDERICK JAMES HEATHER
Inducted in 2015
Member Details
Date of Birth: 1890
Date of Passing: 1976
Sport: Cricket
Member Category: Builder
Career Highlights
1927-1967
He umpired in more than 1000 consecutive matches without a miss
1931
A founding member and the first Secretary-Treasurer for the Toronto and District Cricket Umpire's Association
1935
The first Secretary of the newly formed Umpire's Control Board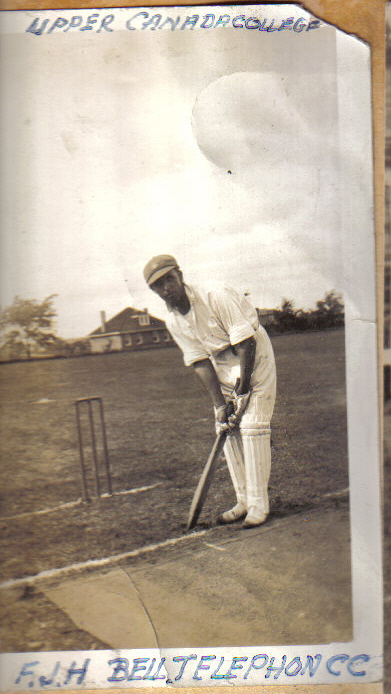 Story
Immigrating to Canada in 1921, Frederick Heather won two Toronto City Championships in 1922 and 1927. With the Bell Telephone Cricket Club, Heather also won two Ontario Championships in 1926 and 1928 and competed for the national title. Upon retiring as a player, Heather moved behind the wicket to focus on umpiring.
Frederick's long standing career as an umpire and builder of the sport made an enormous contribution to cricket in Canada. Frederick began umpiring in 1927 and was Canada's longest serving umpire when he retired from his long 40 year career which included numerous national and international assignments including the 1932 Australian Good Will Tour and the First Class status match between Canada and England in 1951. He umpired in more than 1000 consecutive matches without a miss.
In addition to umpiring, Frederick was both Secretary and player for the St. Georges Cricket Club in 1922 and the Yorkshire Cricket Club in 1925. He was a founding member and the first Secretary-Treasurer for the Toronto and District Cricket Umpire's Association in 1931 and in 1935 became the first Secretary of the newly formed Umpire's Control Board. Frederick was passionate about cricket's future and established the Cricket Umpire's School. He developed the curriculum to ensure a high standard of officials for future Canadian cricket matches. He was also instrumental in starting a junior cricket league in Toronto, resulting in the formation of 18 junior cricket clubs in 1931 and authored numerous newspaper and magazine articles, increasing awareness and support for Canadian cricket.