Hall of Famer
Annie Perreault
Inducted in 2016
Member Details
Date of Birth: July 28, 1971
Place of Birth: Windsor, Quebec
Sport: Short Track Speed Skating
Member Category: Athlete
Career Highlights
1987
Won three gold medals at the Canada Winter Games
1992
Won a Gold Medal at the Albertville Olympic Winter Games
1998
Won a Gold medal at the Nagano Olympic Winter Games
Won a Bronze in the relay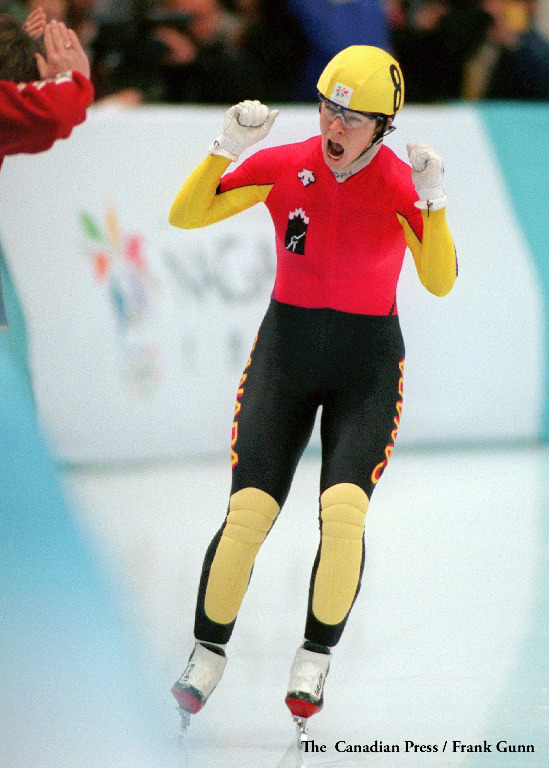 Story
Annie Perreault, a three-time Olympian from Sherbrooke, QC, began speed skating in 1977 at the age of six, alongside her sister and brother. Annie was a member of Team Quebec in the 1987 Canada Winter Games winning 3 Gold medals in speed skating. She began competing at the international level in 1990 and soon dominated the world scene by winning her first of four World Championships (1990, 1991, 1992 and 1997) as part of a 3000-metre relay team. Annie competed in the 1992 Albertville Olympic Winter Games where her team won the inaugural Gold medal in the women's relay.
Unfortunately, a severe concussion sustained at the Canadian Olympic trials prevented Annie from competing at the 1994 Lillehammer Olympic Winter Games. Four years later, she was struck by another setback when, five months before the 1998 Nagano Olympic Winter Games, Annie was forced to have surgery on both shins to relieve a chronic issue. Regardless of this major obstacle, she was still able to win Olympic Gold in the 500-metre, and a Bronze in the relay.
Annie's skating career almost ended in 2000. During a 1500-metre race, a competitor crashed into her, lacerating three muscles in her left thigh which would require surgery and months of rehabilitation to repair. No stranger to overcoming obstacles, Annie worked incredibly hard to return to form and qualify for the 2002 Salt Lake Olympic Winter Games.
During her 26-year speed skating career, Annie was a member of the national team for 16 years and competed at 10 World Championships. Annie is known not just for her success, but for her dedication and perseverance during her career. As a result, she is an outstanding role model to the younger generation that has followed in her footsteps. Annie helps raise funds to provide training and scholarships to athletes "on the road to excellence" through the charity golf tournament in her name.