Hall of Famer
DOUG MITCHELL
Inducted in 2019
Member Details
Date of Birth: February 19, 1939
Place of Birth: Calgary, Alberta
Date of Passing: July 20, 2022
Sport: Multisport
Member Category: Builder
Career Highlights
1980 - Present
NHL Board of Governors
CFL Board of Governors
Chair of the Calgary Sport Tourism Authority (CSTA) 2005-2017. Under his leadership the CSTA, with support from Tourism Calgary, created, attracted and hosted over 500 events, generating an economic impact in excess of $750 million for Calgary and Alberta.
1984-1989
Served as the Commissioner of the Canadian Football League (CFL)
1993
Established the BLG (Borden Ladner Gervais) Awards (now the Lieutenant Governor Athletic Awards honouring outstanding Canadian University (U SPORT) athletes)
1999
Inducted into Alberta Sports Hall of Fame and Museum
2004
Received the Order of Canada
2007
The Alberta Order of Excellence
2009
Honoured by UBC, naming their new sports centre the Doug Mitchell Thunderbird Sports Centre
2017
Inducted into the Colorado College Athletic Hall of Fame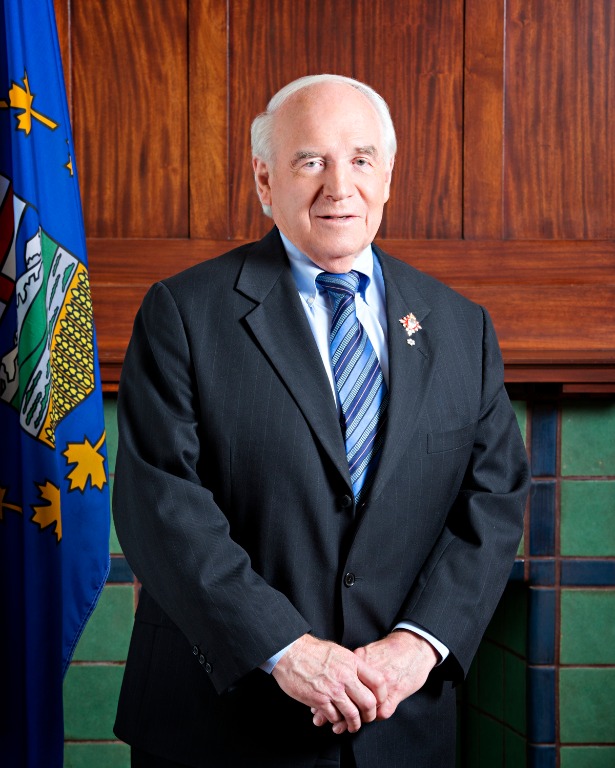 Story
Athletic achievement is often not possible without exceptional coaches, administrators, organizers and volunteers working tirelessly behind the scenes to help others reach their full potential. At one time or another, Doug Mitchell has been all of these things, building a powerful legacy of leadership, community service and philanthropy that has continually bolstered support for amateur and professional sport in Canada.
Born and raised in Calgary, Doug attended Colorado College on a hockey scholarship, graduating with a B.A. in Business Administration. He went on to study law at the University of British Columbia, playing football for the UBC Thunderbirds. His leadership and outstanding commitment to teamwork were already evident as a varsity athlete, and in 1959 Doug helped the Thunderbirds reach the national final. He went on to play professionally in the Canadian Football League for the B.C. Lions and the Hamilton Tiger-Cats before settling back in Calgary to raise a family and pursue his legal career.
Doug often proved to have the Midas touch, guiding critically important Canadian sport institutions through difficult situations with great integrity by promoting sustainable growth and responsible models of governance. In 1984, he took a five year hiatus from his thriving law career to serve as Commissioner of the Canadian Football League. Holding this position until 1988, he introduced a salary cap policy that stabilized the League's economic difficulties. He continues to serve as a member of the CFL Board of Directors and is a part owner of the Calgary Stampeders after repatriating the team from American ownership in 2005. His careful stewardship helped revive community interest in the club after several years of poor performances and low revenues.
Beyond his passion for Canadian football, Doug's love of hockey led to him playing a pivotal role in promoting Canada's Olympic hockey program. In 1978, he chaired an advisory group that garnered support and funding from Hockey Canada to ensure a viable national team competed in the 1980 Olympic Winter Games after a twelve year absence. He has also created numerous scholarships and endowments to support amateur and varsity athletes in Canada, including the BLG Awards (now Lieutenant Governor Athletic Awards) honouring outstanding Canadian university athletes for academic accomplishments and community service as well as their achievements in sport. Recognizing Doug's tireless promotion of varsity sport, in 2002 Canadian Interuniversity Sport (now U SPORTS) renamed its western semifinal football championship the Mitchell Bowl.
His extraordinary record of public service also includes leadership roles with United Way of Calgary, the Canadian Bar Association, Campbell McLaurin Foundation for the Hearing Handicapped, and serving in uniform as Honourary Colonel of the King's Own Regiment in Calgary. Among the many honours and titles he has received, in 2004 Doug was invested into the Order of Canada, and in 2007 he was awarded the Alberta Order of Excellence. He was inducted into the Alberta Sports Hall of Fame in 2002, and the UBC Football Hall of Fame in 2012, the BC Football Hall of Fame in 2015 and the Colorado College Hall of Fame in 2016. His generosity and leadership have built an unprecedented community of support for Canadian sport, ensuring the shared value of athletic experience remains comprehensible, accessible and appealing to people all across the nation.