Hall of Famer
Judy Kent
Inducted in 2020-21
Member Details
Date of Birth: December 31, 1946
Place of Birth: Lethbridge, Alberta
Sport: Sport Administration
Member Category: Builder
Career Highlights
1994
First female Chef de Mission at the Commonwealth Games
1994-1998
Elected as President, Commonwealth Games Canada Association, the first woman to be a Commonwealth Association President and the first female voting delegate of the 72 country Commonwealth Federation
2002
Successfully advocated for six adaptive sports that were included as full medal sports in the Commonwealth Games
2003, 2004
Named as one of the Most Influential Women in Sport by Canadian Women & Sport (formerly Canadian Association for the Advancement of Women and Sport)
2006
Received the Commonwealth Games Canada Award of Merit
2016
First recipient of the Order of Merit from the Commonwealth Games Federation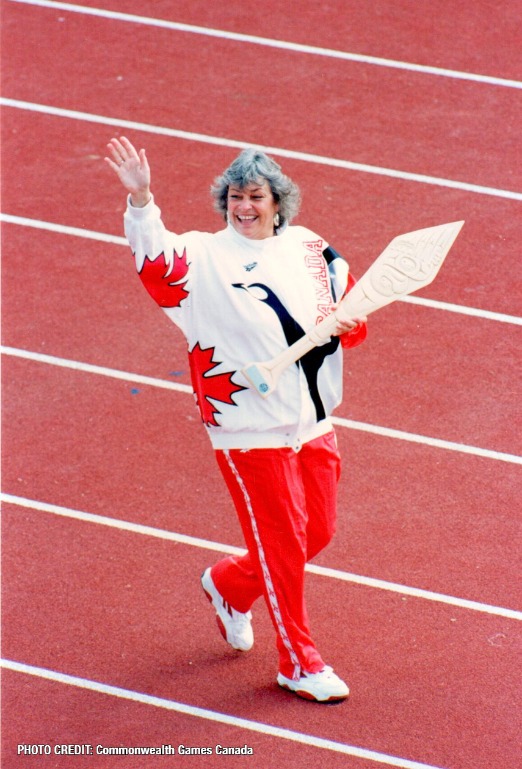 Story
A powerful vision of sport as a vehicle for social change has guided Judy Kent throughout her distinguished career as an athlete, coach, prolific author, consultant, and organizational leader. Judy first became involved in sport as a swimmer and coach at the senior and varsity level. She began working with Commonwealth Games Canada in 1987, and in 1992 became the first female voting delegate to attend an Annual General Assembly of the Commonwealth Games Federation (CGF). From 1994 to 1998, she was the first female president of Commonwealth Games Canada, and served as the movement's first female Chef de Mission at the 1994 Commonwealth Games in Victoria. Determined to clear a path for others to follow, Judy established new initiatives to recruit and train more female leaders within the organization, and eventually ensured gender equity became one of five criteria the CGF use when selecting sports for competition.

Even as she was breaking the glass ceiling, Judy led the charge to make the Commonwealth Games the first major international multi-sport event to include athletes with a physical disability in an integrated competition schedule. Thanks to her advocacy, six adaptive sport events were successfully included as demonstration events at the 1994 Commonwealth Games in Victoria, paving the way for their eventual inclusion as full medal sports in 2002. She also worked to create better opportunities for Indigenous athletes in Canada, guiding the foundation of the Aboriginal Sport Circle, facilitating joint American-Canadian sessions for the North American Indigenous Games and working with the Iqaluit Organizing Committee in planning to host the Arctic Winter Games. Internationally, Judy has contributed expertise to many pioneering initiatives that use sport to address poverty, conflict and social issues in developing nations. Notably, she helped establish the Commonwealth Sport Development Program (CSDP), later known as International Development through Sport (IDP), which continues to provide support for children and youth in various parts of the Commonwealth today. In 2008, Judy also helped build the nascent organization, Generations for Peace based in Amman, Jordan, and trained over 1000 leaders from war-torn regions around the world to promote peace through sport and other community endeavours.

Judy Kent was named one of the Most Influential Women in Sport by Canadian Women & Sport (formerly known as Canadian Association for the Advancement of Women and Sport (CAAWS)) in 2003 and 2004. In 2006, she received the Commonwealth Games Canada Award of Merit, and in 2016 became the first recipient of the Order of Merit from the Commonwealth Games Federation. Judy's collaborative approach to leadership has enabled her to bring together people with very different ideas and agendas, to find common ground and achieve shared goals. Her many years of dedicated service and passionate advocacy have built a truly ground-breaking legacy, reframing the possibilities for sport as a tool for social and community development in Canada and around the world.