Hall of Famer
Eric Lamaze & Hickstead
Inducted in 2020-21
Member Details
Date of Birth: Lamaze: April 14, 1968 / Hickstead: March 2, 1996
Place of Birth: Lamaze: Montreal, Quebec / Hickstead: Belgium
Date of Passing: Hickstead: November 6, 2011
Sport: Equestrian - Show Jumping
Member Category: Team
Career Highlights
2007
Silver Medal in Team Jumping and Bronze Medal in Individual Jumping at the Pan American Games
2008
Gold Medal in Individual Jumping and Silver Medal in Team Jumping at the Olympic Games
2010
Bronze Medal in Individual Jumping at the World Equestrian Games

Hickstead named "Best Horse" - World Equestrian Games
2011
Won the Queen Elizabeth II Cup

Won three Grand Prix titles

Won the CN International title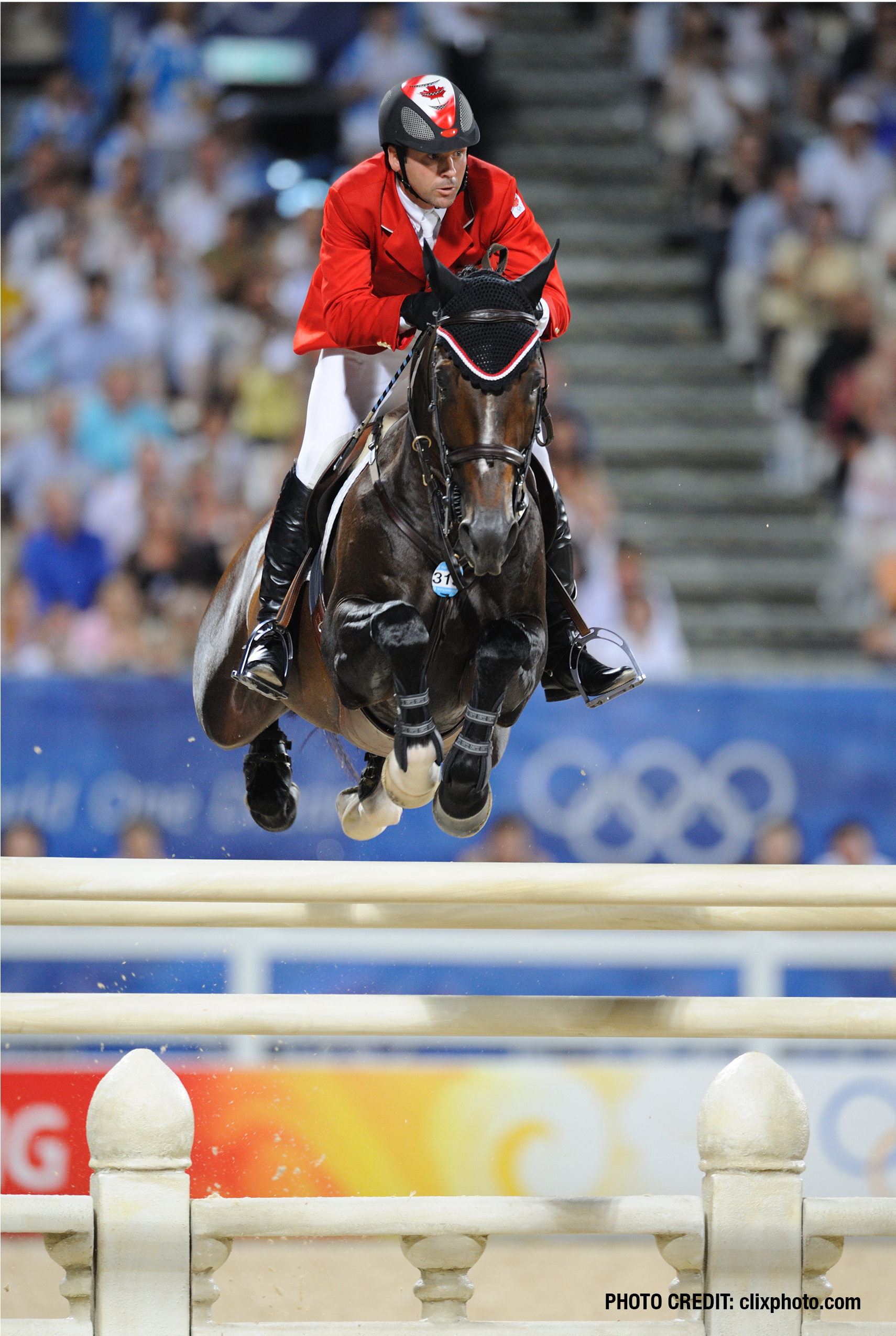 Story
Growing up in a troubled home in Montreal, Eric Lamaze was naturally athletic and started riding horses at the age of twelve, often trading farm work for time in the saddle. Dropping out of school at a young age, he tenaciously carved a path to the top of equestrian sport through the sheer force of his talent and determination. Reaching the Grand Prix level in 1991, Eric was named to the Canadian National Equestrian Team the following year. As his career flourished, a hard-won respect for the redemptive power of sport prepared him to forge one of the most successful partnerships in the history of international show jumping.

Standing at sixteen hands, the Dutch Warmblood stallion Hickstead was considered undersized and difficult to handle by many other riders until Eric decided to take a chance on him in 2004. Determined to nurture the tremendous natural ability he saw beneath the horse's outwardly rebellious personality, Eric patiently worked to gain his confidence and trust. Forming a bond that was nothing short of magical, between 2007 and 2011 Eric and Hickstead won every major Grand Prix title in the world, in competitions that took them from Calgary to Geneva, Aachen, La Baule and Rome. In 2007, they claimed Team Silver and Individual Bronze at the Pan American Games in Rio de Janeiro. Riding with an underdog Canadian show jumping team at the 2008 Olympic Games in Beijing, the unstoppable duo led Canada to Team Silver and captured an unprecedented Individual Gold in the show jumping competition. In a career defining moment, Eric became the first Canadian to be crowned an Olympic Champion in individual show jumping, and ended the year as the first Canadian ever to be ranked World Number One by the International Equestrian Federation (FEI), a remarkable feat he repeated in 2010 and 2011. In 2010, the pair reached the 'Final Four' at the World Championships where they emerged with an Individual Bronze and Hickstead was awarded the title of "Best Horse."

In 2011, Hickstead died suddenly after suffering an aortic rupture during a World Cup competition in Italy. In a moving tribute accompanied by Hickstead's owner, John Fleischhacker, Eric unveiled a life-sized statue of his lost partner a year later on the Spruce Meadows' showgrounds near Calgary. Further commemorating his legacy, the Hickstead Trophy has been awarded to the Equestrian Canada "Horse of the Year" annually since 2012. An influential trainer and role model for the next generation of equestrian athletes, Eric also continues to compete and find success. In 2016 he captured a Bronze Medal in the individual equestrian show jumping event at the Olympic Games in Rio de Janeiro, and won an incredible four Grand Prix titles during the 2019 Spruce Meadows season. The trademark perseverance underwriting his prolific career became even more awe-inspiring after Eric publicly revealed that he had been battling a brain tumour since 2017. His exemplary journey continues to immortalize the bond he shared with Hickstead as "his horse of a lifetime," proving that what transforms champions into legends ultimately comes from the heart.