Hall of Famer
Ross Powless
Inducted in 2020-21
Member Details
Date of Birth: September 29, 1926
Place of Birth: Ohsweken, Six Nations of Grand River, Ontario
Date of Passing: May 26, 2003
Sport: Lacrosse
Member Category: Builder
Career Highlights
1951, 1952
Received the Tom Longboat Award
1951-1954
Mann Cup Champion with the Peterborough Timbermen (also known as Trailermen)
1953
Received the Mike Kelley Memorial Trophy for Most Valuable Player in the Mann Cup competition
1969
Inducted into the Canadian Lacrosse Hall of Fame
1974
Won the North American Indian Lacrosse Tournament Championship as coach of six of his sons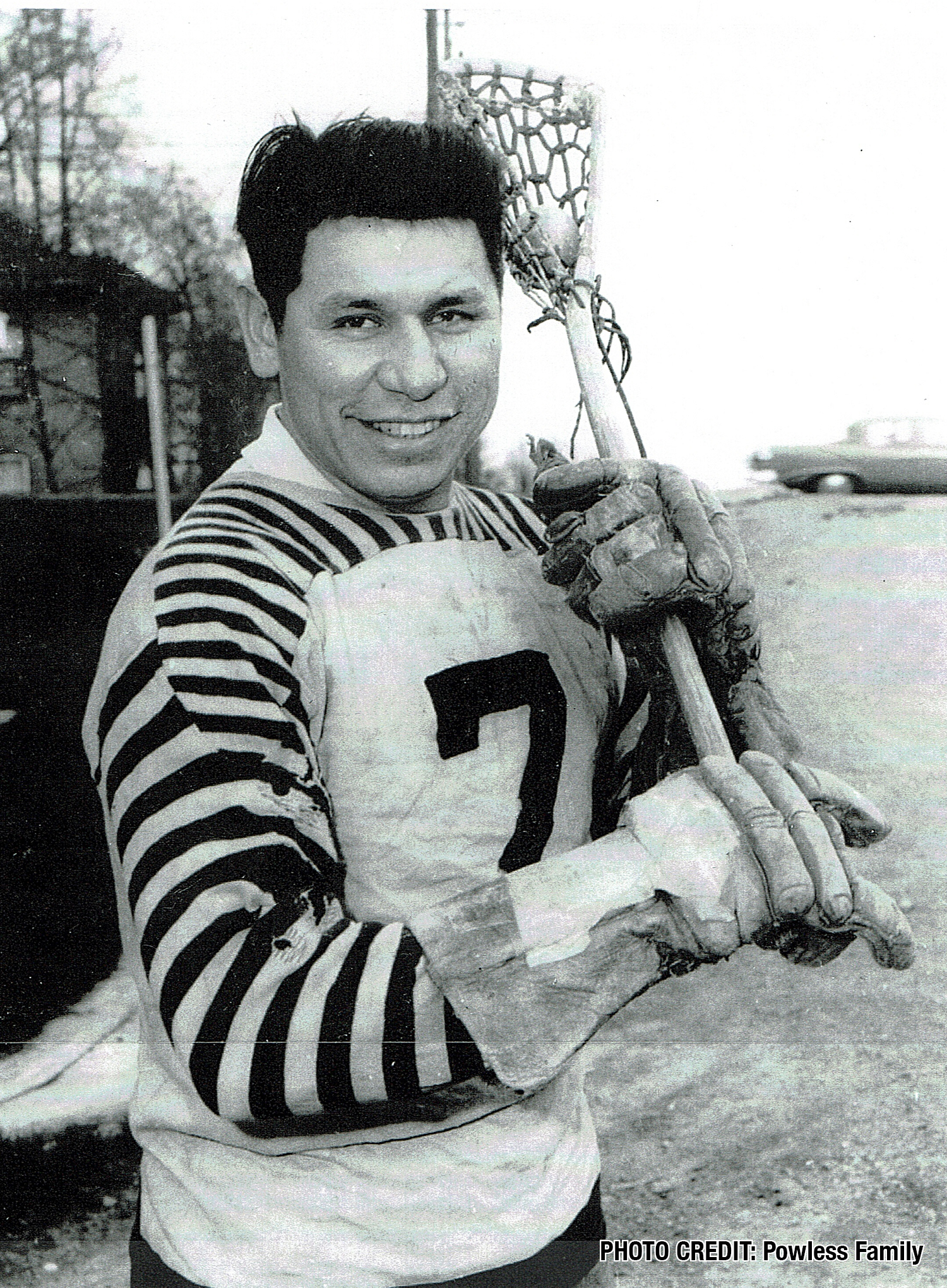 Story
Considered one of the fathers of modern lacrosse in Canada, Ross Powless was born in Ohsweken Ontario, on the Six Nations of the Grand River in 1926. Belonging to the Turtle clan, Mohawk nation (Kanien'kehá:ka) of the Haudenosaunee, or Six Nations Confederacy, Ross spent five years at the Mohawk Institute Indigenous Residential School in Brantford, Ontario as a child. Lacrosse, the Creator's game, which holds deep spiritual and cultural significance for the Haudenosaunee people, offered Ross a powerful way to reclaim his heritage after enduring extreme deprivation and isolation from family and culture at residential school. Taking up lacrosse at the age of 12, his exceptional skill and dedication quickly caught the attention of teams across Canada and the United States.

Disciplined and fair, Ross Powless could not help but raise the profile of lacrosse wherever he played the game. Between 1951 and 1953, he won three consecutive Canadian Senior A championship titles with the Peterborough Timbermen. In 1951 and 1952, he claimed the Tom Longboat Award twice as the most outstanding First Nations athlete in Ontario. In 1953, he was awarded the Mike Kelley Memorial Trophy for Most Valuable Player in Canadian Senior A lacrosse. As player-coach of Hamilton Lincoln Burners Senior "A" team between 1956 and 1958, Ross won every Ontario Lacrosse Association trophy he was eligible to claim, including the league scoring championship, Most Valuable Player, Best Defensive Player and Coach of the Year.

A formidable coach, Ross Powless led both Indigenous and non-Indigenous teams to lacrosse championships at every level of competition, from divisional to international tournaments. An inspiring mentor and knowledge keeper, possessing encyclopedic knowledge of lacrosse, he helped players improve their skills and confidence to fulfill their potential. Among his many coaching highlights, Ross led the Canadian Senior Men's Lacrosse Team to defeat the United States at Expo '67 in Montreal. In 1974, he coached six of his own sons on the Ontario First Nations Team to claim the national title in the North American Indian Lacrosse Tournament in Nanaimo, British Columbia.

Despite encountering discrimination and racism from spectators and opposing teams, Ross Powless continually broke down barriers for Indigenous peoples with his exemplary sportsmanship, athleticism, championship calibre coaching and organizational leadership.

Not only did Ross demonstrate his leadership skills in sports, he showed them in his community leadership. Ross served his community at Six Nations of the Grand River as the Band Administrator, housing inspector, and band councillor, while concurrently developing many new sport and recreation opportunities for Indigenous athletes. In 1997, the Ontario Recreation Association recognized his efforts and achievements with the Volunteer Service Award. Several of Ross' children participated on award-winning lacrosse teams or assisted in lacrosse team development. His son, Gaylord Powless, who was inducted to Canada's Sports Hall of Fame in 2017, stands out as one of the great lacrosse players taught and inspired by Ross. Honouring his children and grandchildren with traditional Iroquois wooden lacrosse sticks hand-crafted by local Indigenous artisans, made at Six Nations of the Grand River, Ross Powless never stopped inspiring the next generations to build on the dynamic foundation he had helped establish for the sport. Ross Powless passed away a respected elder in his community in 2003.