Hall of Famer
Steve Nash
Inducted in 2020-21
Member Details
Date of Birth: February 7, 1974
Place of Birth: Johannesburg, South Africa
Sport: Basketball
Member Category: Athlete
Career Highlights
1995, 1996
West Coast Conference Player of the Year for Santa Clara University
1996
2002, 2005, 2006
Received the Lionel Conacher Award as Canada's Male Athlete of the Year
2005
Received the Lou Marsh Trophy as Canada's top athlete
2005, 2006
Named NBA's Most Valuable Player – first Canadian to receive this honour
2007
Named to the Order of Canada
2016
Inducted into the BC Sports Hall of Fame
2018
Inducted into the Naismith Memorial Basketball Hall of Fame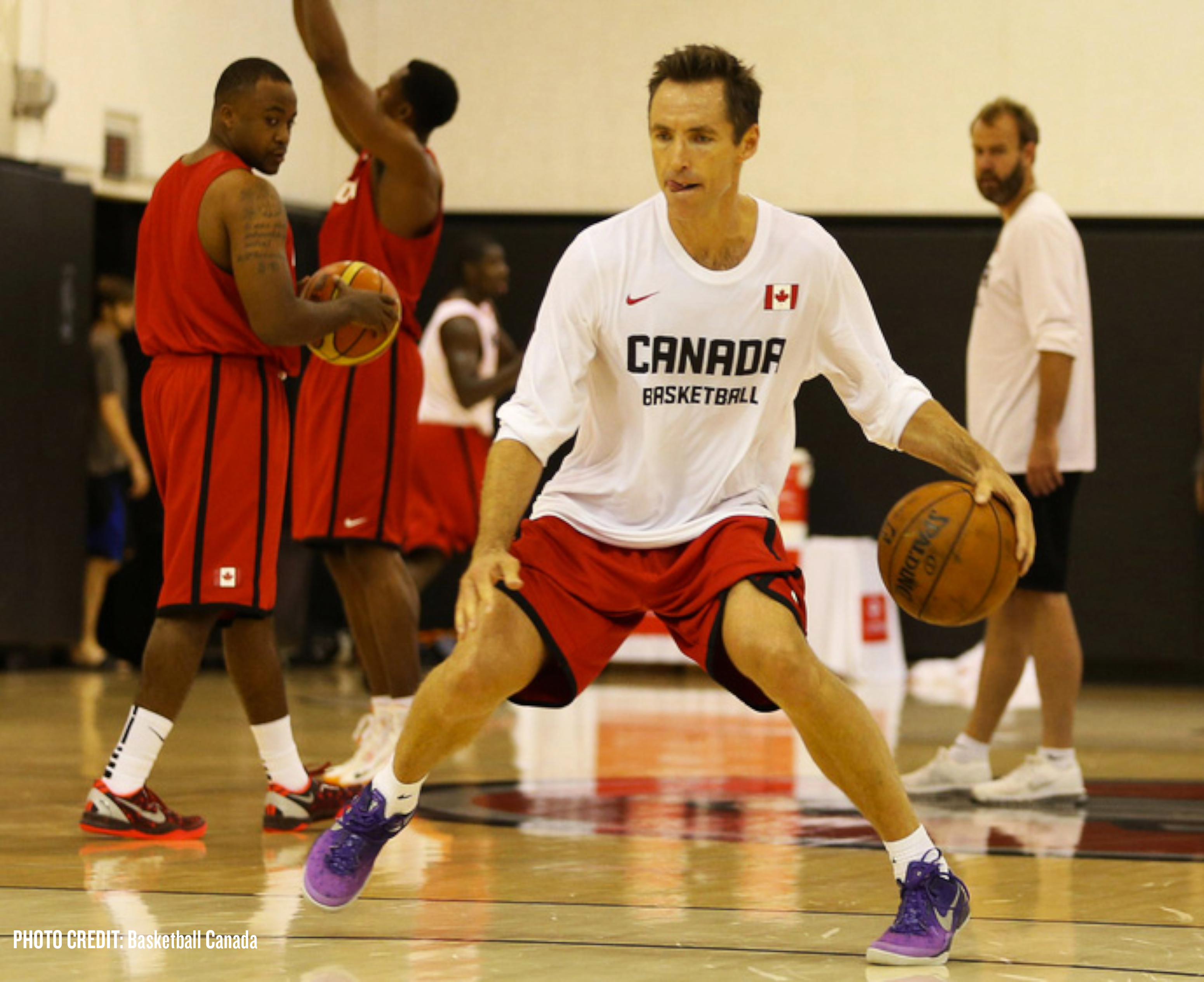 Story
Even though basketball was invented by Canadian Dr. James Naismith in the late nineteenth century, it remained curiously underrepresented in Canada until Steve Nash took the game to new heights roughly a century later. Born in Johannesburg, South Africa, Steve grew up in Victoria, B.C. where he excelled in high school basketball. After coaches encouraged him to apply for athletic scholarships in the United States, Steve began making a name for himself in 1992 as an elite point guard at Santa Clara University. During his varsity career, he helped Santa Clara reach three NCAA tournaments, winning the West Coast Conference Player of the Year award in 1995 and 1996.

Steve Nash was drafted into the National Basketball Association (NBA) in 1996, kicking off a legendary career that spanned 19 years with the Phoenix Suns, Dallas Mavericks and Los Angeles Lakers. Humble and genuine, he was an outstanding passer, clutch shooter, and fierce competitor who remained resolutely unselfish and team-oriented. An eight-time All-Star, Steve led the NBA in assists five times and made the sport more dynamic every time he stepped onto the court. In 2005, he became the first Canadian ever to be named the NBA's Most Valuable Player, and the following year distinguished himself further still as one of only 12 NBA players ever to win consecutive MVP awards. Steve also represented Canada in international competition, helping the national men's basketball team win Silver in 1999 and Bronze in 2001 at the FIBA Americas Championship. He also led the Canadian Men's Olympic Basketball Team on a historic run to the Olympic quarterfinals in 2000 in Sydney, Australia.

Awarded the Lou Marsh Trophy in 2005 as Canada's top athlete, Steve Nash also received the Lionel Conacher Award as Canada's Male Athlete of the Year in 2002, 2005 and 2006, and was named to the Order of Canada in 2007. He is a member of the Phoenix Suns Ring of Honour, where his number 13 was retired in 2015 (his number 11 varsity jersey was also retired by Santa Clara University), and he was inducted into the Naismith Memorial Basketball Hall of Fame in 2018. Determined to use his influence to help others, in 2001 he established the Steve Nash Foundation, in both Canada and the United States, which works to increase access to critical needs health and education resources for underserved communities in his home province of British Columbia and abroad.