Hall of Famer
Lorie Kane
Inducted in 2020-21
Member Details
Date of Birth: December 19, 1964
Place of Birth: Charlottetown, PEI
Sport: Golf
Member Category: Athlete
Career Highlights
1991
1996, 1997, 1998, 1999, 2001
Canadian PGA Women's Champion
1997, 2000
Received the Bobby Rosenfeld Trophy for Female Athlete of the Year
1998
Received the LPGA's Heather Farr Player Award
2000
First professional win on the LPGA Tour – Michelob Light Classic

Received the William and Mousie Powell Award
2006
Named to the Order of Canada
2015
Inducted into the Canadian Golf Hall of Fame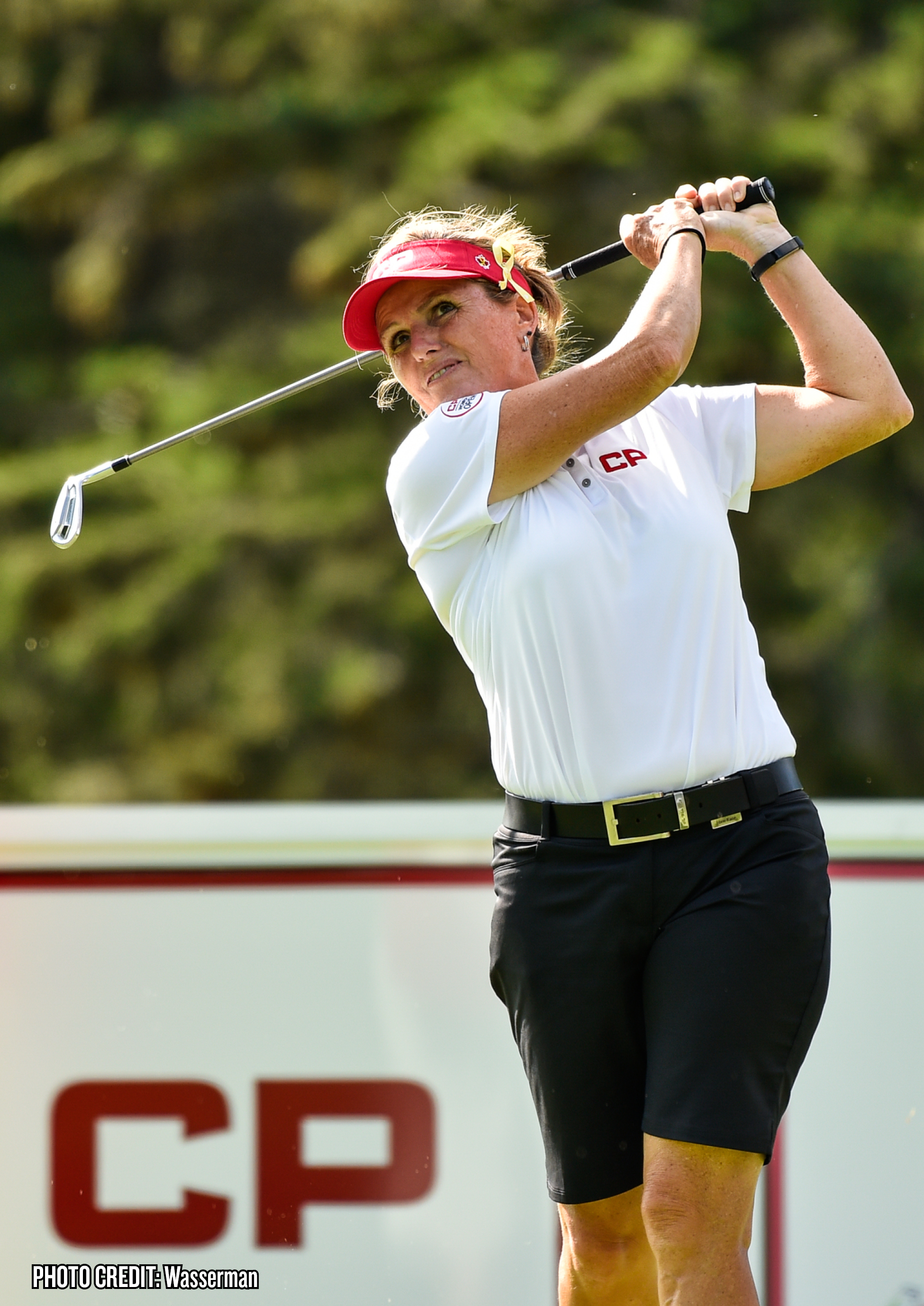 Story
Born and raised in Charlottetown, Lorie Kane started playing golf when she was five years old, kicking off an expansive career that has made her one of the sport's most recognizable Canadian athletes. While honing her skills, Lorie won the Prince Edward Island (PEI) Junior Girls Championship twice and was named Women's Amateur Champion an extraordinary nine times between 1983 and 1992 in her home province. Internationally, she was the Mexican Amateur champion in 1991, a member of the Canadian World Amateur team in 1991, and represented Canada at the World Cup in 1992, 2005, 2006 and 2008, and the Pan American Games in 2015. In 1993, Lorie turned professional, earning exempt status three years later on the Ladies Professional Golf Association (LPGA) tour. In 2000, she captured her first professional win at the Michelob Light Classic in St. Louis - one of four victories she would add to her resume that year. After joining the Legends Tour between 2011 and 2018, Lorie claimed five more wins with the LPGA. She has also competed in Canada's National Women's Open Championship a record 30 times, and captured the Canadian PGA Women's Championship four times, consecutively between 1996 and 1999, and again in 2001.

Lorie Kane's trademark combination of composure, patience, and tenacity, as well as her willingness to remain humble and learn from adversity have led her to success at every level of competition. Her enthusiasm and approachability have also made her an exemplary role model for younger athletes and a perennial fan favourite. In 1997 and 2000, Lorie was named Canadian Female Athlete of the Year, and in 2006 she received the Order of Canada, recognizing her achievements at the forefront of women's golf. In 1998, she was awarded the LPGA's Heather Farr Player Award, recognizing her dedication and love for the game, and in 2000, players awarded her the William and Mousie Powell Award as the athlete who best embodied the spirit and values of the LPGA.

Lorie Kane's success and big-hearted style of play are on par with her exceptional commitment to many worthy causes. While serving as a Canadian Pacific Railway Ambassador, Lorie was instrumental in developing the CP Has Heart program, where she has helped raise over 20 million dollars to improve heart health across Canada in addition to personally visiting patients and recruiting other LPGA players to support the initiative. She has also been a dedicated volunteer for many community organizations in PEI, including Boys and Girls Clubs of Canada and Ronald McDonald Children's Charities. Since 1997, she has worked with KidSport to help underprivileged children participate in sport, serving as PEI's first ambassador for the program. Her own fundraising venture, the annual Lorie Kane Charity Golf Classic has also raised over $850,000 for charitable causes in her home province. Fulfilling the promise of the official motto of the LPGA to "Act Like a Founder," Lorie Kane has brilliantly enriched her sport and her community for the next generation.