Hall of Famer
EDWARD LENNIE
Inducted in 2022
Member Details
Date of Birth: June 23, 1934
Place of Birth: Husky Lake (Beaufort Delta), Northwest Territories
Date of Passing: November 6, 2020
Sport: Traditional Arctic Sports
Member Category: Builder
Career Highlights
1970
Inaugural Arctic Winter Games in Yellowknife, NWT
2003
Received the National Aboriginal Achievement Award, now known as the Indspire Award, recognizing his volunteer work as a mentor, coach and champion of the Northern Games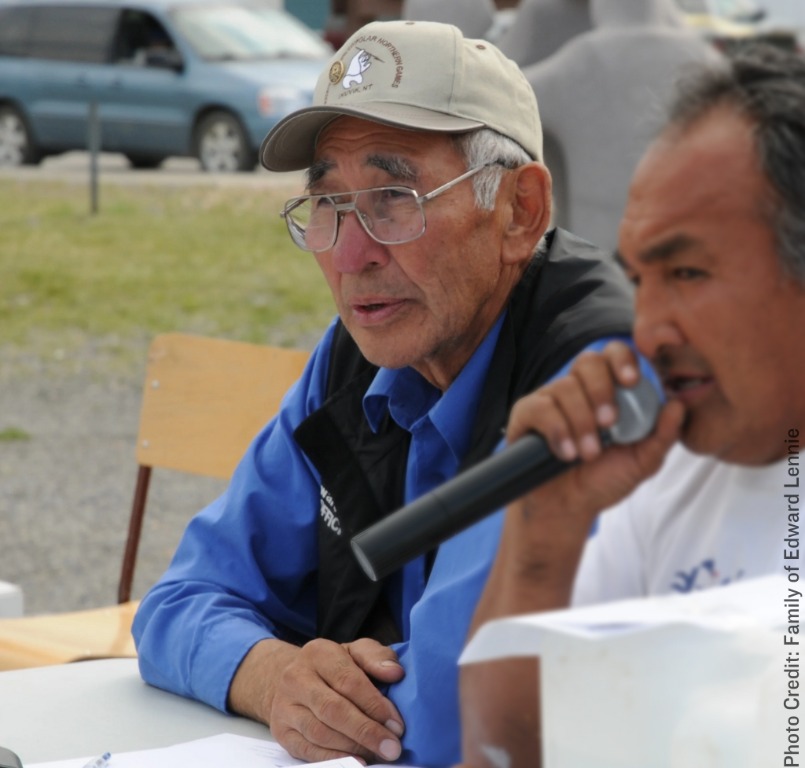 Story
Known today as the 'Father of the Northern Games', Edward Lennie was a remarkable community leader and respected Inuvialuit Elder who worked tirelessly during his lifetime to preserve and promote traditional arctic sports in Canada. Born in 1934 near Husky Lakes (Imaryuk), Northwest Territories, Edward was forced to attend a Residential School in Aklavik when he was eight years old. Returning to live on the land with his family after three years, he began learning traditional skills through centuries-old athletic games that tested his strength, agility, and endurance, inherited from generations of Inuit and Inuvialuit who had survived as hunters in the Arctic.

By the time Edward reached adulthood, he feared many of the traditional sports that had shaped his character as a young man were being forgotten as people moved off the land and into settled communities to pursue work. Hoping to preserve Arctic sports for future generations, he began teaching young people and hosting competitions at his home in Inuvik in the early 1960's. Edward's pioneering efforts reached visionary heights in 1970 when he realized organizers of the inaugural Arctic Winter Games in Yellowknife were planning to feature only mainstream sports like badminton, ice hockey and basketball. After consulting with Elders, he successfully lobbied organizers to include traditional games, creating a groundbreaking new showcase for Arctic sports in Canada. Edward coached athletes in eight medal events at the first Arctic Winter Games. Events included the kneel jump, two-foot-high-kick, and arm pull, and Lennie ensured that other traditional games like the blanket toss were staged accurately as demonstration sports.

The Arctic Winter Games are truly an international and cross-cultural event. Events are open to competitors from circumpolar regions of the world located north of the 55th parallel such as: Nunavut, Northern Alberta, Northern Alaska, Finland, Greenland, Norway, Russia, Sweden, and others. The many cultures represented at the AWG can be seen in the ceremonies, dances, and music that are part of the experience. The Arctic Winter Games are a celebration of sports, and culture that create awareness on cultural diversity.


In 2003 Edward Lennie received a National Aboriginal Achievement Award, now known as the Indspire Award, recognizing his volunteer work as a mentor, coach and champion of the Northern Games. Support for Edward's vision continues to gain momentum, and in 2007 the Canada Winter Games in Whitehorse began to include traditional Arctic sports as demonstration events. Many of these events were then showcased for international audiences in demonstrations during the 2010 Olympic Winter Games in Vancouver. Edward Lennie passed away in 2020 at the age of 86 just as the Northern Games were set to celebrate their 50th anniversary (but was cancelled due to COVID), leaving behind a living legacy that continues to grow and inspire new generations of athletes in the Canadian North and beyond.