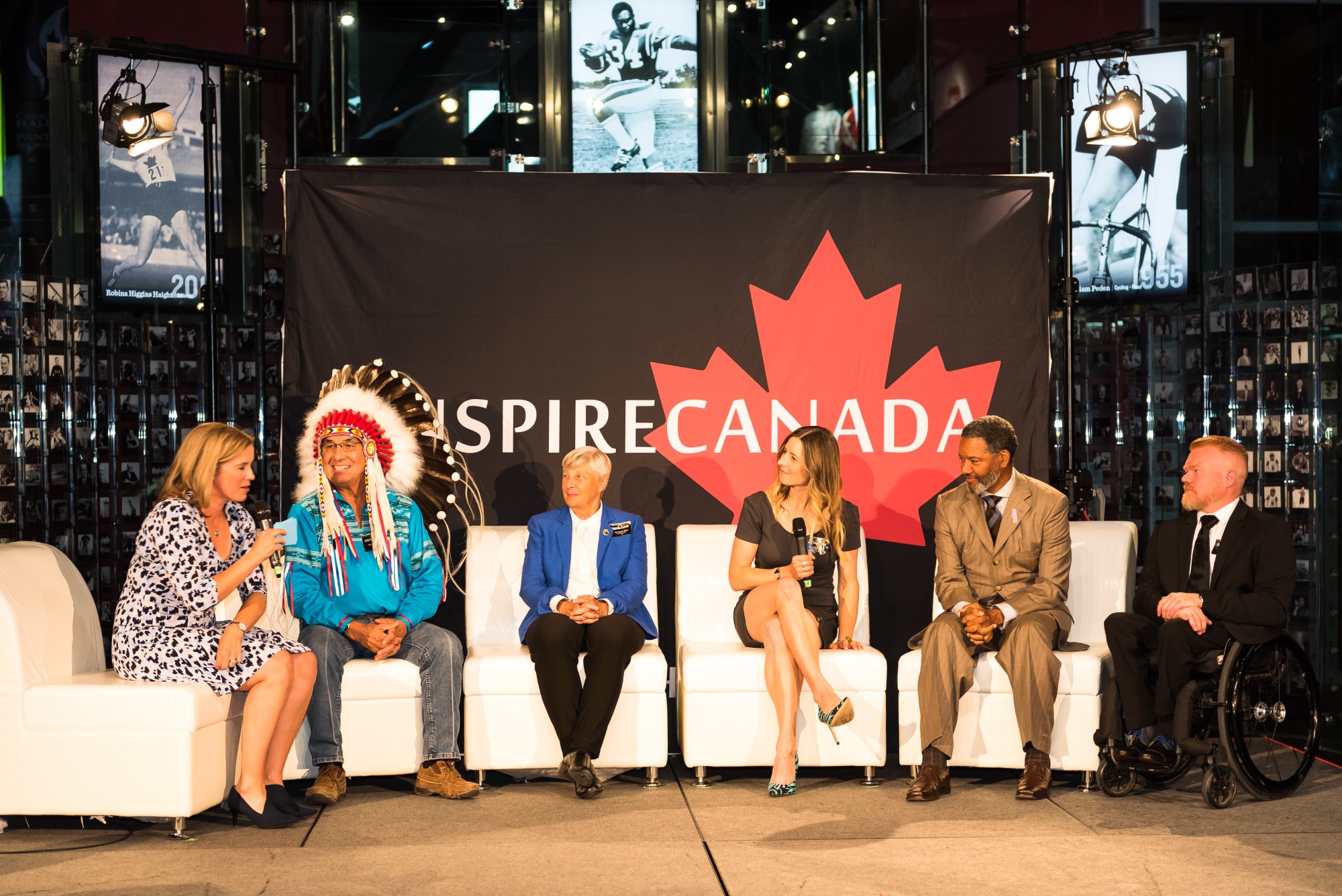 #InspireCanada June Gala
June 14th, 2018
The Class of 2018 Inductees are in Calgary for the first time and were able to see the Canada's Sports Hall of Fame facility where their legacy will live on for generations to come. An exhibit featuring the Inductees will be opened in their honour following their official induction on Thursday, October 18, 2018 in Toronto. Induction into Canada's Sports Hall of Fame is one of Canada's highest sporting honours.
2018 marks the second year of Canada's Sports Hall of Fame's, #InspireCanada campaign, aimed at encouraging young women in sports. 70% of girls quit sport by the age of 13. Proceeds from the #INSPIRECANADA Gala will be used to help create more awareness of this national issue by allowing us to engage girls to tell their stories of why sport is so important. Stephanie Dixon, Honoured Member and Paralympic Swimmer spoke to students this morning from St. Joan of Arc School in Calgary, on the importance of dedication in sports and the values they instill.
"We are excited to have the Class of 2018 visiting us today at Canada's Sports Hall of Fame to continue supporting our Girls in Sport Initiative. They are a group of fantastic athletes that we feel well represents Canada's rich sporting history." - Cheryl Bernard, President and CEO, Canada's Sports Hall of Fame.
We unveiled the cover of our 7th children's book created in partnership with Literacy for Life and Schlumberger Canada. This book features the stories of our Class of 2018 Inductees along with a short novel written by Alberta author, Sigmund Brouwer. The book will be distributed to 10,000 youth who visit Canada's Sports Hall of Fame in the upcoming year in hopes of inspiring them to be the best they can be in sport, school, work, and life.
The Class of 2018 includes:
Jeff Adams – Six-time World Champion wheelchair racer, he captured thirteen Paralympic medals and is an advocate promoting equal treatment for people with disabilities.
Damon Allen – Four-time Grey Cup champion and considered one of the most distinguished quarterbacks in the Canadian Football League.
Mary Baker – The first Canadian to sign with the All-American Girls Professional Baseball League as a catcher and the first female sport broadcaster in Canada.
Chandra Crawford – Olympic Gold Medallist in Cross Country Skiing and dedicated to empowering girls across North America to stick with sports and lead healthy, active lifestyles.
Alexandre Despatie – First athlete ever crowned FINA world champion in all three categories of diving and two-time Olympic Silver Medallist.
Dave Keon – Four-time Stanley Cup Champion with the Toronto Maple Leafs and the third-highest all-time points leader in franchise history.
Dr. Sandra Kirby – A former Olympic rower and an accomplished educator, sport administrator, coach and activist fighting sexual harassment and abuse and violence against children in sport.
Wilton Littlechild – A pioneering role model, organizer and advocate for Indigenous sport in Canada that spans over five decades.