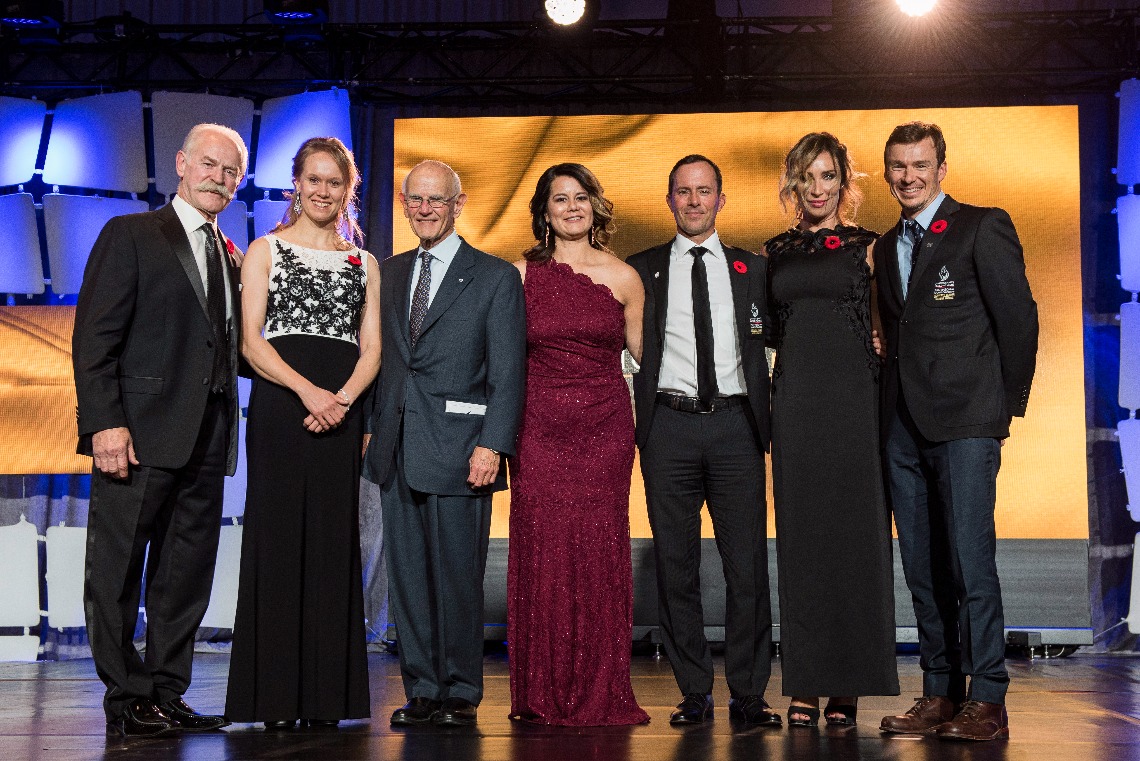 Induction Celebrations 2017
November 9th, 2017
Toronto, November 9, 2017 – Tonight, Canada's Sports Hall of Fame will honour nine new inductees with our nation's highest sporting achievement: an induction into Canada's Sports Hall of Fame. The Class of 2017 represent Canada's greatest sport heroes. The ceremony will be emceed by sportscasters Ron Maclean and Tara Slone and include entertainment from special musical guest Brett Kissel.
The nine inductees include athletes, builders and one team that have made tremendous achievements in their fields and contributed to their country. Their perseverance and success inspire us to do better in sport and in life. The inductees are:
Carol Huynh, first Canadian to win Olympic Gold in the women's 48kg division and current President of the United World Wrestling Athletes Commission, Wrestling
Cindy Klassen, current world record holder in the 3000m, won 115 international medals, broke seven international records and was World Champion nine times, Speed Skating
Lanny McDonald, signed off a 16-year career by scoring the Stanley Cup winning goal against the Montreal Canadiens to help the Flames win their first and only Stanley Cup in 1989, Ice Hockey
Gaylord Powless, won the 1964 Tom Longboat Award as best Indigenous athlete in Canada playing the "Creator's Game" at age 17, Lacrosse
Mike Weir, first Canadian to win the Masters Tournament and first Canadian to play in the President's Cup, Golf
Simon Whitfield, four-time Olympian and 10-time National Champion, Triathlon
Dr. Robert W. Jackson, helped establish the Canadian Wheelchair Sport Association in 1967 and is widely regarded as the founder of the Canadian Paralympic movement, Builder
Dr. Charles Tator, helped found Parachute Canada in 1992, an organization that aims to prevent predictable injuries and save lives, Builder
The Edmonton Grads, ruled women's basketball from 1915 to 1940, winning an average of 95% of their matches, recognized by the founder of basketball, Dr. James Naismith as "the finest basketball team that ever stepped out on a floor," Basketball
"This year, we have the absolute honour of inducting a diverse and talented group into Canada's Sports Hall of Fame. The Class of 2017 inspires us to work hard and achieve our dreams," said Mario Siciliano, President and CEO, Canada's Sports Hall of Fame.
At a media conference this morning, the inductees each received a Canada's Sports Hall of Fame Honoured Member jacket, the official symbol of their accomplishment in achieving Canada's greatest sporting honour. Several Honoured Members will be in attendance at tonight's gala, including Kurt Browning, Craig Forrest, Kerrin Lee Gartner, and Catriona Le May Doan.