Hall of Famer
Geraldine Heaney
Inducted in 2014
Member Details
Date of Birth: 1967
Place of Birth: Lurgan, Northern Ireland, UK
Sport: Ice Hockey
Member Category: Athlete
Career Highlights
1998
Olympic Games - Silver Medal
2002
Olympic Games - Gold Medal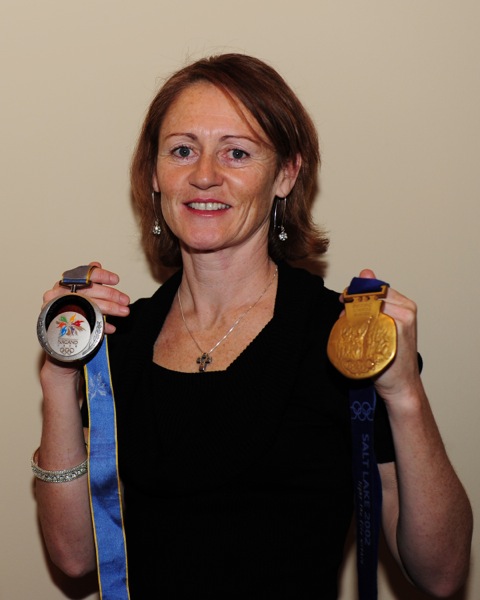 Story
In 1980, at the age of 13, Geraldine Heaney started playing hockey with the Toronto Aeros. This began a long and successful career playing in a then male-dominated game, and ultimately developing women's hockey into the forefront of Canadian sport culture. Her gold medal-winning goal at the 1990 IIHF Ice Hockey Women's World Championship thrust her into the public eye as she was quickly positioned as a leader in the world of Women's Ice Hockey.
Geraldine played for Canada's National Women's team from 1990 through the 2002 Olympic Winter Games. She competed in 125 games for Canada, amassing 93 points on 27 goals and 66 assists and was the first Canadian to play 100 games with Canada's National Women's Team. Geraldine won seven gold medals at the IIHF Ice Hockey Women's World Championships (1990, 1992, 1994, 1997, 1999, 2000, 2001), won a silver medal at the 1998 Olympic Winter Games in Nagano, Japan, and a gold medal at the 2002 Olympic Winter Games in Salt Lake City. A decade after her retirement, Geraldine remains the highest scoring defenceman in the history of Canada's National Women's Team.
Geraldine was a champion for female hockey long before the sport enjoyed international status and public attention. Geraldine takes her responsibility as a role model for young girls very seriously and continues to advance the women's game. Geraldine was always a team player, putting herself second to the team's goals and the development of the sport overall.