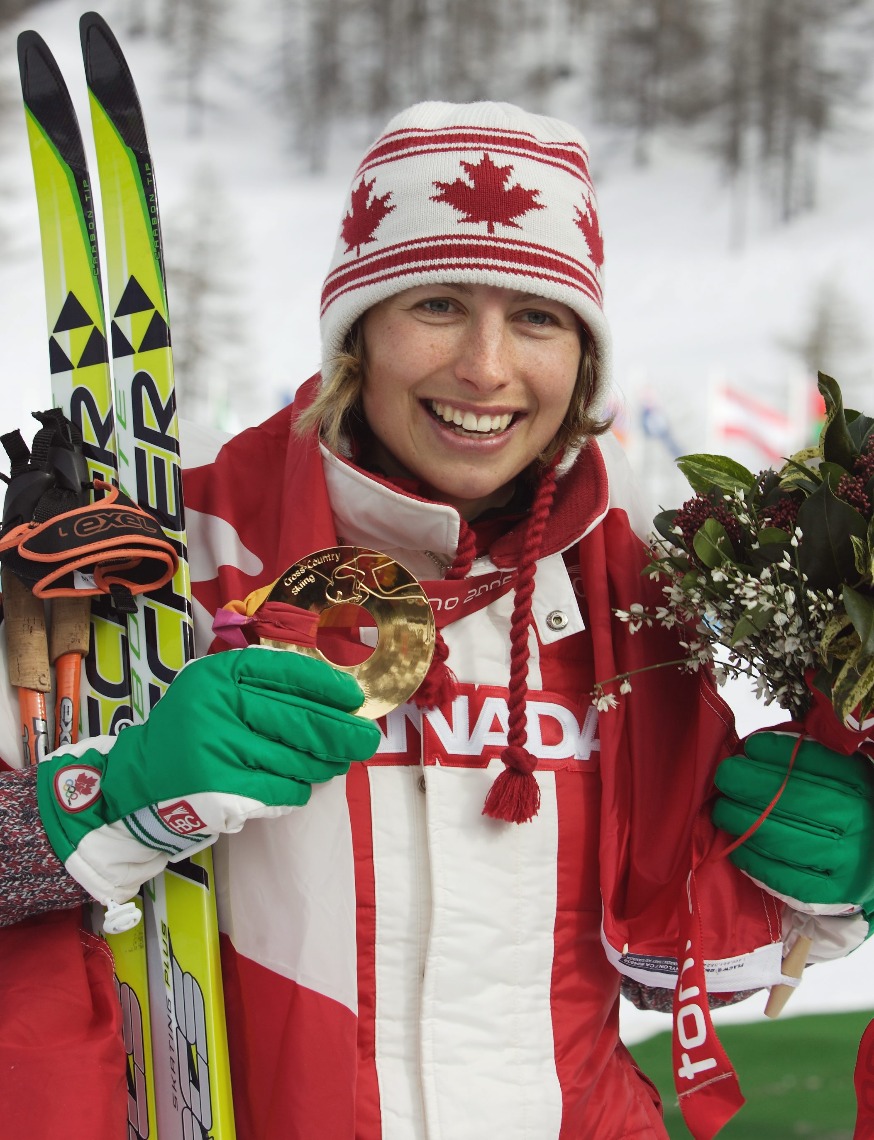 Born and raised in Canmore, Alberta Chandra Crawford grew up skiing the famed terrain of the Rocky Mountains. Along with her adventurous parents and younger siblings, Chandra had endless opportunities to hike, bike, run, kayak, climb, camp, ski and swim in the mountains. She began competing in biathlon events when she was 12 years old, inspired by fellow Canadian Myriam Bédard's groundbreaking gold medal performance at the 1994 Olympic Winter Games. After finding her shooting skills could not match her superior talent for skiing, Chandra switched to cross country racing at the age of 17. Training at world-class facilities built for the 1988 Olympic Winter Games, Chandra represented Canada at the World Junior Championships in 2001, 2002 and 2003.
Chandra Crawford made her Olympic debut at the 2006 Olympic Winter Games in Torino at the age of 22, astonishing the world with a gold medal performance in the 1.1 km sprint event. A relative unknown on the international stage, Chandra won her first World Cup medal (a bronze in the free sprint), less than a week before the opening of the Olympic Winter Game. In Torino, she dominated the quarter-final and semi-final heats in her event and reached the finish line in the final race metres ahead of the closest competitor. In that instant, she became only the second North American athlete to win an Olympic gold medal in cross country skiing. She proceeded to win the hearts of Canadians everywhere by enthusiastically singing the national anthem after ascending to the top step of the Olympic podium.
However, it was before her Olympic victory that Chandra Crawford became a leading light on the Canadian women's cross country ski team, mentoring other athletes and encouraging kids. In 2005, she established Fast and Female, a not-for-profit organization dedicated to empowering girls between the ages of 8 to 18 to stick with sports and healthy, active lifestyles. Hosting fun-filled, non-competitive athletic events, Fast and Female fosters social acceptance and support for young girls - a demographic group that studies have shown are six times more likely than boys to drop out of sports during adolescence.
In her pursuit of excellence Chandra Crawford has resiliently overcome many challenges and obstacles, missing almost the entire 2008-2009 season after undergoing surgery for compartment syndrome- a condition that caused compressed nerves and blood vessels in her shins. She retired in 2014 after thirteen years of international competition and seven trips to the World Cup podium. She has since completed a Master's degree in Business Administration, and spends her days leading Fast and Female to empower thousands of girls across North America annually with the help of hundreds of athlete ambassadors. Beyond Fast and Female, Chandra's interests consist of participating with friends and family in yoga, camping, dancing, reading, languages, eating seafood, concerts, and any kind of adventure in the mountains.
Photo: The Canadian Press/Frank Gunn