Hall of Famer
CATRIONA LE MAY DOAN
Inducted in 2005
Member Details
Date of Birth: December 23, 1970
Place of Birth: Saskatoon, Saskatchewan
Sport: Speed Skating
Member Category: Athlete
Career Highlights
1996-2002
Speed Skating Canada Female athlete of the year - long track (co-winner in 2001)
1998
Nagano Olympic Games - Gold medal, 500m
Nagano Olympic Games - Bronze medal,
1000m
1998, 2001 & 2002
2002
Salt Lake City Olympic Games - Gold medal, 500m
2005
Named to the Order of Canada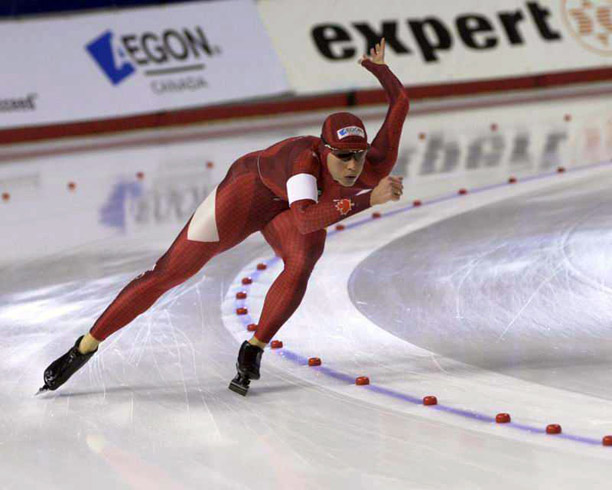 Story
The fastest Canadian doesn't run on a track-she flies on skates. Over an eight-year span, Catriona Le May Doan was a key part of a Canadian revival in international speed skating. A talented athlete who once represented Saskatchewan in the heptathlon at the Canada Games, she represented Canada in speed skating at both the 1992 and 1994 Olympic Winter Games—gaining valuable experience, though failing to place in the top-ten in any race—but it was in 1996 that Le May Doan burst to prominence and established herself as one of the best sprinters in the world. She won the 500m world sprint championship and consistently won medals at 500m and 1,000m races at World Cup events throughout 1996 and 1997. At the 1998 Olympics in Nagano, she won gold in the 500m in Olympic-record time, as well as a bronze medal in the 1,000m. She also finished first overall in the year-end World Cup standings in both the 500m and 1,000m. At the end of the year, she was recognized with the first of what would be three Canadian female athlete of the year awards. Le May Doan continued to dominate the sprint distance in international speed skating following the Olympics. She won the 500m World Cup title in 1999 and, in 2001, captured the 500m title at both the world single distance championships and world sprint championships, and topped off her season by again leading the World Cup standings. The year 2002 was, in her words, "a dream season." At the Salt Lake City Olympics, Le May Doan carried the flag and led Canada's team into the opening ceremonies. While she placed a disappointing ninth in the 1,000m, Le May Doan raced to a gold medal in her specialty, the 500m, setting a world record in her first race in the competition. Her victory made her the first Canadian ever to defend a gold medal in Olympic history. She also won the 2002 world championship and captured the season-long World Cup title. At the end of the year, she was named Canada's outstanding athlete and awarded the Lou Marsh Trophy. Le May Doan retired from competition in 2003. At the time, she held the world, Olympic, and Canadian record in the 500m and had lowered the world record over that distance on six separate occasions. She was made an officer in the Order of Canada in 2005. In her retirement, she works as both a motivational speaker and television commentator, where from the broadcast booth she can see first-hand the impact that her success is having on future generations of Canadian skaters.