Hall of Famer
DOROTHY WALTON
Inducted in 1961
Member Details
Date of Birth: August 7, 1909
Place of Birth: Swift Current, Saskatchewan
Date of Passing: October 16, 1981
Sport: Badminton
Member Category: Athlete
Career Highlights
1924-1931
54 titles in racquet sports
1935
Toronto and Ontario Ladies Badminton singles titles
1936-1940
64 badminton singles and doubles titles in Canada and the U.S.
1939
Winner, All-England tournament, unofficial World Championships
1940
Canada's Top Female Athlete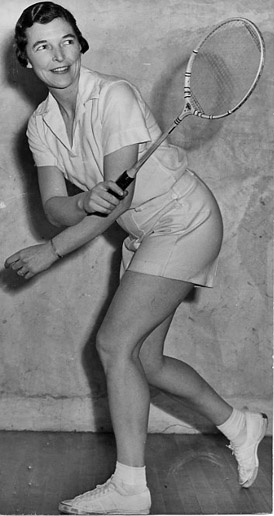 Story
Though many may know her better for her work with the Canadian Association of Consumers, when she launched what Maclean's magazine called "ladylike but lethal warfare against carelessness, fraud, ennui and ignorance in high places," Dorothy Walton also reigned supreme in Canadian badminton throughout the late 1930s. Before taking arms against the industrial and commercial powers in an effort to improve the lives of housewives across the nation, Walton fought for the world badminton title, yet no matter what the battle, her strength, intelligence, and tenacity always made her a winner. Growing up in Swift Current, Saskatchewan, Walton (née McKenzie) was a superb all-round athlete. While attending the University of Saskatchewan, she participated in 14 intercollegiate sports--including tennis, track and field, swimming, hockey, and basketball--and was the first woman to win her university's major athletic award. In racquet sports, she was superlative, winning some 54 local, provincial, and Western Canadian tennis titles between 1924 and 1931, as well as numerous badminton titles. After finishing her undergraduate degree in economics, Walton began working toward her Masters degree. When provincial minister Howard McConnell offered her a position as his private secretary, Walton jumped at the chance to work in politics and finished her degree by correspondence. In 1931, she married William Walton and moved to Toronto. It wasn't until after the birth of her son that Walton took up competitive badminton in earnest, but her rise to the top was rapid. In 1934, her first year back on the courts, she went to the singles finals in both Toronto and Canadian tournaments. The following year, she took both the Toronto and Ontario singles titles. From 1936 to 1940, Walton dominated Canadian women's badminton, winning 64 doubles and singles championships, including victories at the Canadian, Ontario, and New England Open competitions. Meanwhile, she never let her tennis rank fall below sixth in Canada. From 1939 to 1940, Walton so completely outclassed the North American badminton competition that, not only did she make a clean sweep of every major singles title, seven in all, but she did so without the loss of a single game. In addition, she won eight ladies and mixed doubles badminton titles and six more in tennis. At the climax of her career, she captured the 1939 All-England title, the equivalent of the world amateur championship. This was Walton's crowning achievement, as she was the first Canadian to claim it. After these tremendous triumphs, Walton turned her attention from athletics to the war effort. Throughout the 1940s, she was active in public service, especially as part of the IODE (Imperial Order of the Daughters of the Empire). Following the war, Walton began to fight everyday battles for the 1950s housewife. She helped found the Canadian Association of Consumers, an organization that cracked down on the inconsistencies, impracticalities, misleading marketing, and false labeling implemented by manufacturers, retailers, and advertisers. Serving as president, Walton traveled the country in her crusade to show the powerful industries that they were there to serve housewives, not to make their lives more difficult. In 1953, the Queen presented her with the Coronation Medal for her work on behalf of the consumers of Canada. In 1957 and 1960, she returned to the badminton courts as captain and manager of the Canadian Uber Cup team. For her brilliant performance on the courts, Walton was named Canada's top female athlete of 1940. In 1973, she was named to the Order of Canada and, in a 1950 Canadian Press poll, she placed sixth for Canada's female athlete of the half-century.