Hall of Famer
MARCEL, AUBUT
Inducted in 1999
Member Details
Date of Birth: January 5, 1948
Place of Birth: St. Hubert, Quebec
Sport: Ice Hockey
Member Category: Builder
Career Highlights
First team president to draft East European players.
Conceived of and pushed for the adoption of the overtime period in the NHL
He championed the use of video replay for adjudication purposes.
1979
Played a key role in the merger talks between the World Hockey Association and the National Hockey League.
1986
1992
Labour relations mediator in the settlement of the NHL players strike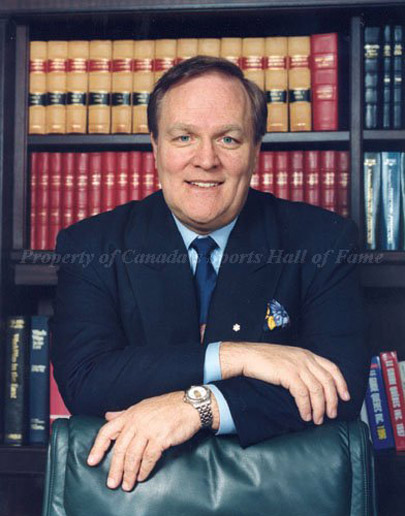 Story
Marcel Aubut O.C. O.Q. Q.C. Ad. E. is a former President of the Canadian Olympic Committee. After earning a Bachelor of Arts degree in 1968 from the Academie de Quebec, Aubut went to Laval University where he earned a law degree in 1970 and was admitted to the Quebec Bar in 1972. He was appointed Queen's Counsel in 1986, Officer of the Order of Canada in 1993 and Officer of the Ordre national du Quebec in 2006. In 1975, he began his association with the Quebec Nordiques as a member of the team's Executive Committee, legal counsel, and Secretary Treasurer. His creative ideas and effective management skills resulted in the Quebec Nordiques becoming one of the premier franchises in the World Hockey Association (WHA). In 1979, the future of the WHA in doubt, Nordiques owner Marcel Aubut began lobbying the NHL to admit his franchise and, in fact, absorb all the WHA franchise as part of a merger. The NHL rejected an all out merger but did agree to admit four of the stronger WHA teams (Hartford Whalers, Winnipeg Jets, Edmonton Oilers, and the Quebec Nordiques). However, despite resistance from the Montreal Canadiens, Aubut's deft contribution to the WHA/NHL merger talks kept the Nordiques in the arena. Thus, Aubut became a president within the newly expanded league. Aubut paved the way for Czech brothers, Peter, Marian, and Anton Stastny to escape from their native country to gain freedom and join the Quebec Nordiques, marking the beginning of the flow of European players to the NHL. Aubut also saw the opportunity to heighten the excitement of the game and encouraged the league to adopt regulation overtime. He also petitioned the use of video replay for use in game decisions. Aubut used to be a member of the National Hockey League's Board of Governors, president-elect of the Canadian Olympic Committee (COC) and a Quebec City based lawyer with the law firm Heenan Blaikie. Marcel Aubut assisted in raising funds for amateur sports and for organizations such as the Canadian Special Olympics.