Hall of Famer
PIERRE LUEDERS
Inducted in 2012
Member Details
Date of Birth: September 26, 1970
Place of Birth: Edmonton, Alberta
Sport: Bobsleigh
Member Category: Athlete
Career Highlights
1998
Olympic gold medal with teammate Dave MacEachern in two-man bobsleigh event
2006
Olympic silver medal with teammate Lascelles Brown in two-man bobsleigh event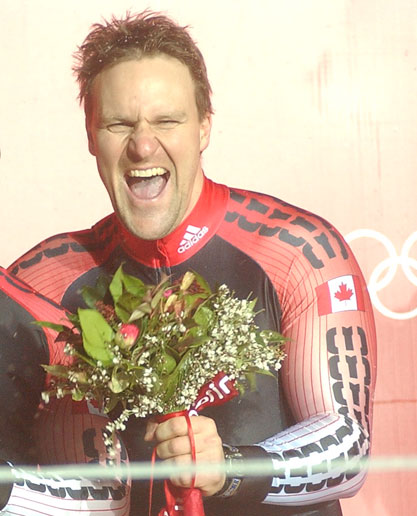 Story
When he was a young boy growing up in Edmonton, Pierre Lueders set his sights on sport. It turns out the sport just wasn't the right one. Always a powerhouse, he had been focusing on decathlon until his cousin, a sportswriter, suggested that Pierre had a physique perfectly suited to bobsleigh.
Five Olympic Games later, Pierre is the most decorated slider in Canadian history. It turns out sportswriters know a thing or two.
During his 19-year tenure with the Canadian Bobsleigh Team, he struck World Cup gold in all three bob categories – the two-man, four-man and combined. In all, he captured 85 medals at World Cup events.
Pierre was 27 years old in 1998 and had been leading the World Cup circuit for four years when he piloted the Canada 1 sled with Dave MacEachern aboard. Together they scorched the course to win gold, Canada's second Olympic medal ever in the sport. The victory, however, was not that clear-cut. Their winning time was exactly the same as Italy's – a million-to-one chance that resulted in the Italians winning gold as well.
After disappointing results at Salt Lake City in 2002, Pierre turned down the offer to carry the Canadian flag at the 2006 Olympic Winter Games in Turin. He wanted to focus on his event, and with Lascelles Brown acting as his brakeman, was rewarded with a silver medal.
Pierre's record at the World Championships is perhaps even more impressive. Between 1995 and 2007, he captured two gold, four silver and two bronze medals steering both the two-man and four-man bobs. It is easy to see why Bobsleigh Canada says he is "arguably the best athlete to ever drive the Canada 1 sled."
As a special honour, Pierre was given the go-ahead to drive the first sled down the course at the Whistler Sliding Centre, along with Justin Cripps. Today, Turn Seven on the track is called "Lueders Loop."
After retirement following the Vancouver 2010 Olympic Winter Games, Pierre was named head coach of the Russian bobsleigh and skeleton team as they prepare to host the Sochi 2014 Olympic Winter Games. With his experience and expert guidance, the cheer in 2014 may well be "Here come the Russians!"