Hall of Famer
SCOTT NIEDERMAYER
Inducted in 2012
Member Details
Date of Birth: August 31, 1973
Place of Birth: Edmonton, Alberta
Sport: Ice Hockey
Member Category: Athlete
Career Highlights
1995, 2000, 2003
Won Stanley Cup with New Jersey Devils
2002
2007
Won Stanley Cup with Anaheim Ducks; with brother Rob Niedermayer as his teammate.
Awarded Con Smythe Trophy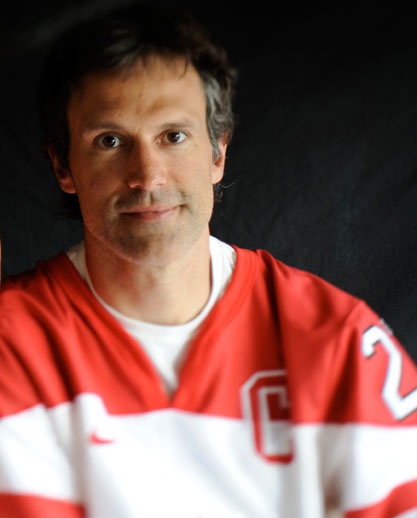 Story
Macleans Magazine once dubbed Scott Niedermayer "the greatest puck-moving blueliner since Bobby Orr." It's a reputation he began building early in his career, starting with the Kamloops Blazers of the Western Hockey League. He went on to cement this reputation as the only player to win every hockey title possible for a North American: the Stanley Cup, Olympic gold, Memorial Cup, World Junior Championships, World Cup and World Championships.
Growing up in Cranbrook, B.C., Scott and his brother Rob were both highly touted prospects. Scott's powerful stride, calm puck-handling style and offensive punch gained him widespread recognition, leading to the New Jersey Devils choosing him third overall in the 1991 NHL Entry Draft.
Scott then closed out his junior career being named MVP at the Memorial Cup, and helping the Kamloops Blazers to their first ever championship. By then, he had already helped his Canadian teammates win gold at the World Junior Hockey Championships in 1991.
Winning would become a habit.
His presence had a huge impact on the once underachieving Devils, who began a meteoric rise in the rankings. Over the next 12 seasons, he led the team to Stanley Cup wins in 1995, 2000 and 2003. Along the way, he also captured Olympic gold as part of the Canadian men's team in Salt Lake City.
The Devils' defeat of the Anaheim Ducks in 2003 marked the first time since 1946 that brothers appeared opposite each other in the final. After ousting brother Rob's team, Scott would eventually find a way to win together.
Meanwhile, he had more championships to win. In 2004, Canada beat Sweden for the World Men's Ice Hockey Championship, and beat Finland to claim the World Cup of Hockey. Both times, the Niedermayer brothers suited up for their country.
Scott also won the Norris Trophy in 2004 as the NHL's top defenceman before joining his brother's Ducks in 2005. Two years later, both Niedermayers sipped from the Cup, as 2007 champions. It was also the year Scott won the Conn Smythe Trophy as playoff MVP.
When Canada needed a captain to lead their hockey team at the Vancouver 2010 Olympic Winter Games, Scott was the obvious choice. He had already captained the Devils and Ducks, and was now leading a team that featured nine NHL captains. The result might almost be predictable given his winning record – another gold medal for Canada.