Hall of Famer
DAVID PELLETIER
Inducted in 2012
Member Details
Date of Birth: November 22, 1974
Place of Birth: Sayabec, Quebec
Sport: Figure skating
Member Category: Athlete
Career Highlights
2000
Canadian Figure Skating Champion
2001
Champions at Skate America, Skate Canada, Four Continents & World Championships.
Winner of Lou Marsh Memorial Trophy
2002
Olympic gold in pairs figure skating with Jamie Sale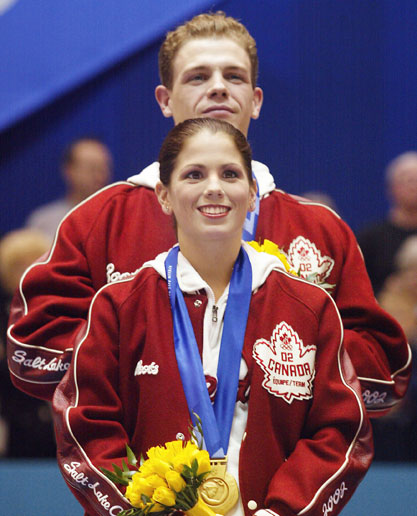 Story
She was from the West, and he was from the East. But when they came together as a figure skating duo, there was only perfect unity and Olympic gold.
Growing up in Calgary, Jamie Salé was a notable singles skater. In 1994, she won the short program at the Canadian Championships. She also won a bronze medal with her pairs partner, Jason Turner. Together they made the Olympic team and placed 12th in Lillehammer, Norway. Shortly after, they ended their partnership.
Jamie returned to singles and finished fifth at the 1995 Canadian Championships. Somehow, victory still eluded her. But things were about to get a lot brighter.
David Pelletier was a pairs skater from Sayabec, Quebec, whose coach was looking for a partner for him. Together they went to Edmonton in 1998 to try out with Jamie. A month later, she moved to Montreal to skate as his partner full-time.
Success came almost immediately. At Skate Canada they finished third, and then second at the Canadian Championships.
In 1999, with a long program set to Love Story, they began winning. At Skate America, they defeated two time world champions Yelena Berezhnaya and Anton Sikharulidze. In 2000, the pair won the Canadian Figure Skating Championships in Calgary with several perfect 6.0 marks in the long program.
In 2001, they won at both Skate America and Skate Canada, again defeating Berezhnaya and Sikharulidze. They won again at the Canadian Championships in Winnipeg, the Four Continents in Salt Lake City and the World Championships in Vancouver. That year, Jamie and David also won the Lou Marsh Memorial Award as Canada's outstanding athletes.
The pressure was on in 2002. Canada had only won two figure skating gold medals at an Olympic Games – in 1948 and 1960. Russians had dominated for 40 years.
After the long program, which Jamie and David performed flawlessly, bringing the crowd to their feet, the Russian team of Berezhnaya and Sikharulidze were awarded the gold despite a miscue in their program. The following day, a French judge admitted she had awarded first place in exchange for a similar vote for two French ice dancers.
The scandal, which put Jamie and David in the middle of a media-storm, led to suspensions and the French score being discarded. Later in the week, Jamie and David were given their much-deserved gold medals and stood on the podium side-by-side with Berezhnaya and Sikharulidze as both national anthems were played.
Jamie and David managed the whole scandal with strength and grace, making them darlings of the 2002 Olympic Winter Games. The incident led to major changes in judging, a legacy that is almost as important as the gold medals Jamie and David took home from those memorable Games.