Hall of Famer
DEREK PORTER
Inducted in 2012
Member Details
Date of Birth: November 2, 1967
Place of Birth: Belfast, Northern Ireland
Sport: Rowing
Member Category: Athlete
Career Highlights
1992
Won Olympic gold medal with Canada's Men's Eights team
1993
Champion at World Rowing Championships in Single Scull event
1996
won Olympic silver medal in Single Scull event
2000
Finished fourth at Sydney Olympic Games in Single Scull event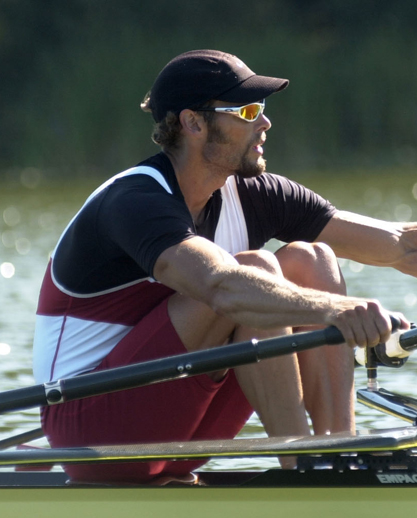 Story
Born in Belfast, Ireland, Derek Porter is the son of Hugh Porter, who rowed to bronze in the 1958 Commonwealth Games for the United Kingdom. He obviously passed on his rowing genetics to his son, who today is recognized as one of Canada's best ever in the sport.
Rowing out of his home in Victoria, Derek became a member of the National Team in 1989. He got his first taste of international gold that year, winning as part of the men's eight at the 1989 San Diego Crew Classic.
That win led to a string of victories, which included the United States Nationals in 1990 and the Amsterdam International Regatta.
At the World Championships in 1990 and 1991, Derek was part of the strong Canadian men's team that won silver two years in a row. Both times, the team finished behind Germany.
Then came the 1992 Olympic Games in Barcelona. In one of the closest finals in rowing history, the Canadian team struck gold, edging out the eight-man crew from Romania by just .14 seconds. The world champions from Germany were also just nosed out, finishing only 1.5 seconds back of Canada for the bronze medal.
Following the 1992 Games, Derek took up single sculls. Always considered a powerful stroke in the men's eight, he would be in the boat alone, with his sights set on the Atlanta 1996 Olympic Games.
He got off to a great start, winning the 1993 United States National Championship, and then finishing second at the 1993 World University Games. Then, at the World Championships in 1993, he eclipsed the field by stroking the 2,000 metre course in just 6:59.03 en route to the win.
Years of ensuing success led to Derek being touted as one of the favourites going to Atlanta. In the 2,000 metre race, he led most of the way, only to be edged out by Xeno Müller in the last 500 metres. Still, Derek claimed the silver medal, ahead of two-time defending Olympic champion Thomas Lange.
The rowing events at the 2000 Olympic Games in Sydney were eagerly awaited, and hotly contested. Derek rowed strong to one of the best fourth place finishes in Canadian Olympic history. In fact, the race was the closest ever, with only two seconds separating fourth from first.
It was still enough to solidify Derek's position among the greats of Canadian rowing, as one of its fiercest competitors and strongest supporters.