Hall of Famer
Andrea Neil
Inducted in 2011
Member Details
Date of Birth: October 26, 1971
Place of Birth: Richmond Hill, BC
Sport: Soccer
Member Category: Athlete
Career Highlights
2004
Earned historic 100th international cap, making her the second player in the history of Canadian soccer to reach the century mark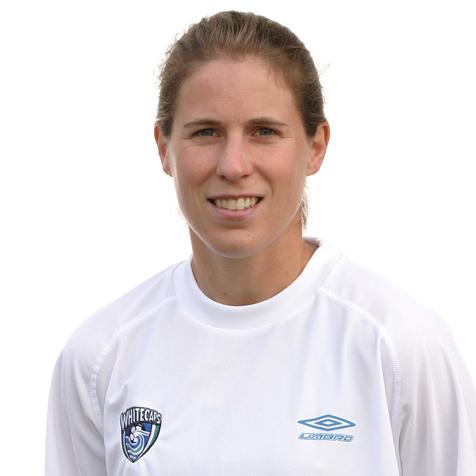 Story
In 2007, after an 18-year soccer career with the Canadian women's national team, including six years with Vancouver Whitecaps FC, Andrea Neil accepted the idea of retirement. "My body was requiring too much time warming-up for the warm-up," she says.
Neil's long sporting career started on the badminton court as a young player who made waves nationally and internationally with the Canadian junior team. Then, while rehabbing from a motorcycle accident that resulted in gangrene setting into her leg, the 18-year-old athlete chose to focus her career on soccer.
Neil's passion for team sport has been evident to all who have played or competed with her. Younger teammates quickly learned from Neil that playing for the national team and wearing a Canadian jersey comes with responsibility and is about more than the individual. And with more international appearances than any Canadian Soccer player at the time, Neil was worthy of the attention.
At 19 years old, she made her senior international debut with Team Canada in 1991. She went on to play 132 times for her country and earned her historic 100th international cap on March 5, 2004. She is only the second player in the history of Canadian soccer to reach the century mark. Her long career includes four consecutive FIFA Women's World Cup tournaments, with her final match coming at the 2007 FIFA Women's World Cup in China.
After a flat start to the 2003 World Cup, Neil spoke to her fellow players about team unity. Some of her teammates credited that moving meeting as the catalyst that helped lead Canada to its best-ever fourth
place finish.
A consummate professional and a fearless leader, she was a player known for crunching tackles, sharp elbows and wily tactics; equally capable of finesse passes, orchestrating attacks and scoring goals. Neil had such a deadly header around the goal that the Canadian set-pieces often were designed to take advantage of her incredible instincts and vertical jump.
A former teammate says Andrea "made sure every person on the team knew how important they were to the present and future of the program."
In addition to her National Team career Neil gave six years with the Vancouver Whitecaps FC, leading the club to United Soccer Leagues W-League championships in 2004 and 2006. Whitecaps president Bob Lenarduzzi says "her relentless commitment to growing women's soccer in Canada is second to none."
Off of the field, Neil played an equally important leadership role as the player representative for the Canadian Women's Team. She was a consensus-builder between players and coaching staff, as well as to the Canadian Soccer Association. She worked to establish players' benchmarks, standards and rights that have paved the way for the current national team to become a full-time professional program.
While 18 years with any national team is an athletic career rarely matched, Neil's legacy is in creating
opportunities for today's players. Thanks to her contributions, outstanding stats such as over 100 international appearances with Team Canada may someday become common.