Hall of Famer
Danielle Goyette
Inducted in 2015
Member Details
Date of Birth: January 30, 1966
Place of Birth: Saint-Nazaire, Quebec
Sport: Ice Hockey
Member Category: Athlete
Career Highlights
1998,2002,2006
Won a Silver Medal in 1998 and Gold Medals in 2002 and 2006 as a member of Team Canada at the Olympic Winter Games in Nagano, Salt Lake City and Turin respectively
2006
Canada's Flag Bearer at the Opening Ceremonies of the Turin Olympic Winter Games
2010
Inducted into the Quebec Sports Hall of Fame (Panthéon des sports du Québec)
2012
As Head Coach of the University of Calgary Women's Ice Hockey Team won a CIS (Canadian Interuniversity Sport) National Championship
2013
Inducted into the IIHF (International Ice Hockey Federation) Hall of Fame
2014
Assistant Coach of the Canadian National Women's Ice Hockey Team that won the Gold Medal at the Sochi Olympic Winter Games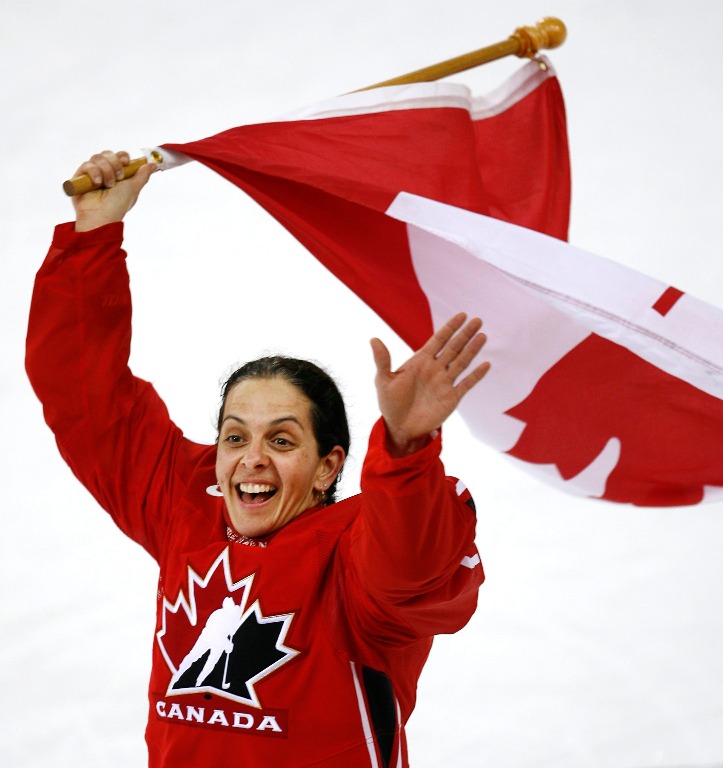 Story
Danielle Goyette began her incredible athletic career as a softball player before rapidly climbing the hockey ranks in Quebec and becoming one of Canada's most accomplished athletes. In 1991, Danielle joined the Canadian National Women's Hockey team where she remained for more than 15 years.
Goyette's athletic prowess also carried over to the baseball diamond where she competed in Women's Softball for Team Quebec during the 1985 Canada Summer Games in Saint John, New Brunswick. Danielle played in 3 Olympic Winter Games, winning Silver in Nagano in 1998 Gold in Salt Lake City in 2002, and Gold again in Turin in 2006. She competed at 9 IIHF Women's World Hockey Championships, winning 8 Gold medals and 1 Silver medal. Danielle was the scoring leader at the 1992 Women's World Hockey Championship with 10 points. The night before the 1998 Nagano Olympic Winter Games opening ceremony, Danielle's father lost his battle with Alzheimer's and, after much deliberation and support from her sisters, she made the decision to stay and play, scoring the team's first goal of the tournament and surpassed all players in Nagano with 8 goals. Danielle again was a scoring leader tied for overall points at the 2002 Salt Lake City Olympic Winter Games. By the time Danielle played her final game for Canada in 2007 at the age of 41, she earned the titles of 2nd all-time scorer with 15 goals at the Olympic Winter Games and 4th all-time point scorer with 68 points at the Women's World Hockey Championship. On her retirement, Danielle was one of only three Canadian women's hockey players to have scored more than 100 goals and ranked second in total points scored.
Danielle is now Head Coach for the University of Calgary Women's Hockey Team successfully leading them to a CIS National Championship in 2012. In 2013-2014, Danielle took a year off from her Head Coach duties to become the Assistant Coach to the National Women's Hockey Team where she helped lead the team that went on to win a Gold medal at the 2014 Sochi Olympic Winter Games. Danielle is known for her personal commitment to hard work so she can help everyone around her be a better hockey player. Danielle also lends her time to less privileged groups including support for troubled teens and sick children.