Hall of Famer
Colleen Jones
Inducted in 2016
Member Details
Date of Birth: December 16, 1959
Place of Birth: Halifax, Nova Scotia
Sport: Curling
Member Category: Athlete
Career Highlights
1979
Won her first of 16 Nova Scotia curling titles
Won a Silver medal at the Canada Winter Games
2001
Won a Gold medal at the World Championships in Switzerland
2004
Won a Gold medal at the World Championships in Sweden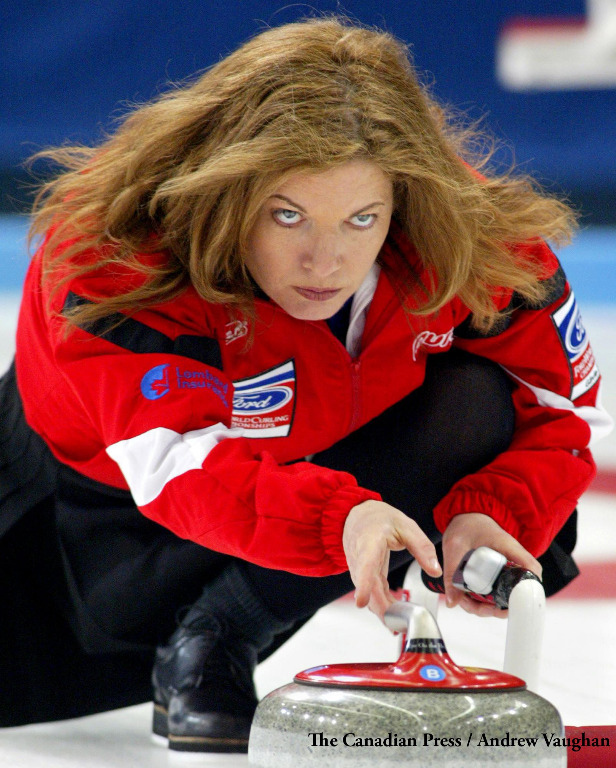 Story
Hailing from a family of Nova Scotian curlers, Colleen Jones is best known as the successful skip whose team won two World Championships and the Tournament of Hearts six times. In a family of eight girls and a boy, or "two curling teams plus a spare", Colleen found success in competitive curling from an early age. In 1979, she was only 19 years old when she won her first of 16 Nova Scotia curling titles, ultimately spanning four decades. In 1979, Colleen represented Nova Scotia at the Canada Winter Games, capturing a Silver medal, tying the best finish for a Nova Scotia team, male or female, in Canada Games history. In 1980, she competed in the Canadian Women's Curling Championships, finishing second.
In 1982 she became the youngest skip, at age 22, ever to win the Canadian Women's Curling Championship. Colleen has competed with seven mixed teams, twice winning the Canadian Mixed Curling Championship in 1993 and 1999. She has appeared in a record 21 Canadian Championships, winning six (1982, 1999, 2001, 2002, 2003 and 2004) and becoming the first skip to win four consecutive titles. In 2001, Colleen won the first of her two World Championships in Switzerland, repeating the win in 2004 in Sweden. In 2011, Colleen and her team won the Nova Scotia Women's Senior Curling Canada Championship. Colleen has appeared in 4 Canadian Women's Senior Curling Championships (2011, 2012, 2015, 2016), earning a Bronze in 2012 and Silver in 2015.
Colleen works tirelessly to promote curling and exemplifies the passion and skill that it takes to still be a top ranked curler after more than 35 years on the ice. Colleen is proud to be from Nova Scotia, and show future generations that you can come from a small province and still compete and win.