Hall of Famer
Sue Holloway
Inducted in 2016
Member Details
Date of Birth: May 19, 1955
Place of Birth: Halifax, Nova Scotia
Sport: Canoe / Kayak Sprint
Member Category: Athlete
Career Highlights
1976
Was the first woman in the world to compete at both the Winter and Summer Olympic Games
1984
Won Silver in the K2-500m and Bronze in the K4-500m at the Los Angeles Olympic Games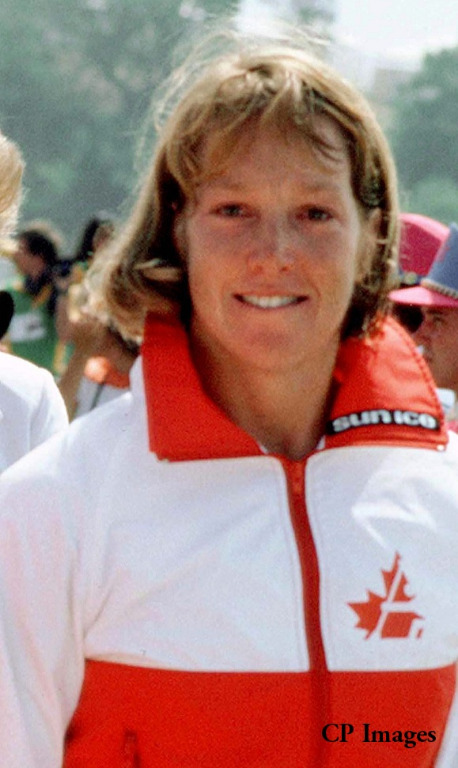 Story
Four-time Olympian Sue Holloway was the first woman in the world to ever compete at both the Winter and Summer Olympic Games in the same year when she competed in cross country skiing and kayaking in 1976. Sue grew up in Ottawa, and represented Ontario at the Canada Winter Games in 1971 in skiing and joined both national teams for skiing and paddling in 1973. In 1975, Sue was the Canadian champion in skiing (5km classic) and kayaking (K1-500 and 6,000m, K2-500m, and K4-500m). The following year, she was selected to represent her nation at the 1976 Innsbruck Olympic Winter Games in the 10-km cross-country ski race and the 4 x 5km relay. She returned home to Canada and that summer raced at the 1976 Montreal Olympic Games in the K1-500m and K2-500m.
In 1979, Sue was the first woman to compete in the challenging all-male Molokai Hoe Race in Hawaii, finishing third. Sue focused on kayaking intending to make the 1980 Olympic team, but her hopes were crushed when Canada boycotted the Games. Not only could she not compete, but was unable to carry out the honour of being the nation's flag bearer in the Opening Ceremonies. Refusing to give up, she continued to train and qualified for the 1984 Los Angeles Olympic Games, where she won Silver in the K2-500m and Bronze in the K4-500m.
Sue retired shortly after, ending a 14 year career as an athlete. She began coaching, motivational speaking and working with the Canadian Olympic Committee, where she developed a career planning programs for national team athletes. She has worked tirelessly to help youth, with the focus on inspiring kids to get physically active.
Sue is an event planner, world champion dragon boat competitor and devotes countless hours to coaching cross country skiing to teach and motivate the next generation of athletes.