Hall of Famer
CINDY KLASSEN
Inducted in 2017
Member Details
Date of Birth: August 12, 1979
Place of Birth: Winnipeg, Manitoba
Sport: Speed Skating
Member Category: Athlete
Career Highlights
2002
Won Bronze in the 3000m at the Olympic Winter Games in Salt Lake City
2006
Won Gold in the 1500m, Silver in the 1000m, Silver in the Team Pursuit and Bronze in the 5000m and 3000m at the Olympic Winter Games in Turin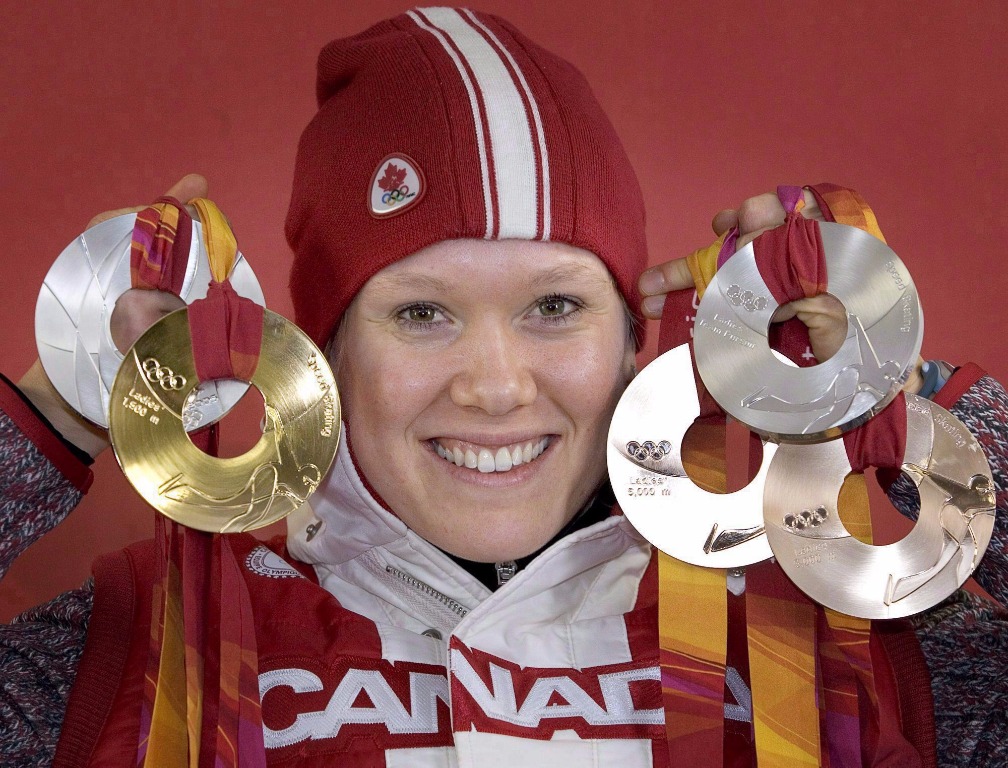 Story
Cindy Klassen began her skating journey when, at age two, her father gave her a homemade hockey stick and a pair of skates. Until Cindy finished school, she played every sport she could possibly fit into her schedule. By the age of 23, Cindy won her first Olympic medal, a Bronze in the 3000m, at the 2002 Olympic Winter Games in Salt Lake City. In 2002-2003, she had one of the best seasons by a Canadian athlete on the World Cup speed skating circuit with 13 Gold, three Silver, and five Bronze medals.
In 2003, Cindy finished second overall at the World Sprint Championships and, a month later, she became the first Canadian in 27 years to win the overall title at the World Allround Speed Skating Championships. It was the first time in 15 years that a skater had won overall medals at both events in the same year. Cindy topped off an incredible year by winning the 1500m World Cup Title. In October 2003, Cindy fell in training and damaged 12 tendons in her forearm. Two months later, she was training again and, at the World Single Distance Championship in March 2004, she won Silver in the 1500m and Bronze in the 1000m. In 2005, Cindy was on top of the podium once again. For the second time she won the 1500m World Cup Title and became a two-time Gold medallist at the World Championships winning both the 1500m and 3000m events.
At the 2006 Olympic Winter Games in Turin, Cindy became the first ever Canadian Olympian to win five medals in one Olympic Games; Gold in the 1500m, Silver in the 1000m, Silver in the Team Pursuit, and Bronze in the 5000m and 3000m, making her the most decorated Canadian Winter Olympian in history, with a total of six medals. Cindy capped off her 2006 season by winning the overall title at the World Allround Championships with Gold in all four distances and was also named World Cup Champion for the 3000m event.
In her 15 years of competitive speed skating, Cindy amassed a total of 115 international medals: 46 Gold, 41 Silver, and 28 Bronze. She was World Champion nine times and broke seven international records, including six world records, and is still the world record holder in the 3000m. Cindy has given back to her community working with numerous charities and has also been involved in promoting women's sports in other countries. She has worked tirelessly to provide girls and women with much-needed opportunities to play sports, becoming a role model on and off the ice, in Canada, and around the world.