Hall of Famer
Mary "Bonnie" Baker
Inducted in 2018
Member Details
Date of Birth: July 10, 1918
Place of Birth: Regina, Saskatchewan
Date of Passing: December 17, 2003
Sport: Baseball
Member Category: Athlete
Career Highlights
1943
Signed with the All-American Girls Professional Baseball League (AAGPBL)
Named to the AAGPBL All-Star team
1943-1952
Played catcher and utility infielder with the South Bend Blue Sox and Kalamazoo Lassies, appearing in 930 regular season games and 18 playoff games with the AAGPBL- more than any other athlete in the League
1946
Named AAGPBL All-Star catcher
1950
Contracted by the AAGPBL to become first female team manager in professional sport while playing with the Kalamazoo Lassies
1964-1965
Became the first female sportscaster in Canada with CKRM in Regina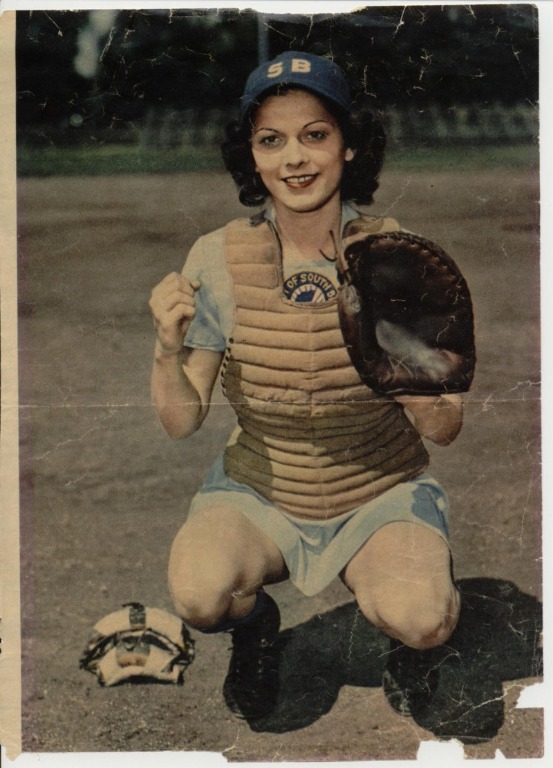 Story
Mary 'Bonnie' Baker was born in 1919 to a large family of dedicated baseball players in Regina, Saskatchewan. She took up the sport as a back catcher in Regina's minor leagues at the age of 13. In 1943, Mary was working as a clerk at the Army and Navy store in Regina while her husband Maurice was fighting overseas in the Second World War. She was playing catcher for the A&N Bombers on evenings and weekends when she was scouted to play in the newly established All-American Girls Professional Baseball League (AAGPBL).
Responding to a shortage of male athletes caused by enlistment in the Second World War, the AAGPBL operated in the Midwestern United States between 1943 and 1954. Over 600 women, including 64 Canadians, helped transform the image of women in sport by playing in the league, which famously inspired the film 'A League of Their Own.' Not only was Mary Baker a tremendously skilled athlete, she was also a former model who possessed considerable poise and personal charm. The first Canadian to sign with the AAGPBL, she quickly became one of the league's most iconic and recognizable stars. Affectionately nicknamed 'Pretty Bonnie Baker', she appeared regularly in publicity shots and news articles and is believed to have inspired the main character in 'A League of Their Own'.
Mary Baker played 9 of the 12 years the AAGPBL operated. After signing her first contract, she played catcher with the South Bend Blue Sox from 1943 to 1949. Her sister, Gene George, also played briefly in 1948 with the South Bend Blue Sox. In 1950 Mary was traded to the Kalamazoo Lassies, where she was briefly contracted by the League to become the first female team manager in professional sport. She took a year off in 1951 to have her daughter Maureen before returning for a final season in 1952. By this time the League was in decline, but Mary Baker's legacy was secure- she had played in more games than any other athlete in the AAGPBL, appearing in 930 regular season games and 18 playoff games. Named the League's All-Star catcher in 1943 and 1946, she was also a masterful base runner, claiming 506 stolen bases during her professional career.
The leadership and athletic prowess Mary Baker demonstrated as a baseball player, team manager and league representative for the AAGPBL undoubtedly helped advance the status of women in sport, both in the United States and Canada. Despite her achievements, she remained humble and forward-looking after retiring from professional baseball. She continued to serve her community as a pioneering leader for women in sport, helping the Regina Legion Club reach The Women's
World Softball Championship in Toronto in 1953. She also managed the Wheat City Curling Club in Regina for 25 years and became the first female sportscaster in Canada, broadcasting over the radio for CKRM in Regina from 1964 to 1965. Sadly, Mary Baker died in December 2003.