Hall of Famer
COLETTE BOURGONJE
Inducted in 2019
Member Details
Date of Birth: January 17, 1962
Place of Birth: Porcupine Plain, Saskatchewan
Sport: Para Nordic Skiing & Para Athletics
Member Category: Athlete
Career Highlights
1992
Bronze Medal in 100m Para Athletics at the Paralympic Games in Barcelona
Bronze Medal in 800m Para Athletics at the Paralympic Games in Barcelona
1996
Bronze Medal in 100m Para Athletics at the Paralympic Games in Atlanta
Bronze Medal in 200m Para Athletics at the Paralympic Games in Atlanta
1998
Silver Medal in 2.5km Para Nordic Skiing at the Paralympic Winter Games in Nagano
Silver Medal in 5km Para Nordic Skiing at the Paralympic Winter Games in Nagano
Inducted into the Saskatchewan Sports Hall of Fame
2002
Canadian Paraplegic Association Female Athlete of the Year Award
2006
Bronze Medal in 5km Para Nordic Skiing at the Paralympic Winter Games in Torino
Bronze Medal in 10km Para Nordic Skiing at the Paralympic Winter Games in Torino
2010
Bronze Medal in 5km Para Nordic Skiing at the Paralympic Winter Games in Vancouver
Silver Medal in 10km Para Nordic Skiing at the Paralympic Winter Games in Vancouver
Inducted into the Canadian Disability Hall of Fame
2011
SaskSport Athlete of the Year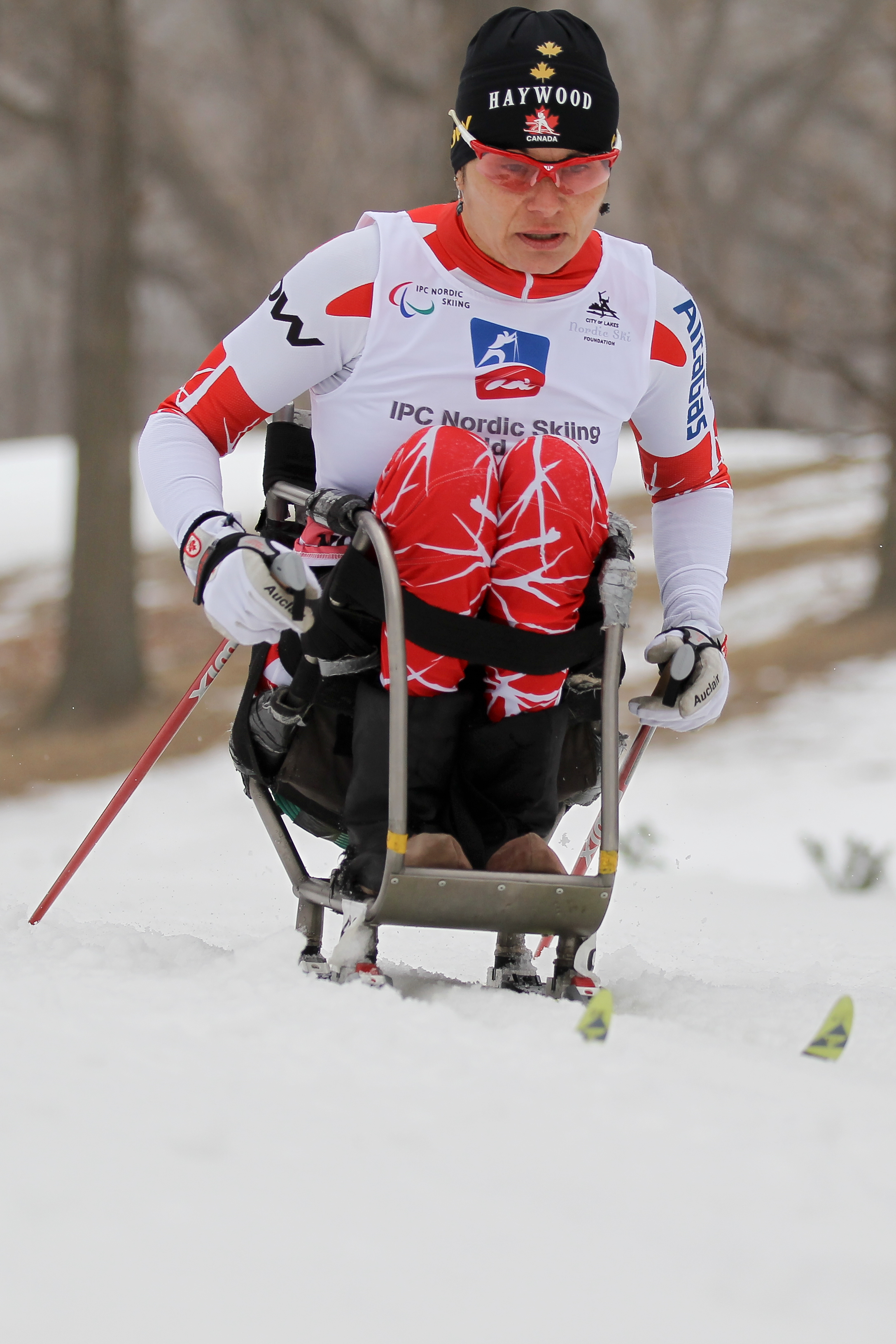 Story
Colette Bourgonje's remarkable journey as an athlete, mentor and healthy living activist is perhaps best captured in her philosophy that "...life is 10 percent what happens to you and 90 percent how you react to it." Born in the small town of Porcupine Plain in northeast Saskatchewan, Colette grew up a talented athlete, competing nationally as a cross-country runner in high school. Her life changed forever when a car accident left her lower body paralyzed only two months before she was due to graduate in 1980. Quickly adapting to her new circumstances Colette committed herself to rehabilitation, determined to study physical education at the University of Saskatchewan that fall. Not only did she achieve this extraordinary goal, she became the first person to graduate from her department in a wheelchair.
Colette continued to develop her athletic potential while pursuing a career as an elementary school teacher, becoming an accomplished wheelchair racer before taking up cross country sit-skiing at the age of 30. What others perceived as limitation Colette turned into inspiration, innovating new adaptive sport equipment and training methodologies at a time when knowledgeable coaching and public awareness of Para sport was not well established in Canada. Breaking new ground, Colette's independence and determination carried her to elite levels of competition as a dual sport Paralympian competing in Para Nordic skiing and wheelchair athletics.
The first Canadian female athlete to medal in both Summer and Winter Paralympic Games; between 1992 and 2000 Colette participated in three Paralympic Games and seven Paralympic Winter Games, winning a total of ten medals. Highlights of her Paralympic achievements include Bronze medals in the 100 and 800 metre wheelchair race in 1992 in Barcelona, a Silver medal in the 10 kilometre and Bronze in the 5 kilometre Para Nordic sit-ski race in Vancouver in 2010, making her the first Canadian athlete ever to win a Paralympic Winter Games medal on home soil. At the closing ceremonies in Vancouver, she was awarded the prestigious Whang Youn Dai award, recognizing her extraordinary efforts to overcome adversity while pursuing excellence in sport.
Retiring from competition in 2014, Colette remains a mentor and role model for disabled youth and an ambassador for Saskatchewan's In Motion program, promoting the importance of daily physical activity for all people. In 2016 she helped organize the Saskatchewan Para Sport Tour Dream Relay, gathering 14 Para athletes to tour the province across a 363 kilometre course to raise awareness and help aspiring athletes with physical disabilities connect with supportive programs and equipment. Honouring her family's Métis heritage, Colette also endeavours to empower and coach young Indigenous athletes in her home province. Meeting challenges with strength and perseverance, she has conquered limitations as an athlete, educator and Para sport advocate, building exciting new paths for others to follow.