Hall of Famer
GUYLAINE BERNIER
Inducted in 2019
Member Details
Date of Birth: April 26, 1948
Place of Birth: Saint-Léon-le-Grand, Quebec
Sport: Rowing
Member Category: Builder
Career Highlights
1976
Competed in Quadruple Sculls at the Olympic Games in Montreal
Silver Medal at the International Lucerne Regatta
Bronze Medal at the International Duisburg Regatta
1985
Gold Medal at the World Masters Games in Toronto
1994
Gold Medal at the World Masters Games in Brisbane
Bronze Medal at the World Masters Games in Brisbane
1996
Inducted into the Quebec Sports Hall of Fame
Recipient of Rowing Canada Aviron President's Award
1997
Recognized as Official of the Year at SPORTSQUÉBEC Awards Gala
2001
2nd Place at the FISA World Masters Rowing Regatta in Montreal
2002
Recipient of Rowing Canada Aviron President's Award
2003
Recognized as Official of the Year at SPORTSQUÉBEC Awards Gala
2004
Recognized as one of the Most Influential Women in Sport by Canadian Association for Advancement of Women and Sport (CAAWS)
2008
Recipient of Rowing Canada Aviron President's Award
Recognized as Official of the Year at SPORTSQUÉBEC Awards Gala
2014
Recipient of a Lifetime Achievement Award as umpire from Rowing Canada Aviron
2016
3rd Place at the World Masters Rowing Regatta in Copenhagen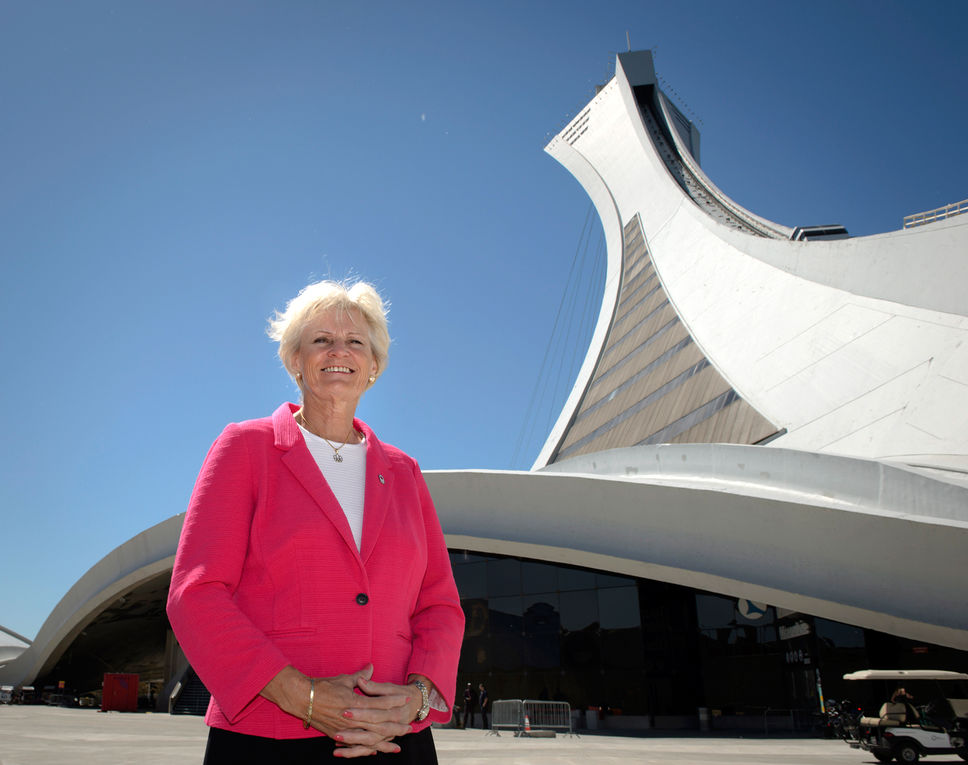 Story
Celebrated as Quebec's "Grande Dame du sport", Guylaine Bernier has been making waves as an athlete, official, coach, organizer and volunteer for over 45 years. Born in Saint-Léon-le-Grand in rural Quebec, Guylaine was fourth in a large family of eleven children. Developing an irrepressibly positive, hands-on attitude, she helped make history as part of the groundbreaking Canadian women's rowing team at the 1976 Olympic Games in Montreal.
1976 marked the first year women were included in Olympic rowing events, and after bonding with her teammates Guylaine seized the moment with characteristic generosity of spirit, rolling up her sleeves to further advance gender equity in her sport. Dedicated to helping more women become national and international rowing umpires, she created new training programs to increase the quality of umpiring. After her own certification in 1987, Guylaine continued to initiate positive change as a leading educator of officials for the International Rowing Federation (FISA), committed to improving and standardizing officiating at all levels of competition. In 1995, she became the first woman and the first Canadian to serve on the FISA Umpires Commission. She has taken part in over forty FISA World Championships and has officiated many international events, including four Olympic Games between 1996 and 2008. Guylaine was also the first woman to serve as President of the jury at the rowing competition at the Paralympic Games in 2008 (where rowing was included for the first time), and again at the first Youth Olympic Games in 2010.
Complementing her achievements as an official and educator, Guylaine has left her mark on the sport of rowing as an organizer and volunteer at all levels of competition. In 2001, she led Canada's successful bid to host the FISA World Master's Regatta in Montreal, reaching over 3,000 participants from 35 nations. The event was a tremendous success and Guylaine immediately paid the profits forward, creating the Fonds des Maîtres 2001 for the ongoing promotion and development of rowing in Quebec, and making special contributions to Rowing Canada Aviron and the Quebec Rowing Association for the development of umpires and administrative support.
An empathetic and compassionate leader, Guylaine has supported an impressive variety of worthy causes promoting gender equity, opportunities for young athletes and elite sport development. Highlights from her impressive record of service include advocacy for the Canadian Association for the Advancement of Women and Sport and Physical Activity (CAAWS), and prominent roles on the Rowing Canada Board, the Canada Games Council and the Canadian Olympic Committee. Also during Guylaine's tenure as President she lead the transformation of the Centre National Multisport-Montreal to become the Institut National du Sport du Quebec (Canadian Sport Institute), a not-for-profit organization dedicated to supporting Olympic and Paralympic athletes as well as high performance coaching in her home province. Always at the foreground of change, her fearless efforts have transformed the landscape of sport in Canada, guided by a bold vision of fairness, inclusivity, equity and diversity across all athletic disciplines.