Hall of Famer
Vicki Keith
Inducted in 2019
Member Details
Date of Birth: February 26, 1961
Place of Birth: Winnipeg, Manitoba
Sport: Swimming
Member Category: Athlete
Career Highlights
1986
New world record in continuous pool swimming at 129 hours and 45 minutes
1987
Completed the first (and only) double crossing of Lake Ontario
1988
First person to swim across all five Great Lakes
1989
Six World Records in open water butterfly
1992
Received the Order of Canada
1996
Inducted into the Terry Fox Hall of Fame
2003
Inducted into the International Marathon Swimming Hall of Fame
2005
New World Record for long distance butterfly
Inducted into Ontario Sports Hall of Fame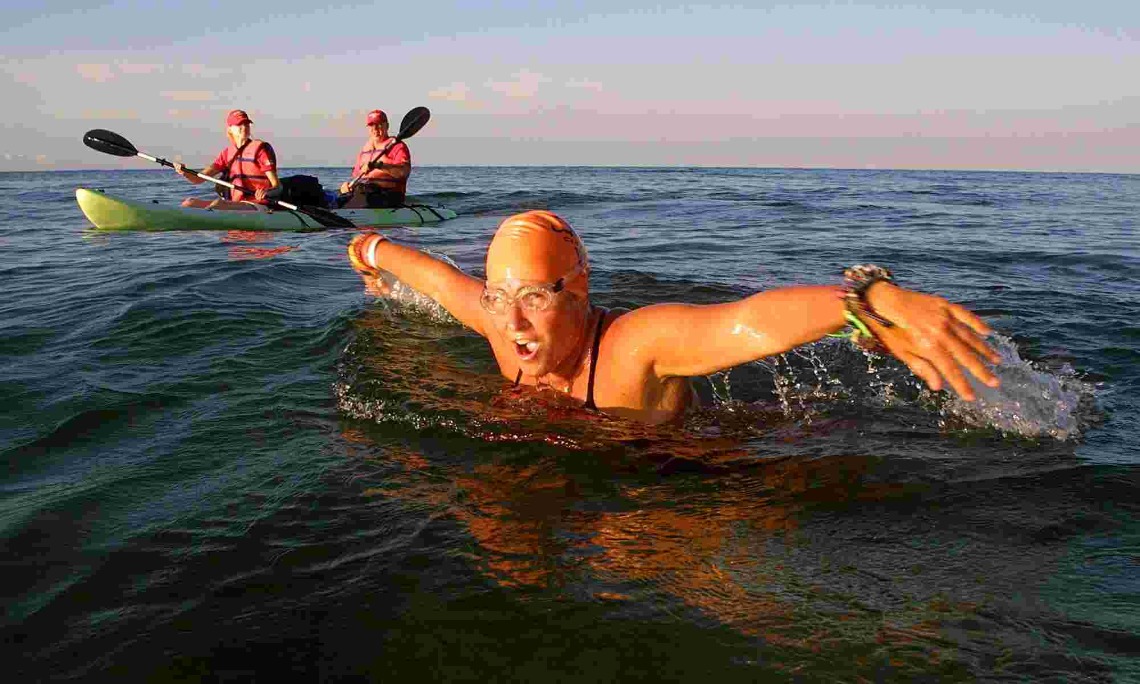 Story
Crossing some of the most daunting bodies of water in the world, Vicki Keith has left unprecedented achievements in her wake, setting 16 world records and receiving over 41 awards and honours as a marathon swimmer. Born in Winnipeg and growing up in Ottawa, Pointe-Claire QC and Kingston, she did not always show an aptitude for sport and was often picked last for teams in gym class. Undeterred, Vicki began training for marathon swimming in 1984, and very quickly began to raise the sport's high water mark for endurance and skill.
Consistently setting challenging new goals, Vicki developed extraordinary self-confidence and determination, qualities that enabled her to overcome extreme discomfort and adversity posed by natural conditions in her chosen sport, including poor weather, unpredictable currents and temperature fluctuations accompanied by high wind and waves. In 1986, she set a new world record in continuous pool swimming, clocking 129 hours and 45 minutes. In 1987, she completed the first (and only) double crossing of Lake Ontario, and over the course of just two months in 1988 became the first person to swim across all five Great Lakes. Vicki went on to set 6 world records for open water butterfly in 1989 when she made her way across the English Channel, the Catalina Channel, Sydney Harbour, Juan de Fuca Strait, Lake Winnipeg, and Lake Ontario. She set the record for longest solo swim both in terms of distance (94 kilometres), and time (63 hours and 40 minutes).
After retiring in 1991, Vicki dedicated herself to helping young athletes with physical disabilities develop new skills and build self-confidence in a positive sport environment. In 2001 she founded the YMCA Penguins aquatics program at the YMCA in Kingston, Ontario, and under her guidance the Y Penguins became the largest Para swim team in Canada. Pushing for greater inclusion in able-bodied meets Vicki helped swimming become one of the most integrated sports in Canada, and many young athletes she has coached have set Canadian records at elite levels of competition and world records in open water swimming. In 2005, Vicki came out of retirement to raise funds for a new pool in Kingston, swimming 80.2 kilometres in Lake Ontario and setting a new world record for the long-distance butterfly. To date, she has raised over 1 million dollars supporting athletic opportunities for children with physical disabilities, complementing her record-setting ways with an outstanding legacy of mentorship and empowerment that redefines what it means to be a champion in Canadian sport.