Hall of Famer
John "Jackie" Barrett
Inducted in 2020-21
Member Details
Date of Birth: April 25, 1974
Place of Birth: Halifax, Nova Scotia
Sport: Power Lifting / Special Olympics Athlete
Member Category: Athlete
Career Highlights
1999, 2007, 2011, 2015
13 Gold and 2 Silver medals over four appearances at Special Olympics World Summer Games
2005, 2015
Special Olympics Canada Male Athlete of the Year
2015
Received the Dr. Frank Hayden Lifetime Achievement Award

First Special Olympics athlete to be nominated for the Lou Marsh Award
2019
Inducted into the Nova Scotia Sport Hall of Fame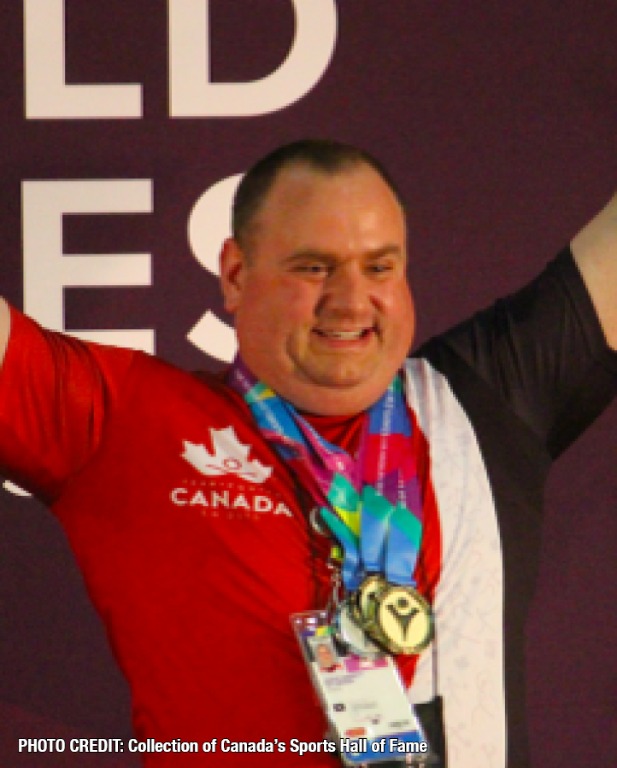 Story
People with intellectual disabilities face a unique set of challenges, often shaped by limiting social perceptions of their differences. Born with autism, Jackie Barrett decided to blaze his own trail when he realized life had dealt him a powerful opportunity to say to the world, "challenge accepted." Over a Special Olympics career spanning 28 years, 20 of them as a Powerlifter, his personal drive, discipline and perseverance have commanded the admiration of the world, breaking the mould for how many people perceive Special Olympics athletes. Already a talented swimmer, Jackie began lifting weights while he was in high school, and continued to rigorously hit the gym while earning a Bachelor of Commerce degree from Saint Mary's University in Halifax.

All but redefining the concept of the self-motivated athlete, he continually demanded the very best from himself as he trained independently to reach his personal fitness goals. Determined to realize his full potential, he confidently dubbed himself the "Halifax Hercules," a moniker he later replaced with the "Newfoundland Moose" after moving to Corner Brook in 2008.

Jackie Barrett first participated in Special Olympics as a swimmer in 1987 before switching to Powerlifting in 1995 at the suggestion of a coach who recognized his passion for lifting weights. He went on to capture 20 Gold Medals over five appearances at the Special Olympics Canada Summer Games, and an astonishing 13 Gold Medals over four appearances competing for Canada at the Special Olympics World Summer Games.

He retired after setting new records in the Squat with a lift of 277.5 kg (611 lb.), the Deadlift with a lift of 297.5 KGs (656 lbs.), and the Triple Combination with a score of 697.5 kg (1,538 lb.) at the 2015 Special Olympics World Summer Games in Los Angeles, where he also broke the mainstream Newfoundland and Labrador Men's Masters Super-Heavyweight Squat record.

Jackie Barrett was named Special Olympics Canada Male Athlete of the Year in 2000 and 2015. In 2015, he also received the prestigious Dr. Frank Hayden Athlete Lifetime Achievement Award from Special Olympics Canada and became the first Special Olympics athlete to be nominated for the Lou Marsh Award as Canada's Top athlete.

In 2019, he set another new precedent as the first Special Olympics athlete to be inducted into the Nova Scotia Sport Hall of Fame. After retiring from competition, Jackie has continued to mentor other powerlifters while volunteering as a Public Speaker, Ambassador, and Coach through the Special Olympics Canada Athlete Leadership Program.

He was also recruited to work with a committee to develop the National Coaching Certification Program's Powerlifting technical manual, which is now used across Canada. A tremendously accomplished athlete, Jackie Barrett remains at the forefront of the Special Olympics movement in Canada, shining a new light on what people with intellectual disabilities can accomplish in sport and life.