Hall of Famer
Sonja Gaudet
Inducted in 2020-21
Member Details
Date of Birth: July 22, 1966
Place of Birth: North Vancouver, British Columbia
Sport: Wheelchair Curling
Member Category: Athlete
Career Highlights
2006, 2010, 2014
Gold Medal, Paralympic Winter Games
2009, 2011, 2013
Gold Medal, World Wheelchair Curling Championships
2013
First Wheelchair Curler to be inducted into the Canadian Curling Hall of Fame
2014
Flag bearer during the opening ceremonies
2020
Inducted into the BC Sports Hall of Fame and Museum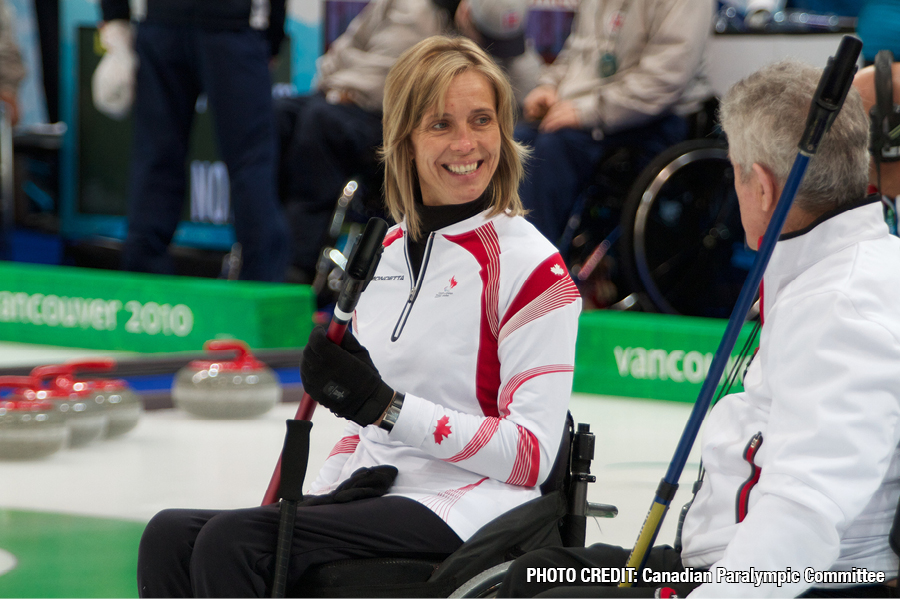 Story
Born in North Vancouver, Sonja Gaudet grew up experimenting with a wide variety of sports, from basketball and volleyball to swimming, tennis and skiing. After moving to Vernon, her outlook on life was forever changed when a horseback riding accident left her suddenly paralyzed from the chest down at the age of 31. Married with two young children, Sonja's family helped her find the confidence to try several different para sports as she adapted to life in a wheelchair. Rather than focusing on limitations, Sonja refused to give up, and the abilities she retained as well as the new skills she learned in the aftermath of her injury acquired additional nuance and depth. Determined to improve accessibility for other people with physical disabilities in her community, she was introduced to wheelchair curling by chance when a local curling club asked her for advice regarding renovating a wheelchair accessible washroom. The club was preparing to host a beginner's wheelchair curling clinic, and Sonja's interest was piqued. She ended up participating, and at the age of 37 discovered a passion and natural affinity for the sport.

By the time Sonja started competing in wheelchair curling internationally, she was an unstoppable force. Playing lead, she helped Team Canada capture a Gold medal at the 2006 Paralympic Winter Games in Turin, the same year the sport debuted as a Paralympic event. She repeated her Gold medal performance with Team Canada at the 2010 Paralympic Winter Games in front of a hometown crowd in Vancouver, and again at the 2014 Paralympic Winter Games in Sochi, where she was honoured as Canada's opening ceremonies flag bearer. Complementing her Paralympic success, Sonja claimed Gold Medals with the Canadian team at the World Wheelchair Curling Championships in 2009, 2011 and 2013. Always keen to find ways to improve her game, she was the first wheelchair curler to use an innovative piece of equipment in international competition, an aluminum "balance post" attached to her chair that enabled her to maintain balance, control and strength when throwing a rock, allowing for far greater accuracy and distance control.

Honouring her unprecedented achievements, in 2013 Sonja Gaudet became the first wheelchair curler to be inducted into the Canadian Curling Hall of Fame and she has most recently been inducted into the BC Sports Hall of Fame Class of 2020. Sonja retired from competition in 2016 and in 2018, alongside five retired Olympic athletes, Canada Post created a postage stamp in honour of her career in their "Women in Winter Sports" celebration stamp series.

Her remarkable journey from a beginner's clinic in a local curling club to the top of the Paralympic podium is firmly rooted in her ability to adapt to challenging circumstances with an open mind and a positive attitude. Sonja continues to draw on her experiences to help others, serving as an inspirational speaker in schools and working as an Accessibility Specialist with the Thompson Okanagan Tourism Association, promoting "Access for All" initiatives across the tourism industry in the province of BC. She is also an Alumni Ambassador with the Canadian Paralympic Committee and a Peer Support Specialist with Spinal Cord Injury BC, which raises funds and awareness to improve accessible environments, recreation and experiences for everyone, regardless of their abilities.